Disclosure: This post may contain referral/affiliate links.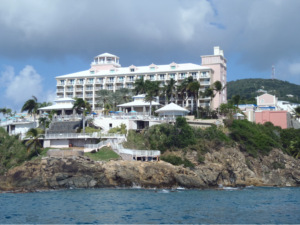 I can't believe it's been over a month since we returned from St. Thomas. We had such a great time!
Over the next few days I'll be sharing all about our experience here on Newton's Travels. Let's start with a review of the resort and everything we experienced there.
Marriott Frenchman's Reef, St. Thomas

Upon arrival we met Sonia, Sales Supervisor at Frenchman's Reef in the open air lobby and front desk area. We were then off to our room where the bellman had delivered our luggage. Our room at the Frenchman's Reef was awesome. The view of the Caribbean sea was breathtaking and included quite a few double rainbows throughout our stay.
Lazule Spa
It wasn't long before we had to be at the Lazule Spa for our couples massage. It was a bit rushed but we were definitely pampered at the spa. We were given robes and slippers and then taken to the couples massage room where all our worries (and my migraine) melted away. It was a great experience and we had hoped to return to the spa before the end of our stay but unfortunately were unable to do so.
The Lazule Spa has so much to offer. Everything from massage services, body treatments, skin care and more.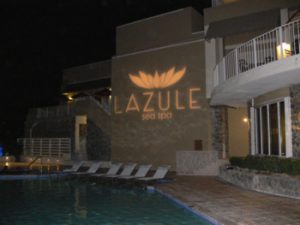 Welcome Dinner
After our couples massage, we quickly got ready for our welcome dinner with Joyce, the Director of Sales for Marriott's Frenchman's Reef resort. The Aqua Terra Ocean Grill was awesome.
During dinner, we had the pleasure of meeting Alex, VP of Sales for the Caribbean, Latin America Region, Steve, Marketing Director for the Caribbean, Latin America Region and Jose Gonzalez, General Manager of the Frenchman's Reef Marriott.
Dinner started with a sampling of appetizers and a tasty main course. Needless to say, we ate at this restaurant quite a bit throughout our stay.
Marriott Frenchman's Reef Grand Reopening Celebration
We were invited to the grand reopening celebration, a gala cocktail party. Marriott really did it up that night with great music and beautiful decor. The food stations were plentiful with various cheeses, appetizers, desserts, and more.
The Governor of the Virgin Islands was in attendance along with many others. We were interviewed by the press and were taken on a tour of the newly renovated hotel. There have been many great improvements and it's been quite an undertaking from what we understand.
They have a newly enhanced family pool, new infinity pool and new spa pool. Plus a brand new fitness center with 24 hour key card access, new Aqua Terra lounge and much more. What a great night!
11/11/11
We were there on 11/11/11 and at 11:11 AM were on our 8th floor balcony looking over the beautiful island of St. Thomas. We definitely made lasting memories that day. We went on a catamaran cruise to Buck Island and had dinner at Marriott's Havana Blue restaurant.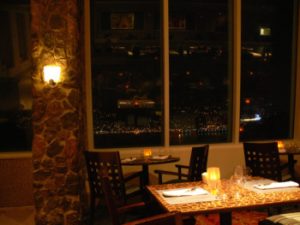 Restaurants
As mentioned above the Aqua Terra Ocean Grill was fabulous. This restaurant is in the Marriott resort. We had dinner and breakfasts there.
The other restaurants we experienced, Havana Blue and Coco Joe's are a quick shuttle ride down the hill from the main hotel.
Havana Blue is a beach front open air and sunset dining experience. Most definitely a romantic setting although a bit dark for me. We had to use a light to see the menu. We sampled a few different appetizers and our entrees were delicious. Kevin's Ancho Filet entree has even been featured in Gourmet Magazine. We like to split dessert and their Strawberry Shortcake was perfect. David Mejia, our server was very helpful and patient with any menu questions we had.
Coco Joe's restaurant is at Morning Star Beach Resort (part of Marriott's property and a place we would love to stay sometime). We went on buffet night and there were so many great food options on the buffet including grilled lobster (which we have since recreated at home), a variety of salads, coleslaw, mac & cheese, fried plantains and more. Everything was fresh!
As a vegetarian, I was very happy with the selection and Kevin who is the meat eater was equally impressed. The buffet was a bit pricy but the atmosphere made it worth it for me. Our server Jacquie was very pleasant and we enjoyed talking to her.
In Closing
Kevin and I want to thank everyone who made our stay at Marriott's Frenchman's Reef a vacation to remember. Thanks especially to Sonia, Joyce and General Manager, Jose Gonzalez who went out of their way to make us feel right at home.
You can read more detail about our entire experience over on the Paradise By Marriott, Frenchman's Reef blog. And of course I'll be updating our blog here with more from our trip to St. Thomas.
As most of you know, I worked for Marriott as a front desk supervisor over 15 years ago and they are one awesome company. You might recall that is how I met Kevin and we will be celebrating our 15th anniversary this New Year's Eve 2011. I'm really thankful for Marriott and can tell you that you will be in great hands when you visit any Marriott property.