Disclosure: This post may contain referral/affiliate links.
The Cat
This was the best catamaran cruise we have ever been on. We were picked up at the Frenchman's Reef Marriott dock and whisked away to Buck Island's Turtle Cove on an adventure we'll never forget.
Captain Joe, Grady and Connor were awesome. You can tell they ALL have a passion for what they do. Who wouldn't be when you get to spend your days on the beautiful waters of St. Thomas, Virgin Islands?
The cruise started out with safety instructions and then once we arrived at our destination, they went over snorkeling safety (snorkel equipment provided if you don't have your own), tips on swimming with the sea turtles, etc. The cruise over to the island was enjoyable.
I cannot tell you how awesome it was to be able to snorkel with sea turtles in their environment. There were about 10 sea turtles that we saw and of course other beautiful sea creatures and coral too. Snorkeling is our favorite Caribbean activity so this was definitely a highlight of our trip to St. Thomas.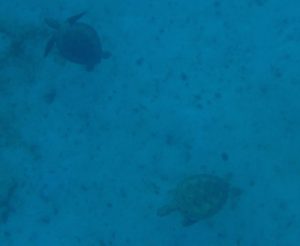 The thing that really stood out the most to me about the catamaran cruise was that they didn't serve alcohol on the boat until AFTER you were finished snorkeling. Up until then it was nice cold water. Very smart!
On the way back to the resort, they served up a specialty drink and set out tortilla chips, carrots and hummus too. Lots of fun music to enjoy the entire time as well.
The crew, Joe, Grady and Connor were very attentive, humorous and FUN and I would highly recommend you hook up with The Cat and set sail with them when you are in St. Thomas.
We met Jim, the owner of the catamaran at Marriott's grand reopening celebration. What a cool guy! He should be really proud of these guys.
The Cat has a variety of tours available:
Snorkeling
Weddings
Receptions
Anniversaries
Birthdays
Sunset sail
and more!
Be sure to check them out next time you are in St. Thomas, Virgin Islands.
Have you ever been on a catamaran cruise? What was your most memorable moment?