Disclosure: This post may contain referral/affiliate links.
THE Source for Excursions and Tours in St. Thomas & St. John
The Adventure Center is a family run business. We had the opportunity to meet Mark (Operations Manager) and his dad, the owners, at Marriott's grand reopening party. That was a special treat! They really went out of their way to make sure we were taken care of on all our adventures.
Adventure Center has a tour desk that is on site in the lobby of Marriott Frenchman's Reef resort. They do all land and sea tour bookings so you'll want to connect with them for any tours and excursions you are thinking about doing. They have a ton of experience and will be happy to answer any of your questions.
All of our excursions like the catamaran cruise, St. John day sail and Coral World were booked through them. We had such a blast and everything was great.
We do however regret that we didn't get the opportunity to take part in more of the fun excursions they have available. Specifically the clear kayak experience. These kayaks have been retrofitted with LED lights and you can go out on night tours to see nocturnal marine life.
We have done night snorkeling in Jamaica and always love that so this would be right up our alley. It's kind of similar to a glass bottom boat ride that you see offered on most Caribbean islands.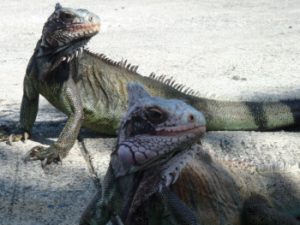 We missed out on taking the ferry to world famous shopping in downtown Charlotte Amalie in St. Thomas and they have a St. John Safari that sounds like a lot of fun too.
Also offered is a day sail to the B.V.I. We were offered the chance to switch up our St. John sail adventure to visit the British Virgin Islands but we were unsure how Kevin would do on the shorter day sail as far as sea sickness goes. So we stuck with our original plan even though we did have our passports so we could have taken them up on it. However we would love to visit the B.V.I.'s one day! We hear they are beautiful.
Oh and they also offer a private motor excursion. You get a yacht for the day with a captain and crew. That is currently priced at $1550! Sounds awesome to me.
If you could choose one of their tours/excursions which would you pick?