Disclosure: This post may contain referral/affiliate links.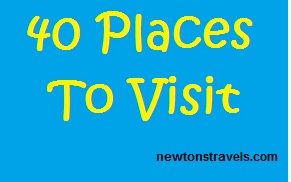 In honor of my 40th birthday today, here is a list of 40 future vacation destinations I want to visit.  I would love to travel all over the world! Hopefully Kev will want to visit them all with me!
We are itching to get outta dodge and travel some more but some family obligations have interrupted our planned travel schedule this year.  I am really hoping we can still make it to Jamaica for the Reggae Marathon but at this very moment, things do not look promising.  Can I cry?
Our kitten Franklin fractured his leg and the healing process not to mention the financial and emotional stress it has put on us will keep us from doing some things we had planned.
This month we were going to take a trip to celebrate our birthdays but thankfully we didn't book anything in advance.  I guess we weren't meant to travel in April.  We both need a true relaxing vacation where we can just sit on the beach and snorkel to our hearts content.
So here is my list of places I want to visit one day, in no particular order!
40 Places I Want To Visit
1) Costa Rica
2) Honduras
3) Belize
4) Spain
5) Bahamas
6) Mexico
7) St. Lucia
8 ) Australia
9) Seychelles
10) Bora Bora
11) Amalifi Coast, Italy
12) Maldives
13) Tahiti
14) Mykonos, Greece (I have been there and want to go back)
15) Santorini, Greece
16) Grand Canyon
17) Sedona
18 ) New York
19) Panama
20) Antigua
21) Barbados
22) Aruba
23) Venezuela
24) Fiji
25) Canada
26) Ireland
27) Finland
28) Scotland
29) Dominican Republic
30) Japan
31) Turks & Caicos
32) St. Martin
33) St. Kitts
34) Curacao
35) Anguilla
36) Cayman Islands
37) British Virgin Islands
38) Mount Rushmore
39) Niagara Falls
40) Yellowstone National Park
and a lot more!
Where are your top 5 places to visit?