Disclosure: This post may contain referral/affiliate links.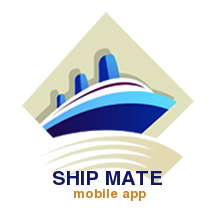 Our friend Ashley, who we met when we were traveling in the Virgin Islands, told us about her friend Mike, one of the creators of this awesome cruise ship travel app and I wanted to be sure to share it with you. Plus it's supposed to be great for first time cruisers so it's right up our alley.  Can't wait to use it!
Ship Mate App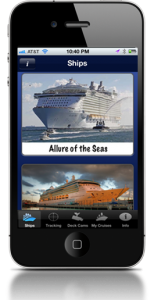 The cruise industry has consistently served the U.S. with one of the most preferred vacation options for decades. Despite the poor economy, passenger growth has averaged over 7% since 2000 and customer satisfaction has far exceeded other vacation categories. Cruise ships offer something for everyone. One of the only complaints from cruisers is that there are too many options, particularly for first-timers. Passengers feel overwhelmed with the number of activities and locations throughout the ship. This frustration is exacerbated at the ports as cruisers are bombarded by solicitors and options. The solution to this madness – the Ship Mate mobile app.
Ship Mate's motto is, "don't wait to start your cruise." Available for Apple and Android devices, the mobile app encourages users to start enjoying and preparing for their cruise months before boarding. Users are able to virtually explore every corner of the ship with detailed deck maps, location descriptions and colorful pictures of the ship's many attractions. The app also contains detailed information on over 800 ports worldwide, including weather, history, maps, web cams, and advice on where to go eat, drink and shop. Some ports even offer exclusive Ship Mate deals simply by showing the app. Cruisers are using Ship Mate to take advantage of the limited time that they have at each port.
You'll likely find yourself opening the app on a daily basis to check your Countdown, Ship Locator, and Deck Cams. Feel the excitement build while tracking your ship as it navigates the planet, bouncing from oasis to oasis. And use the live web cams to transport yourself from that stiff, ergonomic desk-chair into a warm, poolside cabana. You'll know the exact number of days (or hours) until your vacation becomes a reality by using Ship Mate's personalized Cruise Countdown feature. For the "Type A" cruisers out there, Ship Mate offers some handy utility features like the interactive Packing Checklist, Budgeting Feature and Customizable Itinerary.
If the information that you're looking for isn't in the app, you'll likely get help from fellow passengers using Ship Mate's Chat feature. Cruisers are eager to share their knowledge and to meet others in the ship and port-specific chat rooms. You'll also get unbiased reviews throughout the app left by previous ship mates – and don't forget to impart some cruise wisdom of your own once you're back on the mainland.
And the best part about Ship Mate – it doesn't require internet access. You can turn it on "airplane mode" and avoid the outrageous fees charged by cruise ships. There's a version for every major cruise line – just search for "Ship Mate" in your app store.
Become part of the Ship Mate community by following them on Facebook, Twitter, or their blog.
Sounds pretty awesome huh? Here are some images to help you get a feel for what it's all about.  You'll find the ship locator, deck map, deck cam, port info and ship locator features.  Really makes me want to look into some cruise ship travel sooner than later.  If you cruise, come by and let us know if a cruise is right for us and tell us your favorite cruise line!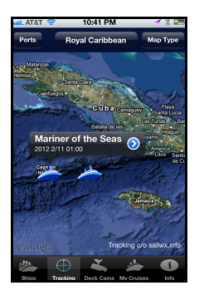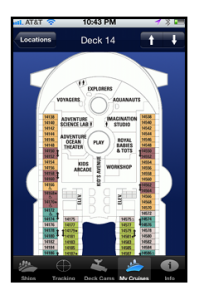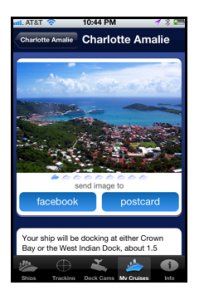 Do you cruise?