Disclosure: This post may contain referral/affiliate links.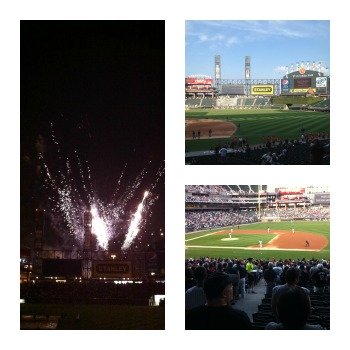 We had the pleasure of going to a Chicago White Sox game last weekend and it was a blast.  Our friends invited us to go to an evening game so we left early to have a fun lunch with them at Red Robin.  Then Kev drove us all downtown.
The U.S. Cellular Field stadium is awesome and there were lots of food vendors, shops and more.  I bought Kev a fitness shirt and myself a zip up hoodie.  And we had a bit of junk food too like caramel popcorn, a Lemon Chill and of course he couldn't go to the game and not have peanuts.  Went through lots of bottled water too.
Kev kept telling me to keep an eye out for the ball just in case and was telling me a story of a ball hitting someone one time and low and behold, not minutes later it happened to a young lady down front.  She got popped in the jaw/mouth and was bleeding.  Yikes!  Always be on the lookout for those foul balls.
I just love the atmosphere at the game though and would love to go again sometime.  Oh yes and the White Sox won that night, GO SOX!
Thanks Eve and Andy for one of the best nights we have had in a long time.  We truly appreciated the invite.