Disclosure: This post may contain referral/affiliate links.
Hotel 71 Chicago Review
Kevin and I had the opportunity this past weekend to stay overnight in a fitness suite at Hotel 71 Chicago in exchange for a review.  We had such a great time and I wanted to share a review of the entire hotel.  It is definitely a place you should stay if you are ever in Chicago for a visit.
From the moment we arrived to Hotel 71, the bellman/doorman, Sean made sure our car was all set for valet parking (there is a fee but ours was complimentary as part of the review).  I much prefer valet parking to driving around town to find a space so I would definitely set aside money to take advantage of valet parking.
Mike R at the front desk gave us a nice welcome and even took the time to offer to take our picture later in the evening after we returned from dinner.  Ben N, concierge was very helpful with answering all the questions we had regarding finding things in town, questions about the hotel for review purposes, etc.  These two Hotel 71 Chicago employees were a great help and very personable.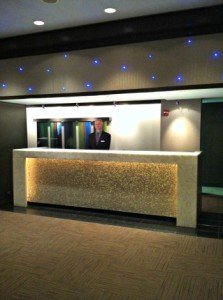 Before arriving to the hotel, we had plans to look for a restaurant on Michigan Ave. that came as a recommendation.  We left the hotel to do a bit of sightseeing (I'll write about that in another post) and as we were walking out we noticed that Hotel 71 had a restaurant with outdoor dining.  We thought about returning there if the other restaurant recommendation didn't have seats outdoors.   So after walking around and having no luck finding it, we headed back to the hotel to eat at Hoyt's. It was meant to be.
We enjoyed our dinner at Hoyt's especially dining outdoors.  And to make it even more special, they had a jazz band that came and played too.  So it was THE perfect night.  Hoyt's also has indoor dining and the restaurant is really nice.  Florence our hostess was really awesome. Very personable, talked to us and never felt we were a bother asking her questions or engaging in conversation with her.  Hi Florence!  Thanks for such great service.  And Ali, our waitress was great too.
We had the homemade pretzels appetizer and Kev had the cajun seared tuna nicoise salad and I had the pan seared white fish. Breakfast the next morning was out of this world.  I had the egg white frittata and Kev had the full American.  The food, coffee and fruit juices were so good. Kelly was our server for breakfast and was also fun and personable. We would definitely go back to Hoyt's!
Sara, the restaurant manager stopped by to meet us at breakfast and took time out of her busy morning to take us up to the 39th floor, the ballroom.  She shared with us that one of the brides from Four Weddings on TLC won best wedding there.  I can see why! The view from that ballroom took my breath away.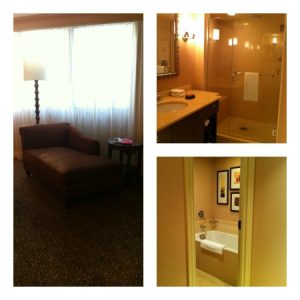 The hotel atmosphere was nice, the decor was stunning and it was in a great spot.  I love people watching so their restaurant was the perfect fit for us.
The fitness suite was great but we also used the hotel's fitness center. They have a couple treadmills, recumbent bikes, ellipticals, weights and more.  The view from the fitness center is so pretty and we had a blast there too.
There is also a business center next to the front desk near the main lobby.  They also have ample meeting room space for conferences, banquets and more.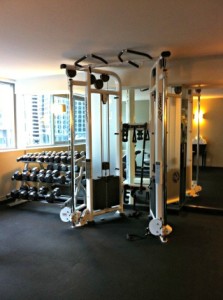 And in case you didn't already know, movie scenes from Transformers 3 and Batman: The Dark Knight were shot here. How cool is that? We haven't seen either so they are definitely on our list now just so we can look for Hotel 71.
I should probably tell you that I used to work in the hotel industry (over 15 years ago) so when we visit hotels/resorts, I look closely at everything.  I was a front desk supervisor back in the day and absolutely loved that job.  And I can tell that everyone at Hotel 71 Chicago loves their job as well.
Thank you Hotel 71 for such a great experience.
The Newton's