Disclosure: This post may contain referral/affiliate links.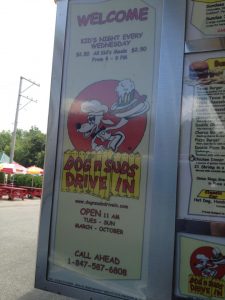 Today was a quick trip to the Dog n Suds restaurant in Fox Lake/Ingleside, IL  My sister in law treated us to lunch for a belated b-day celebration for Kev.
I love the classic 50's style drive in, it's so much fun.  You can read about the history of Dog n Suds too.
Not only can you park and order like your classic drive in but they have a picnic area there too if you would rather get out of your car.
Of course they have their famous root beer along with signature products like their steamed coney dogs, Texas burgers and more.  And thankfully they even have a Gardenburger on the menu or else I wouldn't be able to partake in the festivities.
Took a quick little video while we were out there today.  Enjoy.
Have you ever been to Dog n Suds?  What is your favorite thing on their menu?