Disclosure: This post may contain referral/affiliate links.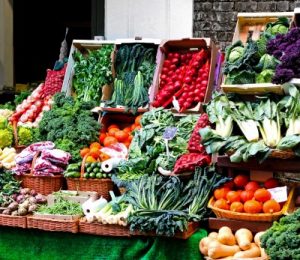 We love going to the local Farmer's Markets. Fresh vegetables, fruits and lots of other goodies like flowers and plants.  The ones we usually go to have honey, salsas, soaps and more.
We have quite a few near us:
Woodstock Farmer's Market – This Farmer's Market is about 45 minutes away from our house in Woodstock, IL.  I love this one because they have live music and have a variety of vendors.  They have wood workings, tie dyed shirts and knife sharpening too.  They have a winter and summer market and have quite the variety including eggs, popcorn, kettle corn and much more.
Grayslake – This Farmer's Market is about 20 minutes or so away from us and not as big as the Woodstock one.  This one is located in historic downtown Grayslake on Center Street. They have everything from hot dogs, to Amish chocolates, Bison, cheese and more.
Wauconda – The Wauconda Farmer's Market in Lake County, IL is the closest to us but also the smallest.  This one starts towards the end of June and goes through October 9th and is every Thursday.  We like to get veggies and yummy loaves of bread here too.  There are also jewelry vendors, pet treat vendors and more.
Stade's Farm Market – This is the one we go to most.  It's on Miller Road in McHenry, IL. They have lots of yummy goodness like fresh veggies, fruits, jams, u pick strawberries, a bakery with doughnuts, pies and more.  The market opens on May 2nd and they have all kinds of fun events although we have never been to any of them before.  That might change this year now that our granddaughter Isabella lives close. She will love it.
I really love that we have quite the variety of Farmer's Markets nearby.  I also love to visit markets in other states wherever we go.  There are a few near my parent's in Indiana that I loved. Can't wait to go back!
Do you have awesome Farmer's Markets near you?