Disclosure: This post may contain referral/affiliate links.
We had the most delicious dinner tonight, I just had to write about it!  Kev just threw it together…aren't those the best kinds?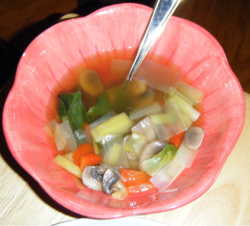 In the first picture (don't mind me I had already started eating ha ha), you'll see a small piece of cheesy biscuit bread (not too healthy but oh so good lol), Trader Joe's frozen Quinoa Duo with vegetable melange and Trader Joe's frozen Eggplant Cutlets with Hunt's diced sweet onion tomatoes  and a sprinkle of mozzarella cheese on top.  The shredded mozzarella cheese we bought from Whole Foods is the freshest I have ever had.
Then comes the bowl of soup.  This was to die for and I must have it again!  Mushrooms, red peppers, leek, bok choy, Swanson's vegetarian broth and a little ground black pepper and garlic.  So simple, yet so good.
Today was a beauty day for me (got pedicure and nails done) and got a Kobo e reader in the mail which I will be reviewing here on the blog as soon as I get it set up.  Looking forward to reading a few health and fitness books on it.
And before I sign off for the night, I must tell you yesterday's personal training kicked my bootay.  A lot of lower body and Scott, my trainer had me doing front lunges.  Due to my knee issues we have to be careful but let me tell you my bottom hurts from all that work.  What a workout!  Skipped Body Works & Abs class since Kev is still on the mend from a back and neck issue and we chilled in the hot tub instead and it was a nice break.
Hope everyone is having a great week.  All is well here except we had another issue with our current gym (nothing new) but it all got resolved today. We have sent in our cancellations and if all goes as planned April 12th will be our last day there.  It's like a little family there so it's going to be sad but I'm ready for something new where the gym will respect us as members.  Hope we don't have any issues there.
What has been your favorite dinner this week?