Disclosure: This post may contain referral/affiliate links.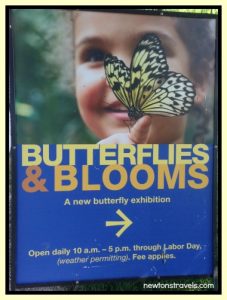 If you read our post about our visit to the Chicago Botanic Garden, you saw me mention that we paid to visit the Butterflies & Blooms exhibit.  It was spectacular and something I'll never forget.
The butterfly habitat, a 2,800 square foot mesh enclosure was located on the grounds of the Chicago Botanic Garden.  We waited outside for the guide to let us into the holding area.  At that point, she gave us some tips and a chart with names of butterflies and we waited until the next lady inside the habitat was ready for us.  We had to move in fast so none of those beauties could escape.
I was in awe of the beauty. And the butterflies would land on your shoulders, plants, the mesh screens, etc.  You would have to visit it yourself to really understand how amazing it was.
When we were finished we were let into another holding room to make sure that none of the butterflies try to hitch a ride out.  There were mirrors so we could look to see if we had any escape artists.  They apparently like to hide under purses, folds in the clothes and armpits.  That made me laugh.
I will let the video do the talking…
Go visit ASAP!