Disclosure: This post may contain referral/affiliate links.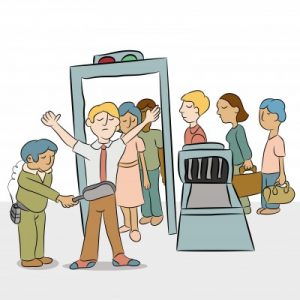 Airport Security & Safety Tips for Travelers
How to Keep Yourself Safe at the Airport
Airports have drastically improved safety conditions over the years. How can you be sure that you will be safe at the airport itself? Just because they have implemented safety procedures for flights does not necessarily mean you shouldn't be vigilant when it comes to airport security and safety.
So here are some tips to help ensure your safety while at the airport. This is really no different from your day to day activities, just a few reminders.
1) Take your time going through airport security. Place your bags and other required items on the belt when it is your turn to walk through security. I like to make sure all of my bags are on the belt and into the scanner before I walk through. Sometimes, you are delayed by one or two people and your items will come out on the other side before you make it through the security check point/scanner.
My advice is to put your shoes/jacket in the first bin, then in the middle put your computer in a bin by itself and then your bag, purse, etc. after that. Once you have passed through, retrieve your bags right away and make sure you have all items you left on the belt. Gather your items up and proceed to one of the benches to get your shoes on and remaining stuff together so you don't hold up the line. This will make those travelers behind you very happy. Hint, hint.
Side note for checked baggage: Most standard luggage locks today are easily accessible by TSA so make sure you have quality luggage locks on each piece of luggage. My favorite brand is Master Lock.
2) Always ensure your luggage is with you, in sight. Dress up your luggage with fancy colored tags or ribbon that stands out. Some people even use colored duct tape! If your bags are lost or stolen, there is no compensation provided by the airport just so you know. Stinks huh? But that makes you more aware to keep everything within reach.
And when on the airplane make sure if you put your bags in the overhead bin that you keep any valuables (wallet, expensive headphones, etc.) with you in the seat. If you know your bag won't fit under the seat, take a smaller bag that you can throw those valuable items into and put under the seat.
When it comes to luggage safety, you'll want to read this info on our blog about lost luggage protection tags.
3) Check for delays and cancellations online or there is probably a mobile app for your chosen airline where you can set up notifications. If your flight is cancelled, there is no use going to the airport to demand answers from the airline agents. They are there to book flights and really have no control over the departure of the flights. Call the airline instead and make new arrangements, it's really that simple. You don't want to end up THAT loud demanding person everyone talks about.
4) Make copies of airline tickets, passports, and other important documents before you leave home. Put a copy in your luggage and leave a copy at home. Better safe than sorry.
5) Go online to the TSA (Transportation Security Administration) https://www.tsa.gov or go direct to the airline website to see what you can take through security. This will save you time and lots of aggravation, I promise!
Don't let the need for extra airport security and delays get the best of you. Give yourself enough time to check in baggage, get through security and find your gate. You know it's necessary so just follow the rules and regulations of airport security and each airline. This will help ensure that you will leave and arrive at your destination safely. And that you'll have a great travel experience!