Disclosure: This post may contain referral/affiliate links.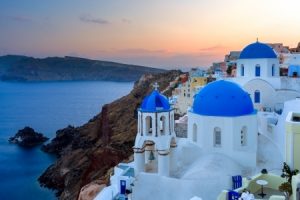 There will be a vacation to Greece in our future. I have been to Athens and Mykonos and I really want to take Kev there to experience it too.
I traveled there in high school to visit a friend who moved to Italy and we traveled all over Europe but this was hands down my favorite and most memorable country.
The Greek islands that I want to plan to visit include:
Mykonos – You have got to visit. The architecture on this island is beautiful. I love the white homes with shades of blue and the cobblestone streets. The deep blue water of the Aegean Sea will just suck you in. And of course you'll want to spend some time relaxing on their amazing beaches. There are museums, a winery, shopping and more. I'm sure there are amazing places to stay there, I don't recall where we stayed but the Mykonos Grand Hotel & Resort looks stunning. They made it on the Conde Nast Traveler Award Gold List for 2014.
Santorini – Most people I hear from say this is one of the most spectacular islands in Greece. I really want to go for the stunning sunsets! Kev loves to take pictures and I think this would be the ultimate place for him to do that. And it's a big place for Hollywood movies and celebrities. It's a quick 30 minute flight from Athens. And we would definitely be interested in snorkeling here too. Never thought of celebrating our 20th wedding anniversary here but it's a definite possibility in a few years.
Crete – This is the largest island in Greece and said to be a very popular, if not most popular of holiday destinations in Greece. According to Trip Advisor, "Crete is rich with archaeological and mythological history reflected in it's ancient ruins and cultural attractions." I don't know much about this island in Greece but I think it is one that Kev would be totally interested in visiting due to the mythology factor, caves and much more.
Just writing this post has me itching to go! CNN Travel has the list of 9 Top Greek Islands. They are spot on.
Have you ever traveled to Greece?