Disclosure: This post may contain referral/affiliate links.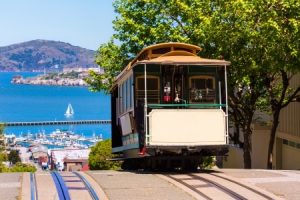 Just the other day I asked for some input about how we should use our United Airline credits. We decided to go ahead and buy the tickets to take a long weekend vacation away to San Francisco, California instead of using the credits towards our Roatan ticket purchases. It was just a much better decision all around since American Airlines could give us much better flight options for Roatan. We just have to pay more but I think it will be much better in the long run.
I'm really looking forward to going to San Francisco. We came up with some mini vacation ideas for the short time we'll be there. We are planning on doing the Alcatraz tour at night and I would like to see the Golden Gate Bridge and hang out at Fisherman's Wharf and Pier 39 to see the sea lions.
I would also like to take a quick ride in a cable car and see the beautiful Painted Ladies. The Japanese Tea Garden sounds like fun too. We'll need to rent a car! And find a hotel in San Francisco.
We'll make our way to Carmel and Monterey for a couple days via Highway 1, one of the top scenic drives in California. And maybe even drive to the Sacramento area.
In Carmel/Monterey I think we are going to stay in a bed and breakfast or hopefully find a beautiful hotel on/near the beach. I hear the sunsets are pretty amazing there. We also plan to go on a whale watching tour.
We won't have much time on this trip (4.5 days) so we don't want to overbook and stress ourselves out. We also need to watch the funds since we will be going on a bigger vacation later this year. We have the main activities decided and then we'll play it by ear!
Have you ever been to San Francisco/Carmel/Monterey? Do you have any suggestions on where to visit, stay, eat, etc.?