Disclosure: This post may contain referral/affiliate links.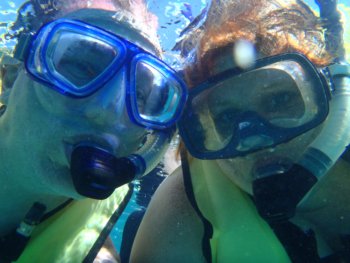 The underwater world is so amazing. One of our favorite things to do is snorkel. It's not only relaxing but it's just spectacular.
We have snorkeled in Jamaica, St. Thomas and St. John. We are really looking forward to snorkeling in Roatan too.
Speaking of snorkeling, we have our own gear except for fins. They are just too heavy to pack in the bags and I pack enough they probably wouldn't even fit anyway. I think after this year we'll have to replace our current gear. Kev has a prescription mask because he wears glasses and can't see without them. Best investment ever.
Like I have mentioned before we are going to be traveling with a family of 5. They have 3 kids who we will buy snorkel sets for because we want them all to experience the amazing world underwater especially in their home country. They will not ever forget this experience especially since everyone says Roatan has one of the most beautiful reefs in the Caribbean.
There is an under water museum that Kev and I will be going to while in Roatan. It's a guided tour where we'll see replicas of artifacts but should still be fun. The museum is located in Sandy Bay, Roatan which is an area we are looking at staying. That or West Bay Beach.
Kev and I might snorkel with dolphins too. Anthony's Key Resort has a Dolphin Snorkel & Swim program that looks like fun. Night time snorkeling is one of our favorite things to do in Jamaica. If you have never done that, we highly recommend it.
If you are going to spend any amount of time exploring underwater, you will most definitely want an underwater camera
. And don't forget the camera float so you don't lose your camera down there.
Here are a few awesome underwater cameras:
Nikon COOLPIX
Canon PowerShot
Be sure to read the specs on each to get the best underwater camera that fits your personal style! We have an older version of the Olympus Tough
. It would be nice to upgrade but that will probably have to wait as well.
Here are some cool underwater experiences you might enjoy (I want to go!):
Poseidon Undersea Resort – This place in Fiji sounds like it would be so cool. Take an elevator from an end of a pier to access the underwater hotel. I cannot even imagine the marine life you'll see and with a press of a button be able to feed them. Way cool #bucketlist
Jules Undersea Lodge – There are only two rooms and you need to become SCUBA certified to experience this.
Believe it or not there are other underwater hotels in the world and some in the planning stages. Cool!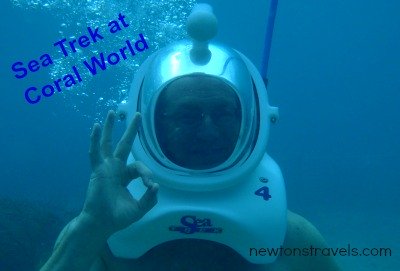 We did the Sea Trek at Coral World in St. Thomas, VI and it was a lot of fun! I was nervous at first but it went really well.
Have you had any fun underwater adventures? Do you dive or snorkel?