Disclosure: This post may contain referral/affiliate links.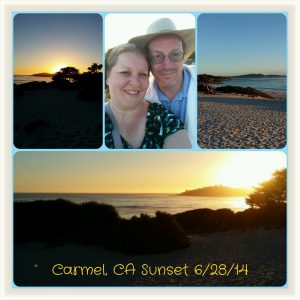 I wanted to check in and let you all know that I am working on all of the posts from our trip to California. We had a wonderful time, although a bit too short.
We traveled from Chicago O'hare to San Francisco, California on June 25 and came home on June 30th. Our 8:45 PM flight to San Fran was delayed a lot so we made our way to Concourse B at O'hare (our gate was at Concourse C) to hopefully find something for me to eat. It's too bad that most everything is pre-made at airports. We got a great workout walking to Concourse B but also got really lucky that the nice people at Wolfgang Puck were so accommodating to me.
I don't eat meat and was doing really well on my 'diet' and had given up bread so I asked if they could make their veggie sandwich without bread. Although they looked at me funny when I ordered it that way, they sure shocked me with the end presentation. It was beautiful and tasty! So impressed.
Once we boarded, hours later, after running in to our niece who was on the delayed plane that came in to our gate (small world), we finally got off the ground. United Airlines was on our bad list anyway so this was just the icing on the cake. I hope to never have to fly with them again. You should have heard their employee at the gate. So rude and snarky. I would have been embarrassed as her boss to hear her treating customers who have been delayed HOURS that way.
We finally landed in San Francisco, got our luggage and hopped on the shuttle bus to the Double Tree by Hilton San Francisco Airport. We'll be writing about them in the next post.
The next morning after breakfast at the Double Tree by Hilton, we hopped on the shuttle back to the airport and made our way to Alamo rental car at the airport. There were tons of people waiting in many lines for their rental companies.
Thankfully the car we rented, a snazzy black Mustang convertible had already been paid for so we just used the self check in option at one of their kiosks. The gentleman who was helping everyone that day did a great job and was very patient with all the customers. Our drop off was just as swift and painless. Way to go Alamo!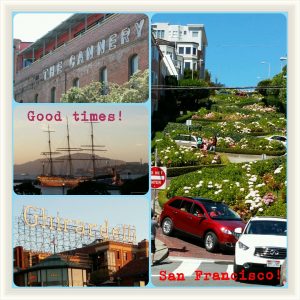 Once we were shown to our car, we got situated with directions and were off to Carmel/Monterey for the first part of our trip. It was recommended to us that we take one of the top scenic routes, Highway 1 but I realized after the fact that we took Highway 101 instead.
Big difference I see! I wondered why it wasn't as beautiful as all the pictures. There was beautiful water and beach for a very short time on the way to Carmel though so that was nice. Next time I will pay more attention and we WILL end up on Highway 1.
Carmel beach totally made up for the drive. So did the whale watching tour in Monterey! We stayed in Carmel for 3 nights before heading back to San Francisco. I absolutely loved everything about Carmel and would move there in a heartbeat. It is such a beautiful little town.
San Francisco was pretty awesome too. We stayed at the Marriott Fisherman's Wharf and did a ton of walking around the area and toured Alcatraz.
We will write a lot more about our trip to California so be on the lookout over the next few weeks. It's not long now until we take off for Roatan, Hondruas. Can't wait!
Have you ever been to Carmel or San Francisco? What was your favorite part?