Disclosure: This post may contain referral/affiliate links.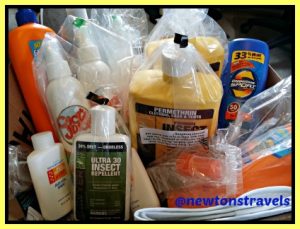 West Bay Beach, Roatan, Honduras
I can't believe the time is finally here.  We have been planning this vacation for many months.
We are off to Roatan, Honduras for a couple weeks.  We have booked a ride to the airport with McHenry Limousine service. They pick us up in the wee wee morning hours.  2:30 AM is absolutely insane but our flight to Miami leaves at 5 AM and we are about an hour from the airport.
We have used McHenry Limousine ever since I met Kev (18 years ago) and he used them long before that.  I'll write more about their service and company when we return from vacation! But if you are in the Chicagoland area, give them a call.
For long trips like this we usually park at the airport however the tram to the terminal from the parking lot is no longer in service this year due to maintenance. Oh well, we'll relax and enjoy the ride.
We packed yesterday because Kev has to work late and we wanted to make sure it was all done beforehand. It also gives me time to take care of last minute details. Plus I had to give myself enough time to fit everything into all the bags.
But the bags ARE packed and boy do we have a lot.  We'll each check 2 bags and have 2 carry on's. One of Kev's bags belongs to the family we are traveling with (and we packed stuff in there too) so he'll be lighter on the way back. Unless of course we buy too much stuff and have to buy another piece of luggage.  Just kidding. Or not.
We have a layover in Miami and then we go on to Roatan.  It's a direct flight to Roatan and they only have one each Saturday.  American had rebooked us on a later flight but I did a little research and that flight time was still available so I had them move us back to that initial time. We cannot afford to miss that flight to Roatan since we have paid up front for our rental.
This will be a laid back, work FREE vacation.  If the WiFi works you might see us sharing our vacation on our social channels but other than that, there are no plans to blog and I have already made up client work hours.  We are good to go.
We look forward to snorkeling every day. And although we have done a lot of research on activities to do, we did not make solid plans and will wing it once we get there.
We'll be traveling with a family who lives on the mainland Honduras. They have about a 5 hour drive to the ferry in La Ceiba and will park and take the ferry over to the island of Roatan which takes about 2 hours.
They will meet us at the airport and we have a shuttle company picking all of us up. First stop is the grocery store to stock up on some food, water, etc. and then the drive is about 30 min. to the rental house. We will be staying on West Bay Beach.
I think I am prepared as I can be for the beach bugs. I am allergic to no seeums and don't react well AT ALL to the bites (and I hear they are the worst as you can get on this island). BUT I have a plethora of items that will hopefully keep them far away.  Here's what I have (I know you'll think I'm crazy but no one quite understands what I go through) so better to be safe than really sorry.
I'll write more about the products and how they worked (or didn't) after our vacation. Just keep your fingers crossed all goes well for me on the bug front.
Now that we are all packed all we have to do is wait. If you have any recommendations for us for restaurants at the Miami airport during our layover or activities and places to eat in Roatan, please leave a comment below. Or tweet us @NewtonsTravels or post on our Facebook wall.
We'll see you on the flip side……….