Disclosure: This post may contain referral/affiliate links.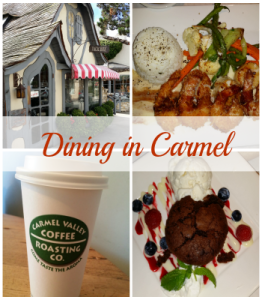 Our Carmel, California Dining Experience
I wanted to write about our exceptional experience with a variety of restaurants in Carmel, California. Dining was a treat here. All of these restaurants were in walking distance from where we stayed. I really loved that we could just park our car and walk everywhere in this quaint town of Carmel-by-the-Sea.
Carmel Valley Coffee Roasting Company – We started every morning here. It was just around the corner from the Monte Verde Inn Bed & Breakfast where we stayed. I loved their sugar free caramel soy latte and Kev had a few different things but really enjoyed their espresso frap. The girls were always so welcoming here. On our last day they had pulled out the Jamaican Me Crazy coffee that we were requesting on a daily basis. They were probably tired of us asking errr begging for it. This shop is the downtown Carmel-by-the-Sea location on Ocean Ave. between Lincoln and Monte Verde).
PortaBella – This Mediterranean restaurant was delicious. The service amazing and outdoor dining was a big bonus. We walked around inside too and it was beautiful. Their cuisine includes specialties from France, Italy and Spain. The blackened salmon and Caesar salad was very tasty. This restaurant is located on Ocean Ave. between Lincoln & Monte Verde, not too far from the Carmel Valley coffee shop.
Flying Fish Grill – We had heard and read great things about this restaurant but it was our least favorite. We had a few tasty items like the Dungeness crab appetizer & their salsa plus I had a tasty black bean halibut baked in parchment paper. Other than that Kev's seafood pasta was not good (the calamari was tough and overcooked) and the shrimp was fishy. We had issues with the iced tea tasting chlorinated and they tried to rectify that but it never got any better. The host acted annoyed when we called ahead to ask if we needed reservations and told Kev (and I quote), "It's really noisy in here, I just can't hear you" and Kev left our name. As we were there waiting to be seated, they took the couple in front of us without a reservation and then we had to wait for a table. Overall, not a good enough experience to want to return. The Flying Fish Grill is located in the Carmel Plaza, lower level on Mission St. between Ocean & 7th Ave.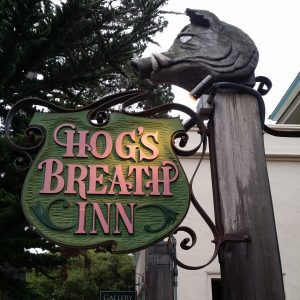 Hog's Breath Inn – This was one of our favorites. It's the Legend of Carmel and known for it's Old West ambiance. Clint Eastwood owned it years ago but his face is prominent there. We chose to sit outside on the patio and the service and food was fantastic. Becky the hostess was very friendly and our server Carlos was great too. Hog's Breath Inn is located on San Carlos Street between 5th and 6th Avenues.
Tuck Box – We found this little restaurant walking around town looking for breakfast. The Tuck Box was constructed by designer-builder Hugh Comstock. We heard that he built quite a few cottages in Carmel, CA but didn't get to see them on this last trip. We had a tasty but expensive breakfast here. Probably due to the fact that I wanted just eggs/avocado/smoked salmon and it wasn't on the menu, oh well. We ate indoors but found out during our meal they also had outdoor seating which would have been our first choice.
A.W. Shucks Cocktail & Oyster Bar – This place was packed! But for good reason, it was sooo good. We sat at the bar for our meal so we didn't have to wait for a table. Erin the hostess and Alex our bar server were very personable. The service was quick and we would definitely go back. The calamari was delicious as were our meals. My mouth is watering just thinking about it. A.W. Shucks is located on Ocean Avenue between San Carlos & Dolores.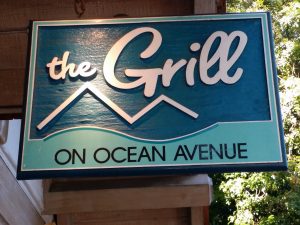 The Grill on Ocean– We decided last minute to go here one night for dinner and are glad we did. Dinner was amazing. I had fresh prawns and scallops. Kev had the swordfish. Service was also amazing and our waitress Heather was so much fun. We were seated right by the front window. I love people watching! The Grill is on Ocean Avenue between Dolores & Lincoln.
We also made our way (driving) to the Starbucks in Carmel-by-the-Sea (really great service) and stopped by Safeway for a few staples. I could totally live in Carmel, California. It's my kind of town.
Have you been to Carmel? Have you been to any of these restaurants in Carmel, California?