Disclosure: This post may contain referral/affiliate links.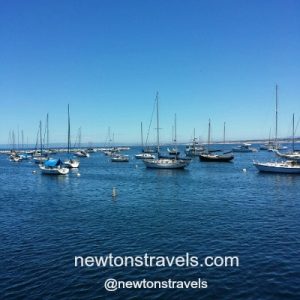 Whale Watching Tour: An Experience to Remember
The Monterey Bay whale watching tour was one of the highlights of our trip to California. We bought tickets in advance from the Monterey Bay Whale Watch tour company (I featured their video in this post). We chose the 9 AM tour and paid $49 each. Totally worth it.
I did a lot of research before choosing a whale watching tour company and I definitely made the right decision. I had said I was looking for fun tour operators, experienced captains, reasonable prices and they had to be active on social media. They met all my expectations and more.
We drove to Monterey from Carmel where we were staying. The plan was to be there more than the 30 minutes required to check in. And we knew to dress warm but I totally forgot the gloves I had on my list to pack. Luckily they had them for sale in their shop so I bought a pair.
The Monterey Bay Whale Watch Center was almost to the end of Fisherman's Wharf to the right past most of the restaurants and shops. There was another vendor that had a similar name but we found the right one. We checked in early so had plenty of time to take some video and pictures of the sea lions and Fisherman's Wharf. I'll show you all that in the next post.
Back to the whale watching tour…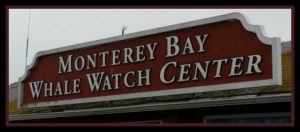 Most.amazing.experience. We had the opportunity to see a blue whale which they say was very rare. Cool for us! We also saw humpback whales, Rizzos and Harbor dolphins, sea otters (adorable) and sea lions. Plus thousands of birds. That was crazy!
We talked to a gentleman who is a marine biologist and professional photographer. He was so knowledgeable and shared a ton of great info with us. Melissa, Isaiah, and Captain John were great tour guides.
Blue Whale Sighting: Blue Whale Videos
So we have video that I'll share but be sure to take your sea sickness pill because the video is all over the place. Hard to keep it still and in focus on the boat. But you will get to see a blue whale. Incredible experience.
The blue whale is the largest animal in the world. They eat mostly krill and can be up to 100 feet long and about 200 tons. Crazy huh? This particular one was so graceful, it was quite something to experience. Just look at the fluke/tail fin of this amazing creature in this next video.
And one last quick video of two humpback whales and their flukes. So beautiful!
If you ever get the opportunity to go on a Monterey Bay whale watching tour (or any whale watching tour for that matter) DO. IT. And if you worry about getting sea sick grab a pair of Psi Bands
. It's amazing how well they work. Review of the Psi bands coming next week!