Disclosure: This post may contain referral/affiliate links.
Fisherman's Wharf, Monterey, CA
We weren't at Fisherman's Wharf in Monterey, CA for very long. We went there mostly to go on the Monterey Bay whale watching tour. But we did arrive early enough to walk around a bit and take video of the California sea lions before the whale watching tour.
California Sea Lions
More California Sea Lions
When we got back from whale watching, we were hungry so we went to Rappas Harbor View Seafood restaurant which is at the very end of Fisherman's Wharf. The view was beautiful and the food was good. Of course you know we had to have the calamari. Delish.
Their credit card system was down so thankfully we had cash on hand. Thanks for the great service Dominee and Sandra!
After lunch we walked Fisherman's Wharf a bit and had a bit of fun with some Pirates. If you knew Kev, you would know he is obsessed with them. He plays a game called Battle Pirates and everywhere we go he's on the hunt for something in pirate land. Silly guy….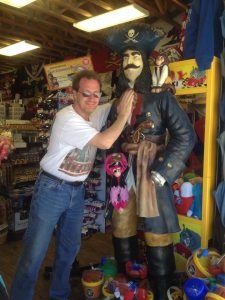 Have you ever been to Fisherman's Wharf, Monterey, CA?