Disclosure: This post may contain referral/affiliate links.
Marriott Hotel, San Francisco
After a few days in Carmel, CA we headed back to San Francisco for an overnight stay. We left early to get in enough time for touristy stuff around San Francisco.
I'll share all the fun things we did in the next few posts. But I wanted to write about our stay at the Marriott hotel, San Francisco.
Once again, we used points to stay at this hotel and once again, I did my research to find the best hotel for us. We wanted a hotel close to Fisherman's Wharf because it would be the closest to the Alcatraz tour, the main attraction of our trip to San Fran.
And if you don't know our personal story, Marriott is near and dear to our hearts. It's how we met.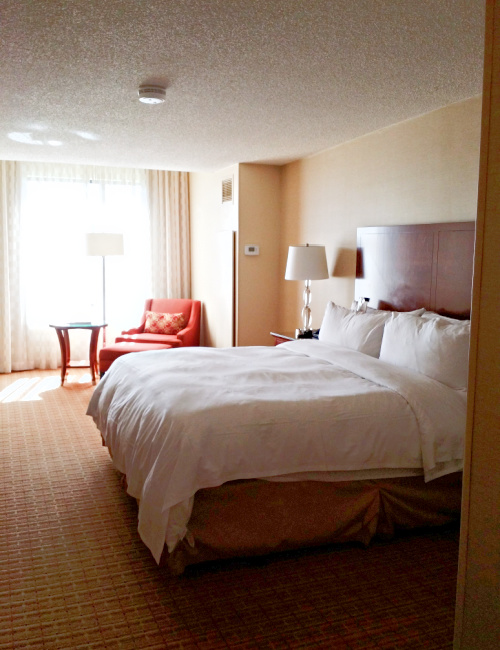 I had read various reviews both good and bad about this hotel. The good far outweighed the bad though (we didn't even experience anything bad). I mean really you're staying near Fisherman's Wharf, it could get loud outside with all the people but to tell you the truth we slept like babies.
It was a very comfortable and beautiful hotel.
And the service was outstanding. I had called the front desk from Carmel to check on directions and ask some other questions. The kind lady gave us the heads up on a festival they were having in town and informed us of a different route to take. And she was able to tell us a few other helpful tidbits to help us find locations we needed.
Upon arrival, we were welcomed by the guys for valet parking. The price of valet parking was another complaint I had read about. But to us $50 is a totally reasonable for the customer service AND the location. We didn't have to drive anywhere and were close to everything we wanted to be near.
The San Francisco Marriott Fisherman's Wharf Hotel is close to so much like Alcatraz Island, the Golden Gate Bridge, Chinatown, The Cannery, Lombard Street (the Crookedest road) and of course Fisherman's Wharf plus much more. I love this town.
It was my first time to San Francisco and I really want to go back. We didn't have enough time that is for sure. I can write a whole separate post on the things we still want to do. In fact, that's just what I will do sometime.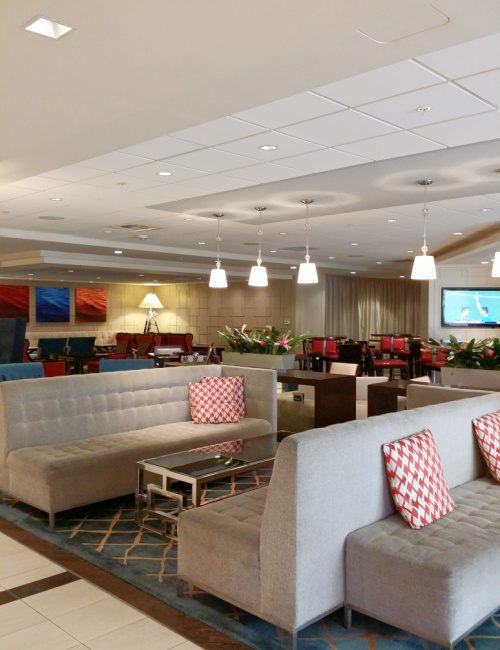 The Marriott Fisherman's Wharf has free WiFi in their lobby and at the time of this writing, in room Internet is $12.95 and $17.95 depending on the package you choose.
This hotel has a fitness center but we never got to use it much less see it. They also have the Red Fin restaurant & lounge and it was stunning. The whole lobby and restaurant area was so clean. Too bad we didn't get the chance to try it out. Next time!
Overall a really great experience at this hotel. We would highly recommend it.