Disclosure: This post may contain referral/affiliate links.
Sightseeing Around San Francisco
We didn't get to spend a ton of time in San Francisco but the time we did get there was fun! We will most definitely have to return and spend a lot more time checking out this awesome city.
We flew in to San Francisco and stayed overnight at the DoubleTree by Hilton hotel San Francisco airport, rented a car and then drove on to Carmel, CA for a few days. After a couple nights in Carmel, we headed back to spend a day in a half sightseeing around San Francisco.
First order of business was to check in to the San Francisco Marriott Fisherman's Wharf hotel. Once we left the car (we rented a Mustang convertible) with valet, we relaxed in the room for a bit before heading out on foot.
First stop was Lombard Street, the crookedest street with 8 sharp turns. I couldn't wait to see it. And it did not disappoint. I asked Kev if he wanted to go get the car and drive down the street too (he laughed at me and rolled his eyes). Lombard Street and the area around it was so beautiful.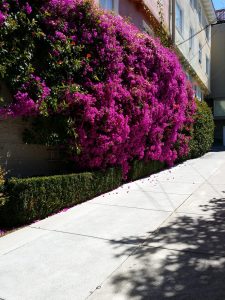 We also got some other great pictures looking down the hill to Alcatraz. We went on the Alcatraz tour, which was one of the big highlights we had planned. The next post will be all about Alcatraz.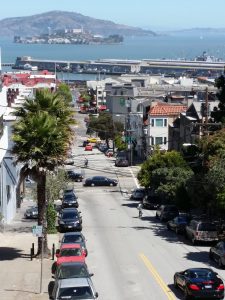 We were starving by then so we walked all the way to Fisherman's Wharf to eat lunch at Fog Harbor restaurant. We had some tasty dishes like salmon, swordfish, calamari and dessert. Plus we had fresh lemonade and ginger lemonade. So refreshing. Our server Vanessa was very nice. I'm busy adding all of our reviews to Trip Advisor so you'll be able to see all of our tasty dishes over there very soon.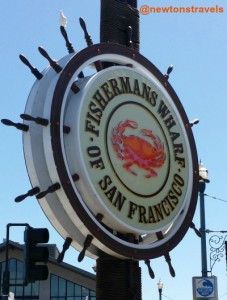 After lunch we walked around Fisherman's Wharf and headed to Pier 39. There were only two California sea lions so I was pretty bummed out. But at least I got to see them in Monterey.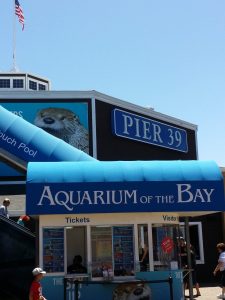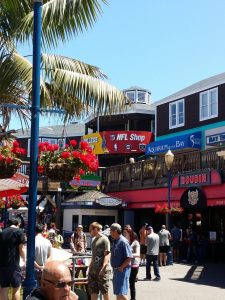 We walked back to the hotel to rest before we had to head back on foot AGAIN to Pier 33 for the Alcatraz tour. The Alcatraz tour was awesome, we would highly recommend it. Alcatraz review to come.
After the tour and all the walking we did earlier in the day AND on Alcatraz, I was thrilled to see Peticab's lined up along the sidewalk. I would have paid anything at that point to get off my feet and have someone take us back to the Marriott. A nice young lady told us to hop in and we rode away. So cool. Of course I missed getting a picture of this. Bad blogger! Here's one from Flickr…
Once back at the hotel Kev crashed, I colored. Once we were rested up a bit we headed out again. We walked a little bit on Cannery Row and then headed up to Ghiradelli Square. Nothing too exciting there. Then we walked down by the water and looked for somewhere to go for dinner. We ended up at Flying Sushi. Yum!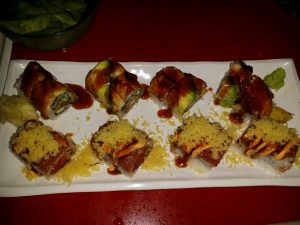 Afterwards we were so tired we went back to the hotel and went to bed. Such excitement. We had planned to wake up really early and spend what morning we had left at Golden Gate Park but decided that it would be too short of a time frame so we slept in and then went on the hunt for breakfast. We walked Cannery Row again, took more Pirate pictures and stopped in San Francisco tour shop to ask for breakfast suggestions.

Darryl was great and recommended Beach Street Grill. It was a healthy and delicious breakfast with outdoor dining. Score! Definitely use the city resources to get recommendations and discounts. Check out this water/land bus that drove by while we were eating breakfast. So funny.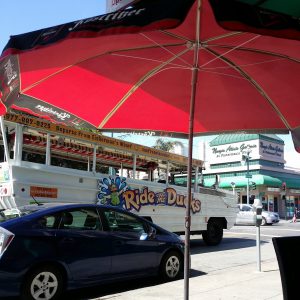 After breakfast, we hopped on a cable car thinking it would be easy to go to the end and turn around and come back. Well, the line was so long it was absolutely not happening. We were short on time as it was since we needed to get to the airport for our flight but we had to find a better way. We finally found a street car/bus but had to take it a long way to get back but still had a ways to walk to the hotel. And would you believe it took extra long because there was a lady that hopped on who didn't pay. Some people. And the driver wouldn't move for the longest time because of this woman. He wanted her to pay and rightfully so. I was starting to worry though we might not make it back in time but we finally did. Phew.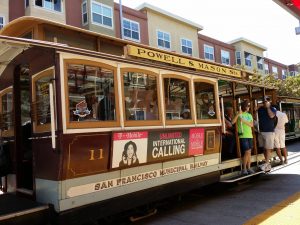 We finished packing, checked out of the hotel and picked up our rental car from valet. Made it back to return the rental car at the airport and check in for our flight. It was a fabulous although short trip. We can't wait to go back.
What is your favorite part of San Francisco?