Disclosure: This post may contain referral/affiliate links.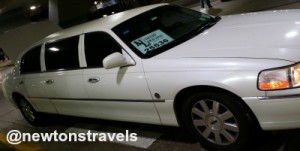 Here's a quick review of our last limousine service rental. I had called and booked McHenry Limousine to take us to Chicago O'hare airport for our vacation to Roatan, Honduras. I wrote a bit about McHenry Limo in this post. We have used them for many years and will continue to do so when needed.
This last pick up was a bit nerve wracking to be honest. I had booked the limo well in advanced and even called to verify our extra early pick up time a few days before our vacation. Needless to say the morning we were to be picked up the driver over slept. I was sweating bullets because there was only one flight to Roatan available that day and there was no room for delay on our part.
We did make it in time but were about 40 minutes later than planned. I like to get to the airport early so we can sit down and have breakfast and relax before a full day of travel. We were not afforded that luxury this time.
Although I was not to happy to have to call and talk to 2 people at 2:30 AM before resolving the delay issue, we have used the McHenry Limousine service for over 18 years. Kev used them when he used to travel for work so we have stuck with them exclusively when traveling out of the U.S. They even stayed around the airport after one of our trips when we were delayed coming in late from Jamaica. We were thankful we didn't have to wait that night.
The company has been good overall and we would recommend them.