Disclosure: This post may contain referral/affiliate links.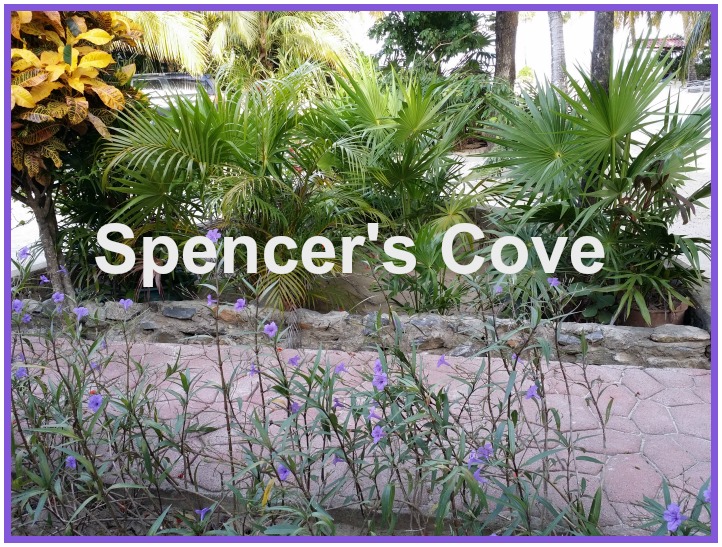 Spencer's Cove Rental Review
It was very exciting to get back to Roatan for the 2nd time this past September. What a great time of year to go for us, it's always so quiet and hardly any tourists. Spencer's Cove was our home away from home for a week. Looking forward to returning to Roatan later this year.
We were glad we could stay on the same property as the year before. It was just a smaller rental since it was only the two of us. I really need to do better at taking pictures of where we stay. I feel I'm failing as a travel blogger ha ha
My friend Rikaine from the travel blog, Beans and Tortillas toured Spencer's Cove (and the remaining of their rentals) with me last year when our family was there together.
Spencer's Cove called to me for one reason only. The screened in sitting room.
However it was not the same as when we were there. They had since enclosed the room and removed the wonderful screens. A totally different vibe.
The sitting room was going to be the place to hang out and relax but it was way too hot to do that. I never got to enjoy it. There was no ocean breeze like before and was the big bummer of the trip (for me, anyway).
It is a cute sitting area though isn't it?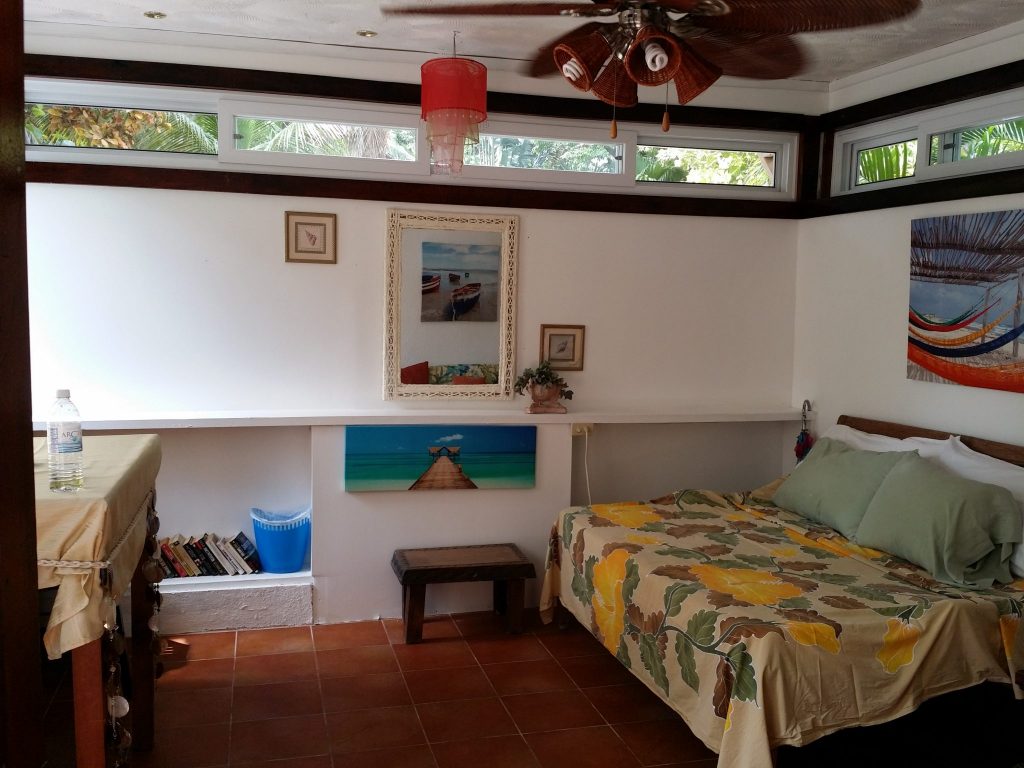 There was this futon like bed, plus a table, two tall chairs and a wicker couch.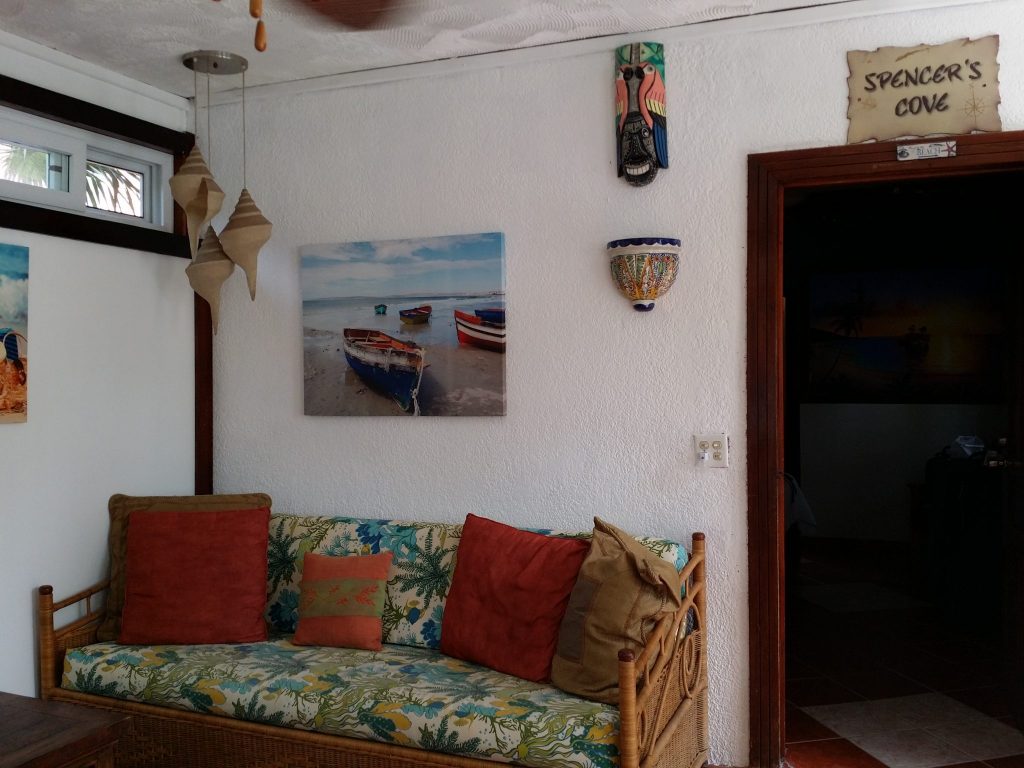 Definitely plenty of seating.
Kev spent some time out there and every time he came in to the room he was dripping with sweat. It was much more comfortable to sit outside! Maybe a better ceiling fan or even two would help the situation. Maybe.
The view is great though, wouldn't you say? This ground level rental is right on the beach just steps from the water. Truly amazing!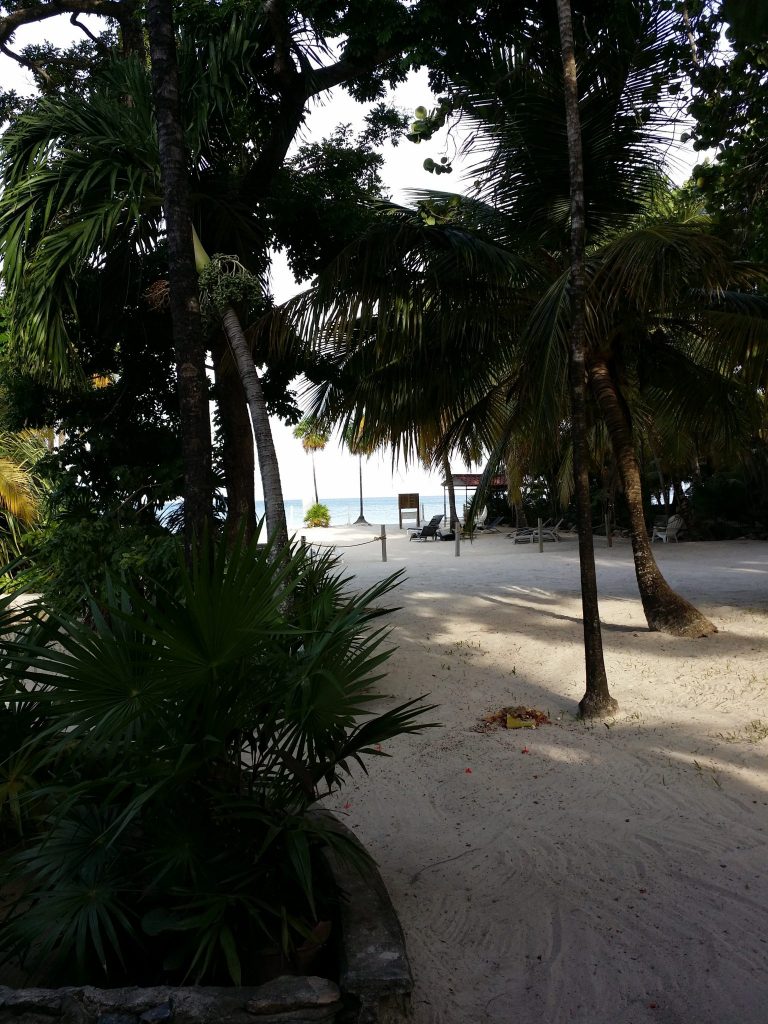 Speaking of outside, they had a nice patio area with table and chairs, grill and a shower to rinse off.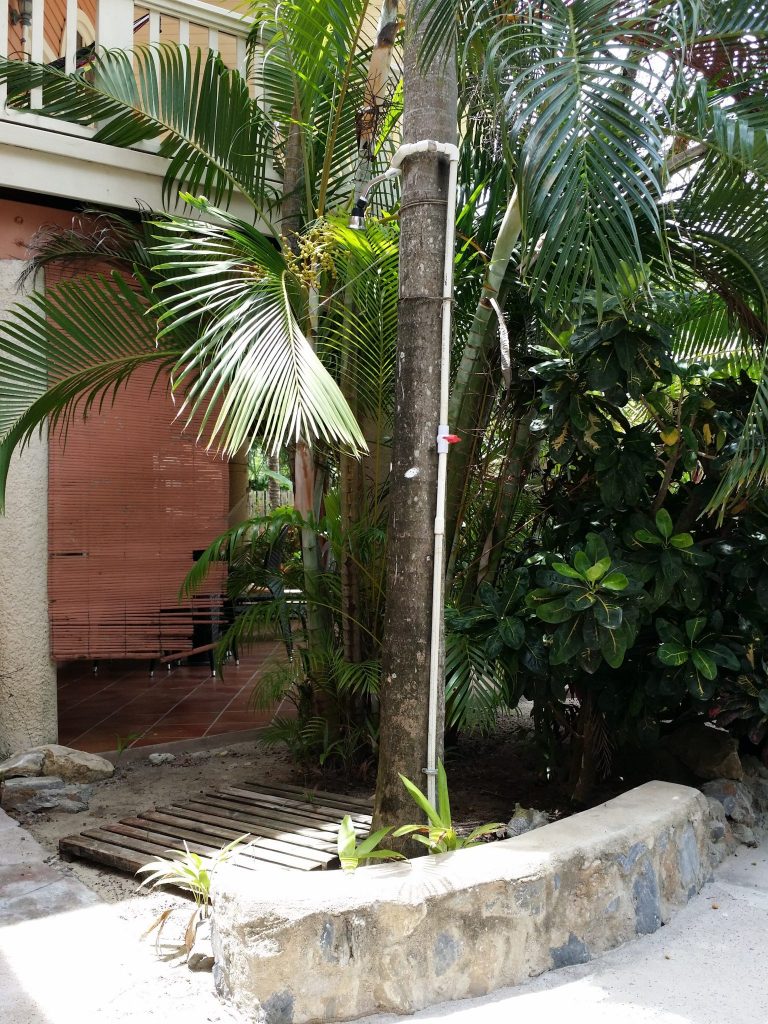 Plus a sweet cat that followed us around, kind of like home!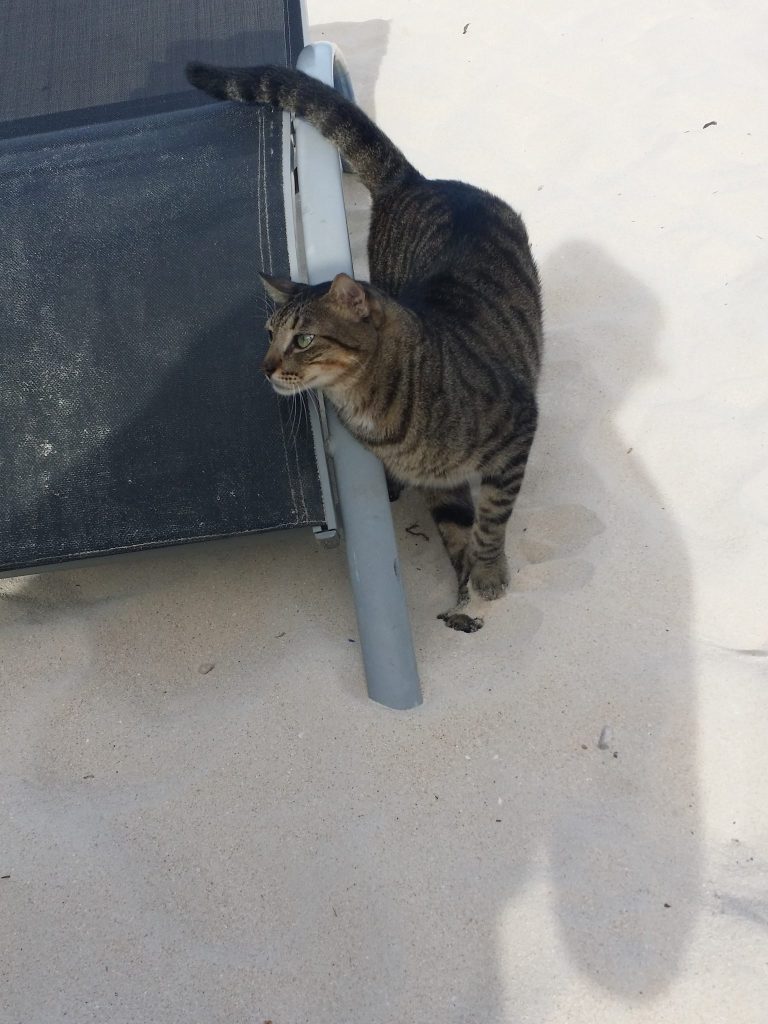 Don't get me wrong though, the Spencer's Cove rental is in the ideal location and is suitable for a week for two people. Plus affordable.
Inside there was a king size bed, sitting chair, and closet area for hanging clothes with a safe for your valuables. There was also a dresser, TV, bed side tables plus a desk.
The bathroom was a tight space with a decent size shower. There is a small kitchen that was perfect for the week we were there. It had a fridge, stove/oven, microwave, and water cooler, the basic amenities. We love the fact that we get access to water bottles too.
The AC broke one night and they came out the next day on a Sunday to fix it the best they could. It cooled the inside of the rental off just enough but we decided to keep it on the entire time to keep it cool since there was no breeze even through the windows of the room.
It was definitely hotter this trip than the first one. When hot, get in the water and snorkel, can I hear an amen to that?
Spencer's Cove is located on West Bay Beach at the Emerald Bay Beach Club rental community. It has a stunning view of the water and is just steps from the sand, beach and water.
In 2014 we stayed at Casa Coral, 2015 Spencer's Cove and 2016 and 2017 Savannah's Treasure rental. All of these rentals can be found at https://www.casadeparadise.com.
Here's our review of their Casa Coral property. You'll see we wrote about the two talking parrots last time but they were not there this time. We missed that. And the house manager is now Evelyn's sister. A nice girl. We will be sure to show you their Savannah's Treasure rental should we decide to stay there this year.
Have you been to Roatan? If so, where do you stay?