Disclosure: This post may contain referral/affiliate links.
It's time for me to announce the very first Bloggy Love award
The recipient of my first Bloggy Love award is Kath from Kath Eats Real Food (KERF).  I can't tell you exactly how I came across Kath's blog but I'm so glad I did.  Kath and her blog have been an inspiration to me in many ways.  Since starting to read her blog back in 2008, I have been more adventurous with food.  She inspired me to make some yummy salads, try Larabar Fruit & Nut Food Bars
, Almond Butter, Chobani greek yogurt and the list goes on.  Look at one thing she inspired me to make.  A large salad with grilled veggies.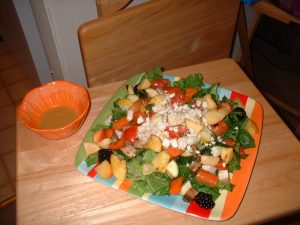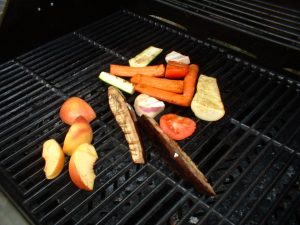 Kath has me intrigued at the notion of food blogging so maybe one day!
Oh and I should probably tell you that I had the GREAT pleasure of meeting Kath in Chicago last November when she and other bloggers were in town for a Quaker Oats sponsored event (here are some pictures that Kev took of meet-up).  Kath is just as real in person as she is on her wonderful blog.  Here is a picture of us together.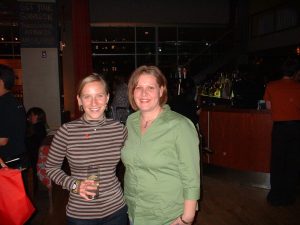 Kath and another blogger (next month's Bloggy Love recipient) have been instrumental in showing me that it can be fun to eat while being healthy at the same time.  I don't think I have ever eaten so much oatmeal in my life but the variety of oatmeal toppings that is shared on their blogs is amazing.  I especially enjoy adding Almond/Peanut butter to my oatmeal now.  Yum!
I really enjoy how Kath and her hubby Matt enjoy their time together.  Their relationship stands out to me as one that is so loving and adventurous much like Kev and myself.  I would love to be able to hop on bikes like they do to get around town!
There are so many great things to find at Kath's blog, you really need to check it out.  There are ton of awesome recipes and you don't want to miss her famous "chandelier" coffee.  It's the talk of the Internet on other food blogs.  And Kath even has her own KERF blog logo store. Sometime I want to get the bowl, apron and of course a magnet.  How fun!
Get on over to Kath's blog, Kath Eats Real Food and you'll see why she got the Bloggy Love award from me.  I'm sure she will inspire you as much as she has inspired me.
Don't forget to feel the bloggy love and share the award with some of your favorite bloggers and be sure to come back here to share the link.
Happy Valentine's Day