Disclosure: This post may contain referral/affiliate links.
Bristol Renaissance Faire Celebrates 30 Years
Last year, we went to the The Bristol Renaissance Faire in Kenosha, Wisconsin TWICE. It's not too far from us, just under an hour. We had such a great time last year that we knew we wanted to take the whole family this summer. I planned months ago that we would treat our family to it and they had just as much fun as I thought they would.
I purchased our tickets in advance at Walgreens where they were much cheaper than at the main gate. We did use our coupon book to get two adult tickets at the gate for a reduced price PLUS 2 free kids tickets. I made the deals work for me since we were a nice big group of 10. One granddaughter couldn't make it, she was out of town and we missed her but what a fun time we had.
This explains the faire….
"Every Faire day recreates a time when knights were noble, maids were merry and turkey legs were titanic. Once you enter the portal gates, you travel back in time to the year 1574, and you've walked right into an exciting village festival day. And what are we celebrating? Queen Elizabeth, Herself, is visiting Bristol! It's time to eat, drink and be merry! Revelry is the order of the day!" source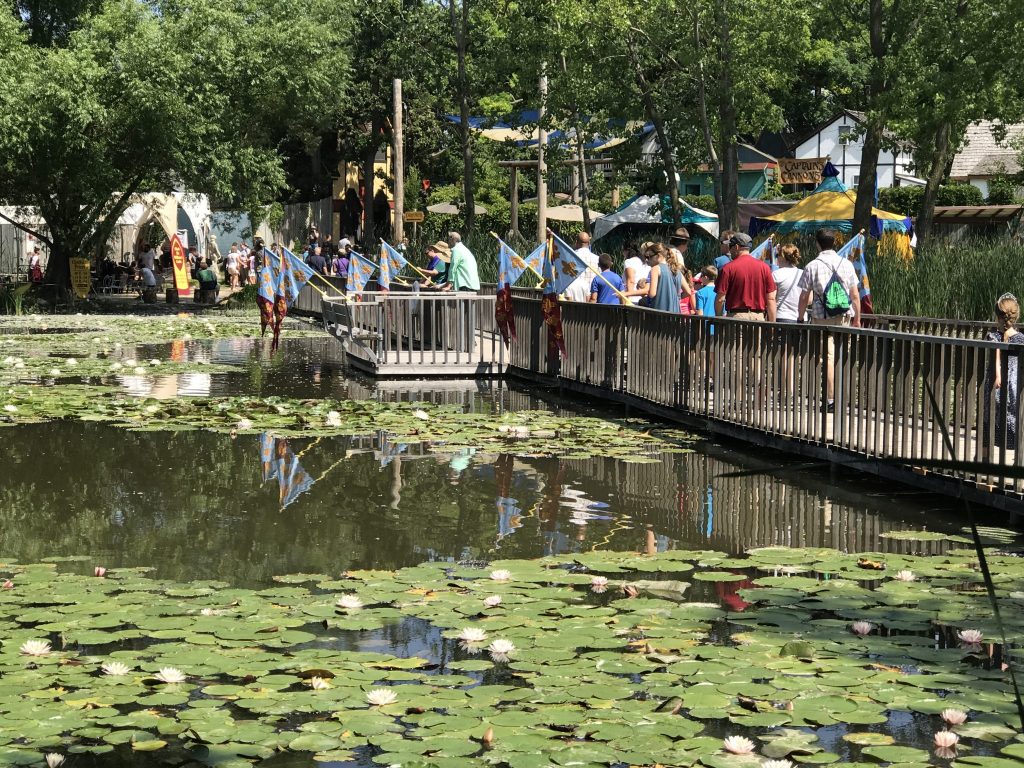 There is so much to do at the Bristol Renaissance Faire. Here's a run down of some of our favorites.
I always look forward to the fairies all over the village and once again they did not disappoint. Our granddaughter, Isabella loved them, just like I knew she would.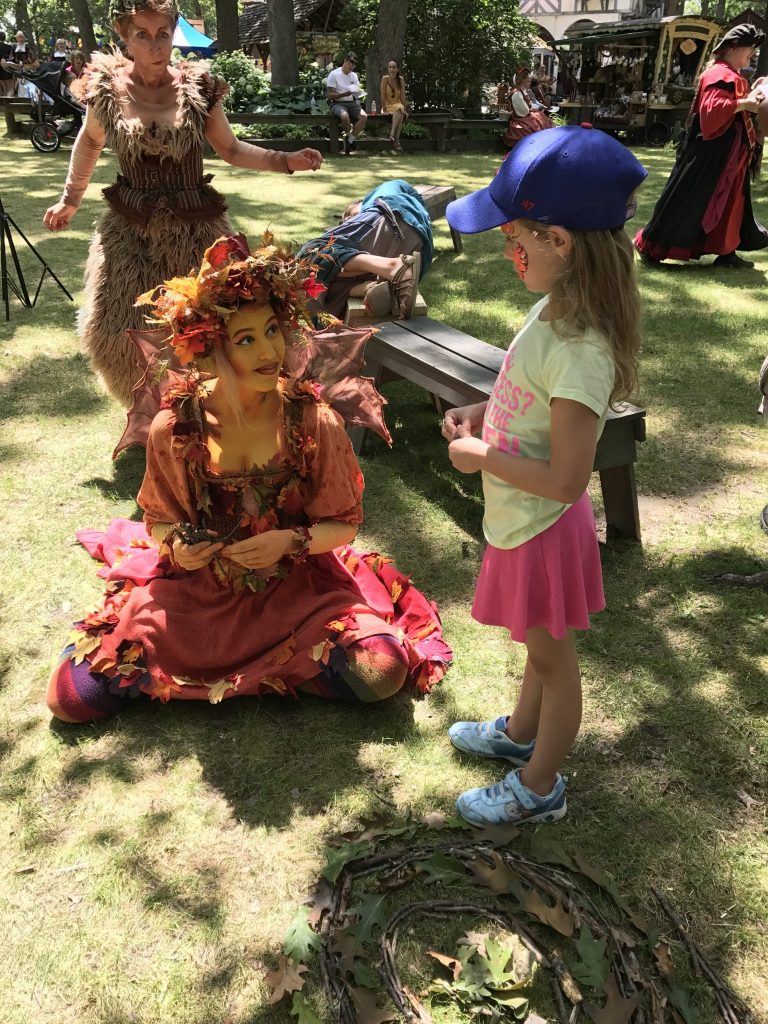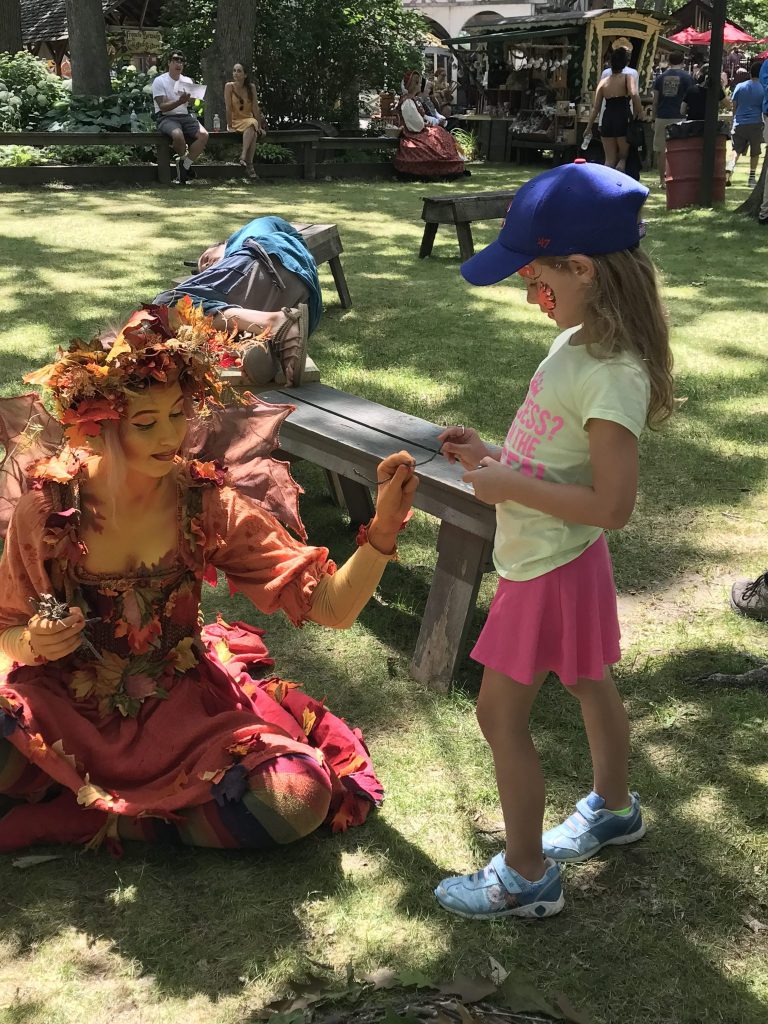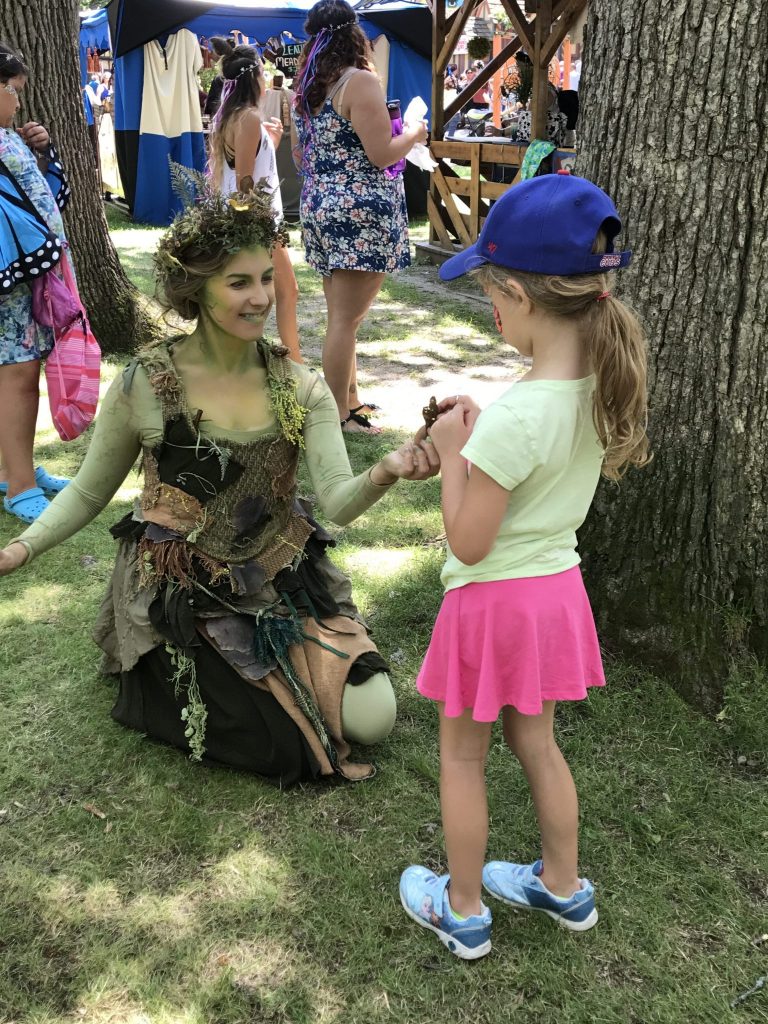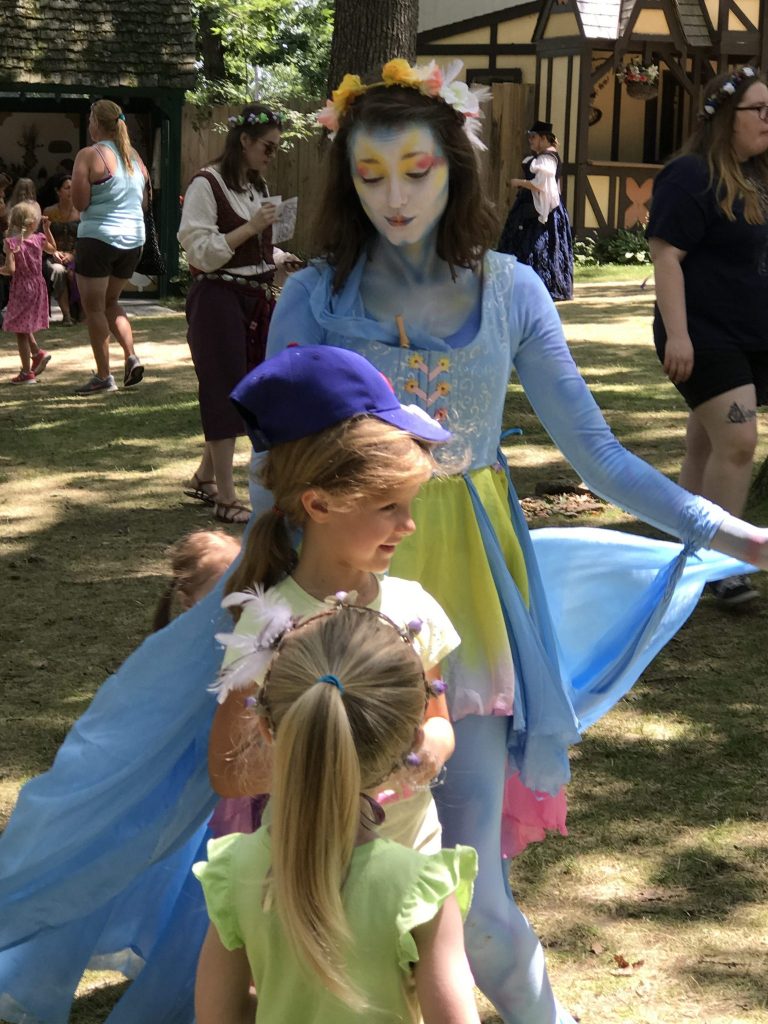 The entertainment and rides are always cool. Bella did a few fun rides and activities. We always make sure to attend the jousting tournament too.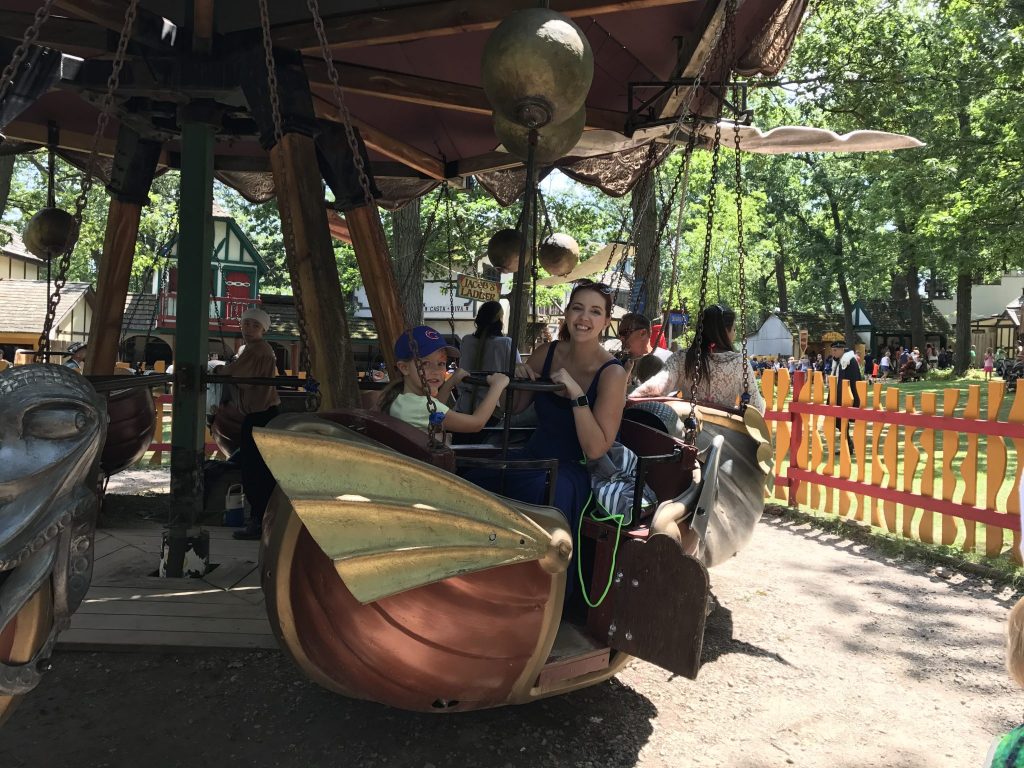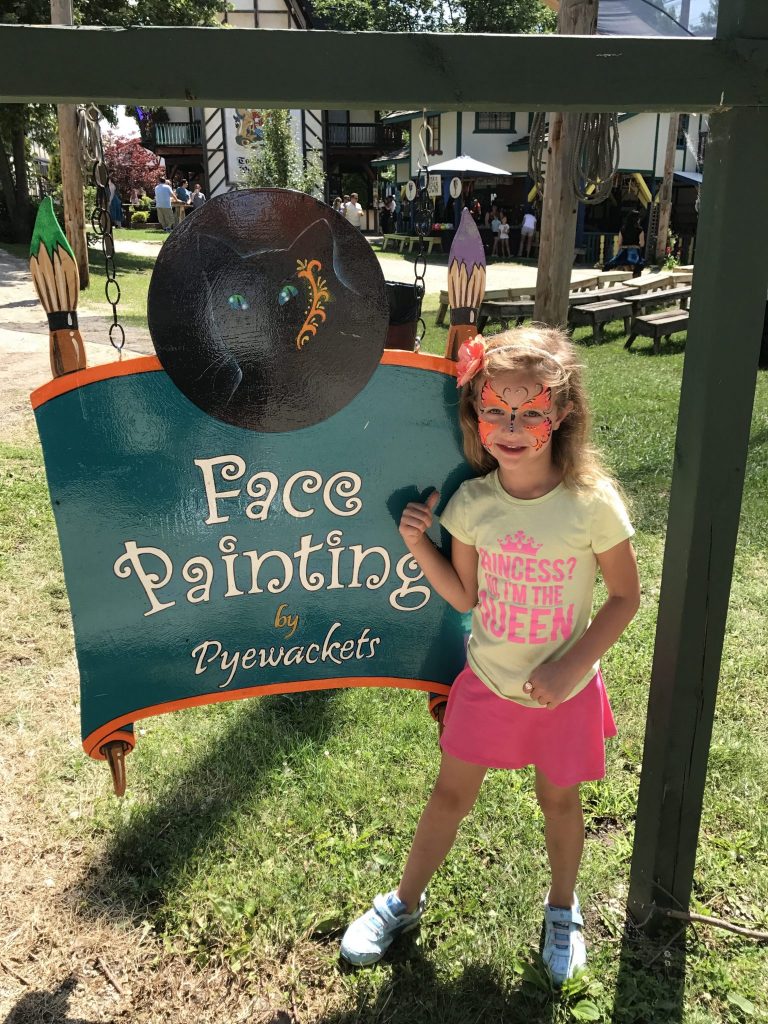 The two younger granddaughter's also tried out the The Pirate's Assault Catapult, a bungee jump with trampolines. We didn't get a picture of this because a few of us were off in search of the famous pickles. And of course Kev and his son Tyler couldn't miss out on the climbing wall.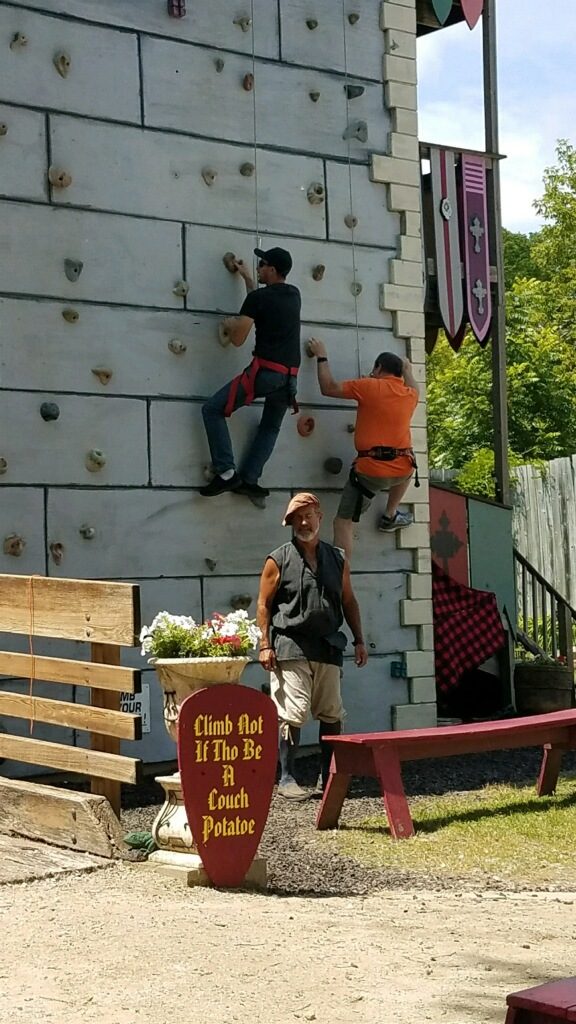 And we can't miss telling you about the FOOD although I didn't get any pictures of that. There is something for everyone. I have been eating lower carb meals lately so it was great to be able to have plenty to choose from.
The family tried a variety of things for lunch and snacks. We had turkey legs, brats, shrimp, fish and beef. Delicious mushrooms and the sassafras drinks are Heavenly. But most of all don't miss out on the pickles. They have regular, garlic and hot. Search them out. Yum!
We did some shopping in the market place. Treated the kids to some goodies and I bought myself a darling mermaid in a shell for my beach theme home office. We always treat ourselves to some candle melts and bath/body items too. Tons of unique shops to peruse.
We always look forward to seeing Michelle Novak, author of some amazing children's books like The Mermaiden (I love this one), Princess Liliana and the Dragon and her newest one, a Mystery/Thriller/Suspense book perfect for teens that just came out, Veleno! I hope you'll take a look at her books.
A little more about the faire…
The Faire is off I-94 at the IL/WI border. If you come from out of town, you might look into staying at the DoubleTree by Hilton or the Holiday Inn Express & Suites nearby. Parking is $5 at the preferred lot or free in the lot far north side of the Faire. The hours are 10 AM- 7 PM. They are open Saturday's, Sunday's and on Labor Day Monday through September 4th. Tickets: $25.95 for adult, $11.50 children (4 and under FREE). Buy them at Walgreens for less.
I think it's fair to say that the family had a blast at the Bristol Renaissance Faire. We will be back next year!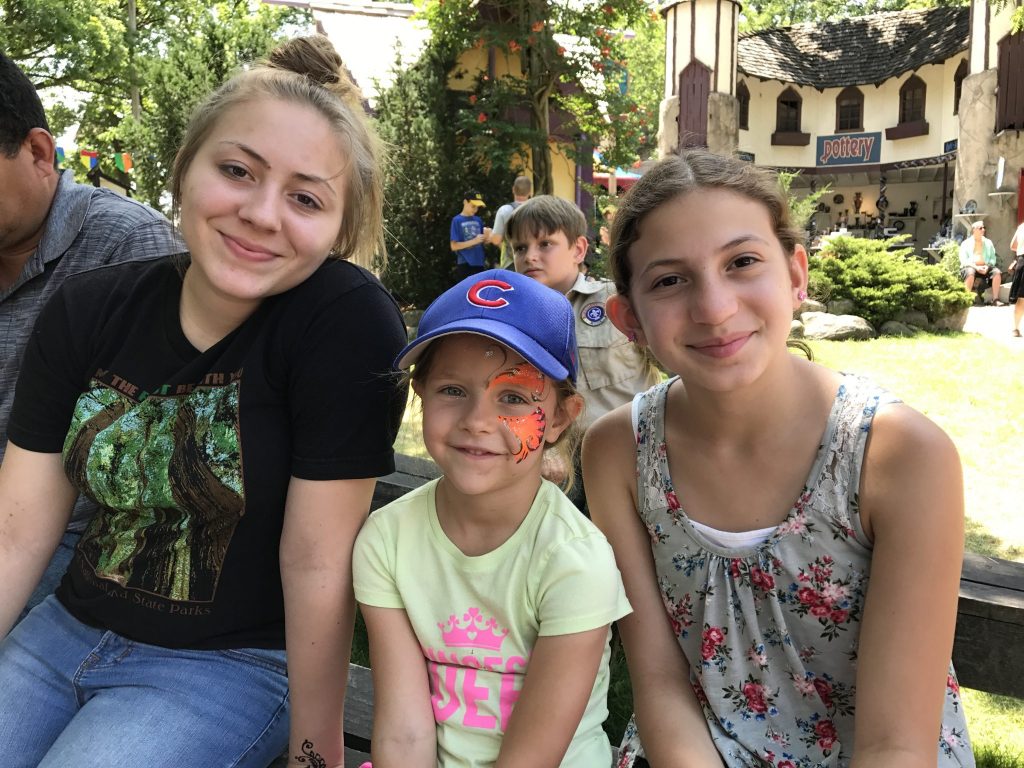 Have you ever been to a Renaissance Faire?