Disclosure: This post may contain referral/affiliate links.
It was a great birthday weekend!  On my birthday, we went out to one of my favorite restaurants for sushi and then picked up a small ice cream cake at a fun shop called the Twisted Cow.  Came home and shared some with our neighbor and she brought me some fun gifts (a pretty shirt, earrings, ring, body lotion and balloons).  I still haven't decided what I'll be buying for myself for my b-day but I'm leaning towards some office organization stuff, workout items and a few other things .  Mom and dad bought me an awesome wheeled computer bag that I have had my eye on and I love it.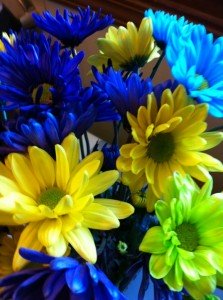 Here are the beautiful flowers hubby bought me!
We went to spin class Saturday morning, had breakfast at Starbucks and then headed to a local Farmer's Market on our way home.  I'm looking forward to more of those this season.  Then we took a glorious nap and went back out to run some errands.  Sunday was the day to sleep in and then we spent the afternoon and evening with my stepson Tyler and his gal Melissa.  Shopped, had dinner and hung out by the fire roasting marshmallows.  Fun times!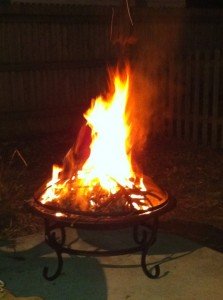 My workouts for the week were OK but could definitely use improvement.
Monday-
*Personal training (boxing/upper body/core)
Time: 1 hr
Tuesday-Day off
Wednesday-
*Personal training (boxing and lower body)
Time: 1 hr
Thursday- Day off
Friday-
*Walk Away the Pounds Walk Slim Fast Start
Time: 35 min.
Miles: 2
Saturday-
*Spin class
Time: 1 hr
Sunday- Day off
Miles left to go for April: 37
And a change of plans, I'm going to weigh in and measure on Wednesday.
We have been discussing vacation plans this weekend and if you can believe it, I don't think we'll be vacationing in Jamaica this year.  We have a lot of remodeling to do on the house plus I think we would like to take a few quick trips throughout the rest of the year.  We'll definitely miss the Caribbean this year if we don't make it BUT we have been talking about taking a Mediterranean cruise next year for our birthdays.  And we are also THINKING about participating in the 2012 Walt Disney Princess Half Marathon.  This would obviously be for the experience (to dress up and get fun pictures with characters throughout the race) and we would walk it like we did the Reggae Marathon half.  It would be really cool if Disney would sponsor us!  I'll get right on that *wink*
Hope you had a great week!
What are your healthy living goals for this week?