Disclosure: This post may contain referral/affiliate links.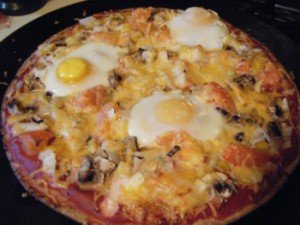 Over the weekend I made this pizza with egg and it was so good.  Kev said he could have done without the egg but a little extra protein is good for me.
Started out with a Boboli pizza crust which I would probably not use again.  I think homemade pizza crust is much better but I went with what we had.  Covered it with a bit of Trader Joe's tomato sauce, added some mushroom, onion, garlic and yellow pepper.  Topped with shredded cheese and eggs.  Bake until you're comfortable with the eggs.  I prefer them runny which is what most people I have seen do that make this.  Oh and don't forget to add the Slap Ya Mama hot sauce.  To.Die.For.
Have you ever had pizza with egg?