Disclosure: This post may contain referral/affiliate links.
Things To Do at Carnival Cruise Ports: Key West, FL and Cozumel Mexico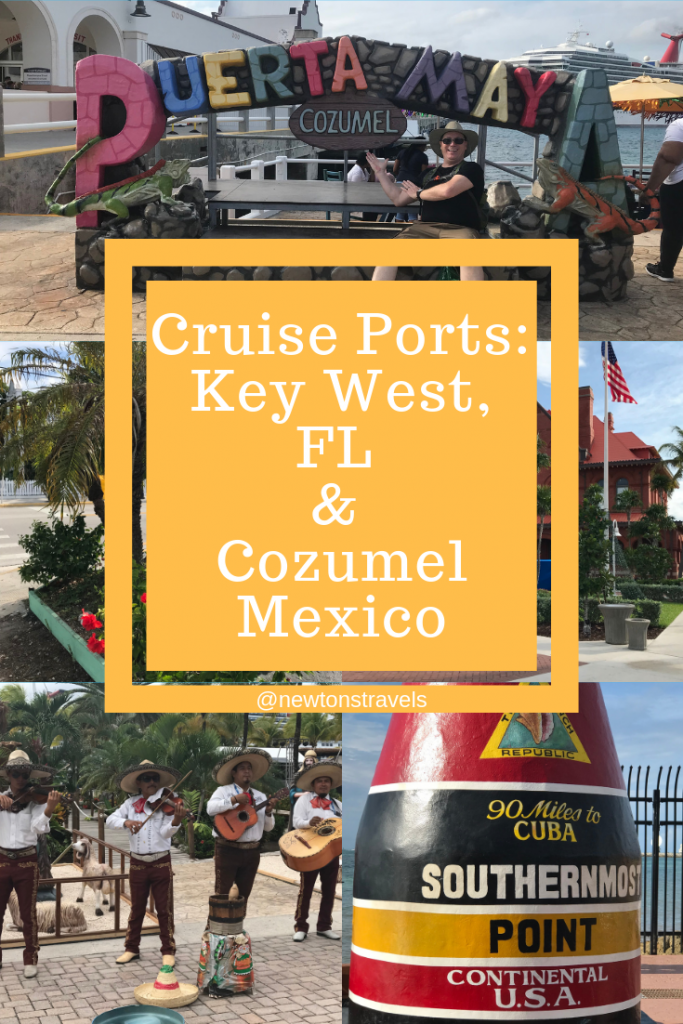 We decided not to book any excursions at either of the ports, Key West, Florida and Cozumel, Mexico on our first cruise. I think that was a great decision on our part to get the lay of the land and how this cruising thing works. We also enjoyed having no set plans. Disembarkation at each port was an easy process and we didn't have to wait in line long at all. Here are some of the fun things to do at Carnival Cruise ports Key West, FL and Cozumel Mexico. Good times!
Cruise Port Key West, Florida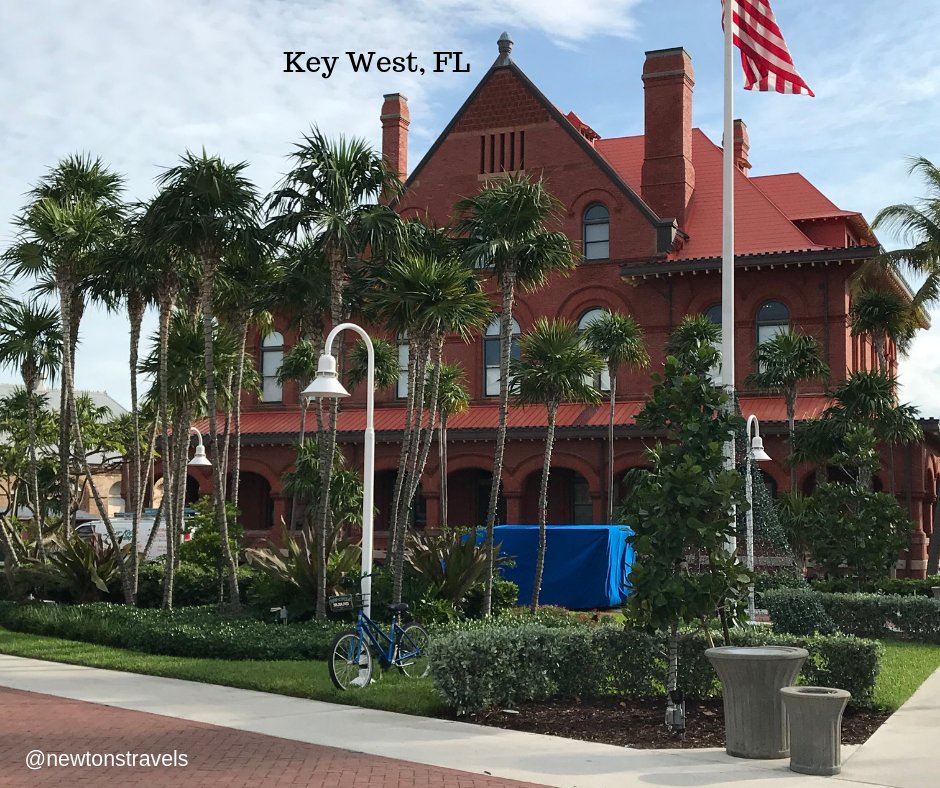 We really had no set plans and took a leisurely walk around Key West, FL one of Carnival's cruise ports. It's always a great time when you just play it by ear.
The first thing we did in Key West (at the very tip of the Florida Keys) was take a lot of pictures at the cruise port terminal, Mallory Square near the art gallery. I loved looking at the sculptures although we didn't capture all of them.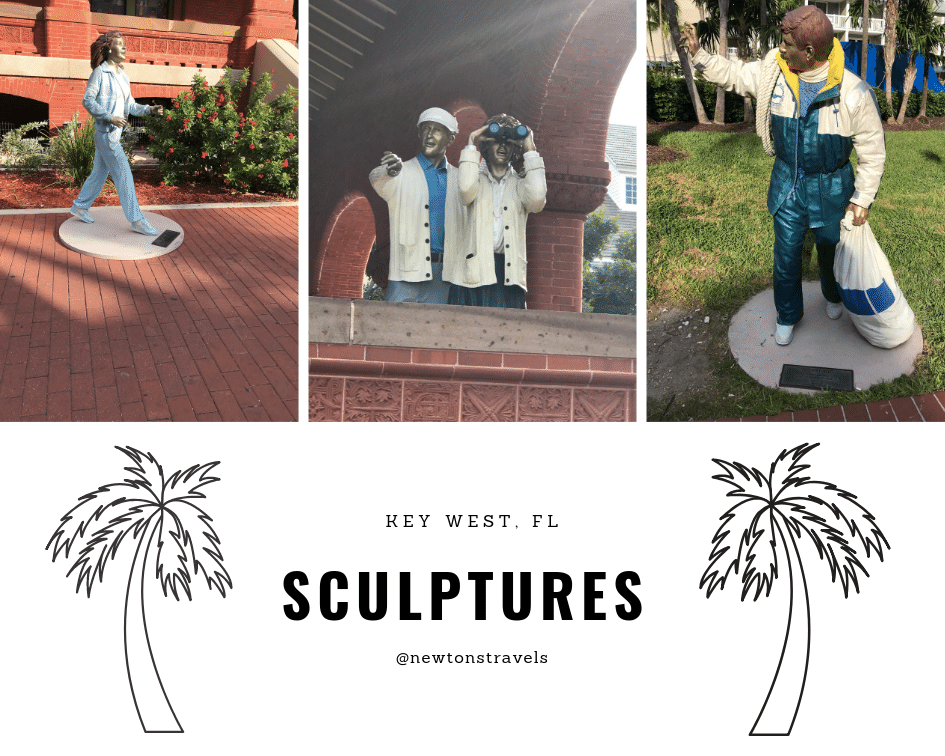 We had talked about hopping on one of the tour trains but instead decided to grab a Lyft driver to take us to the Southernmost Point. We enjoyed watching all the iguana's on the rocks near there too.
We walked around a bit before calling for Lyft to pick us up. I love the beautiful homes especially this one with a pink front door and a beautiful porch. I could totally see myself there.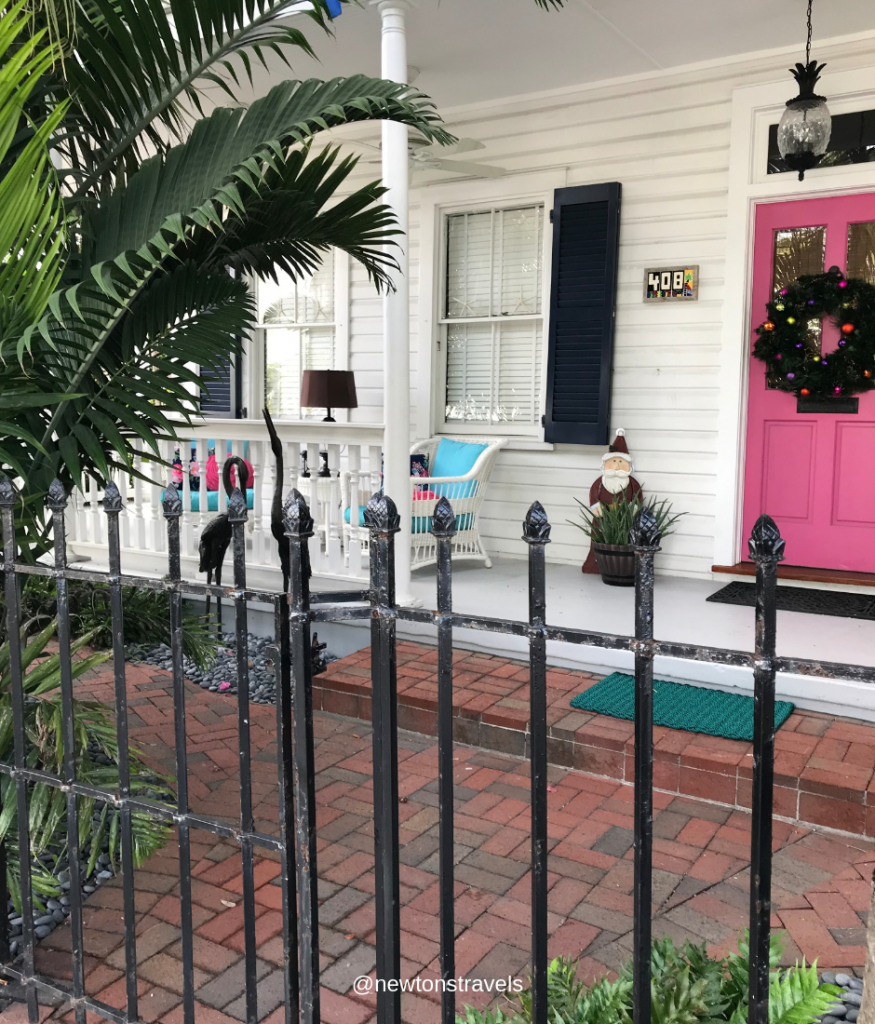 The flowers in Key West are just as beautiful as the homes. And I love palm trees so had to snap photos of those too.
Then we stopped in the Key West Butterfly and Nature Conservatory shop on Duval St. We didn't actually go into the butterfly park itself but took a peek around their store. They have beautiful items to buy there.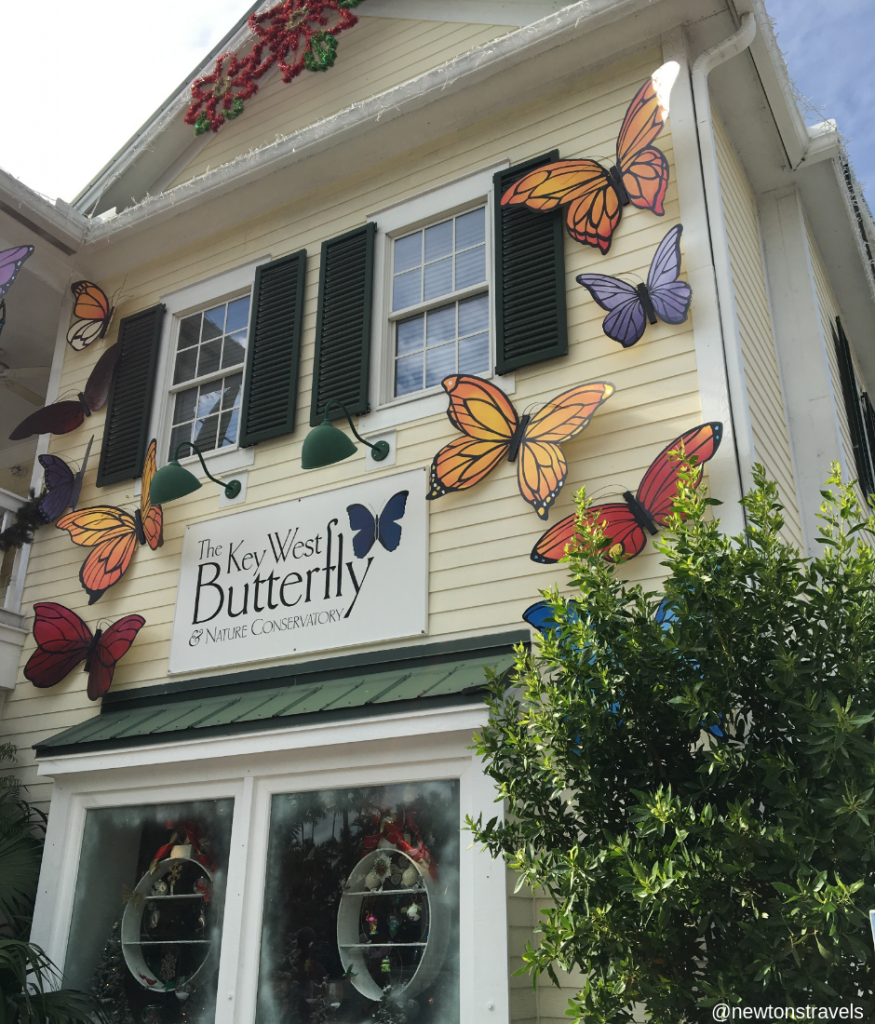 Once back to Mallory Square, we wanted to find a place with key lime pie. The funny thing is neither of us have ever really liked key lime pie but once we grabbed a slice to share from The Original Key Lime Pie Bakery our tune had changed. It was SO delicious. So good we never got around to taking a photo of it. We would definitely go back next time we are in Key West.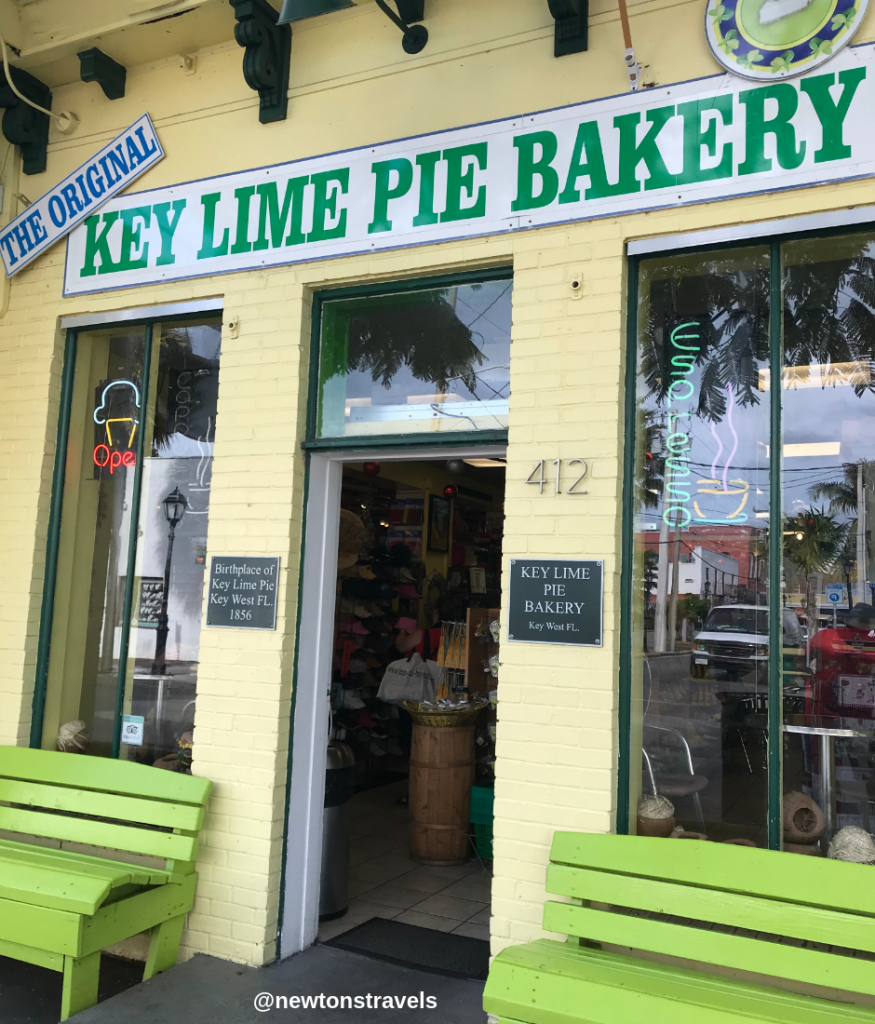 You can find The Original Key Lime Pie bakery at 412 Greene Street in Key West. Make it a point to stop in and grab some key lime pie and other goodies.
We then headed back over to the port area. I sat and people watched while Kev walked around to take pictures.
Then we hopped back on the cruise ship early. It was a fun, relaxing day. So glad we decided to take our time and do our own thing. We still talk about how much we loved it. But don't get me wrong, there are still many things to do at Carnival Cruise ports.
Cruise Port Cozumel, Mexico
Next we arrived in Cozumel, Mexico another Carnival Cruise port. We disembarked at Puerta Maya. "Cozumel is proof that Mexico can do 'island flavor' with the best of the Caribbean. It may not be the biggest island in the sea, but Cozumel offers a huge variety of things to do, see, taste and explore." source, Carnival.com.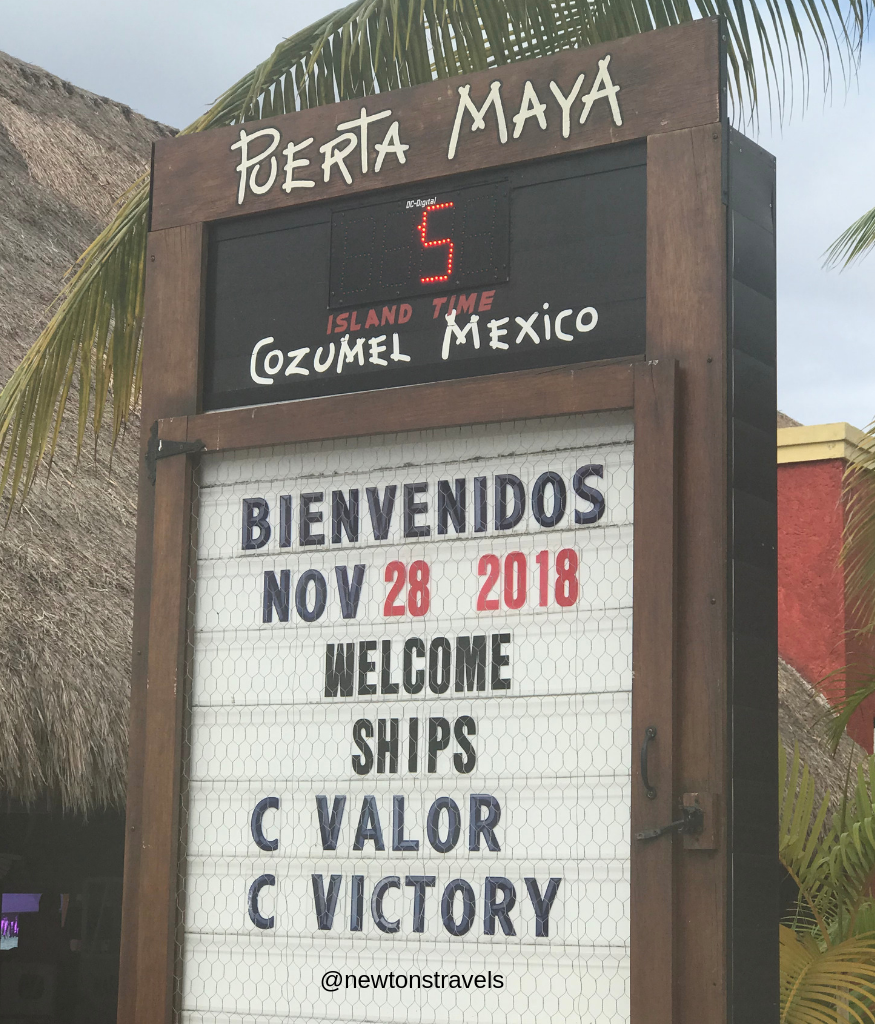 After Carnival photo opps and taking more pictures, we headed to the shops. By the way, I loved the photo opps Carnival offered at each port. You could then choose which ones to buy towards the end of your trip. We bought two and in addition to the printouts we got a USB drive with the photos as well.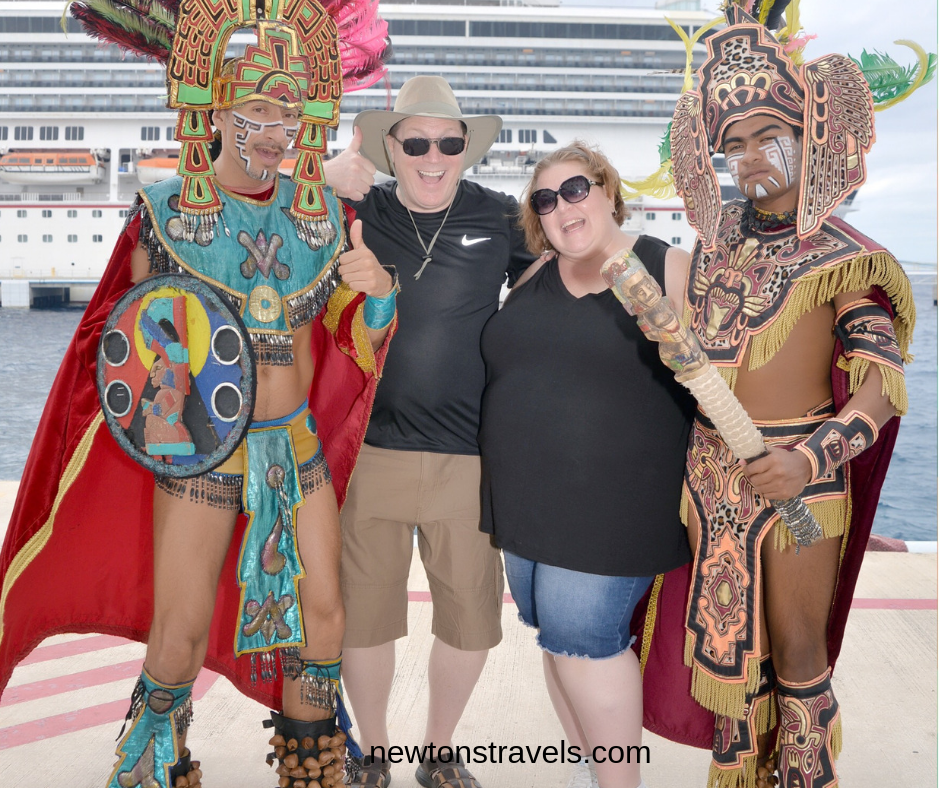 I think it was the Silver Emporium store in Cozumel that first caught our eye! I love silver jewelry and Kev spoiled me. We didn't expect to make any big purchases but he had to run back to the ship to get a credit card. He said it was a simple process to get back on and off the ship. We made our silver purchase and moved on.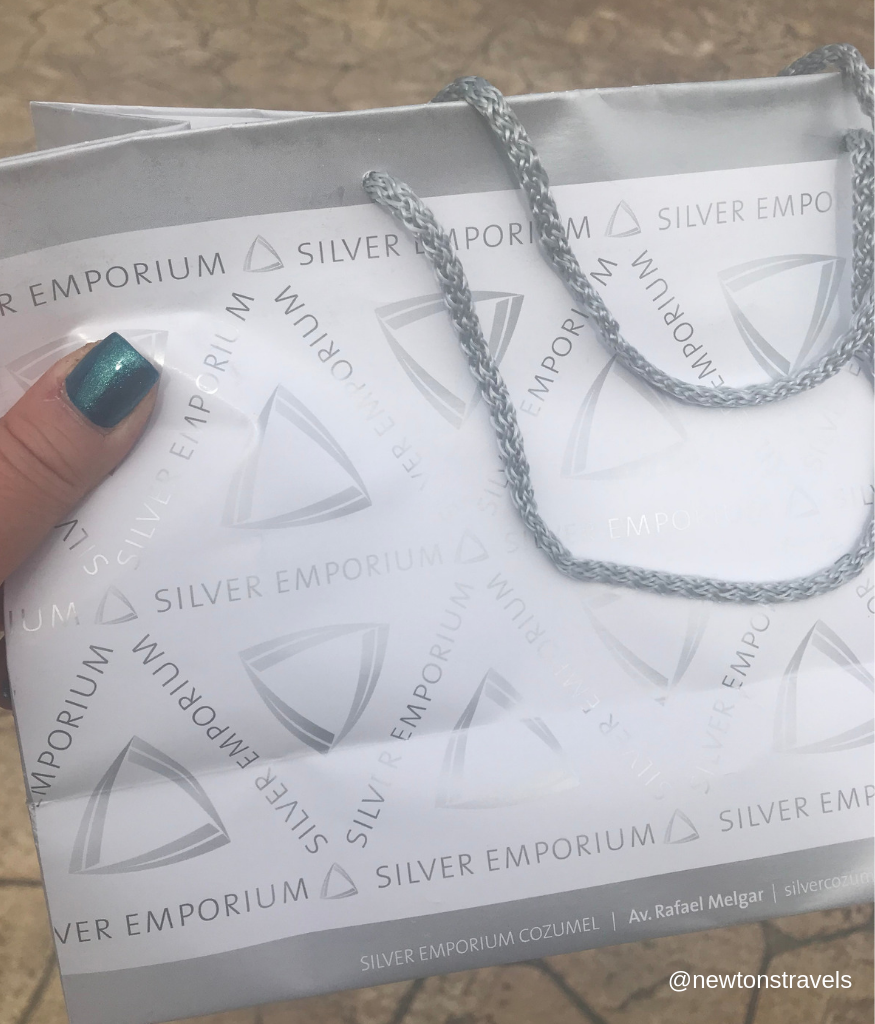 Side note: we use Tep Wireless for Internet when we are away from home and it worked like a charm in Cozumel. In fact, we think it worked better there than anywhere else we have been. See the little gold thing below the word Mexico on the map? That's our pocket-sized global personal WiFi hotspot.
Next we bought 2 beautiful wind chimes that we now have hanging out on our deck. And we loved just walking around the port in Cozumel and not doing any excursions. So much fun.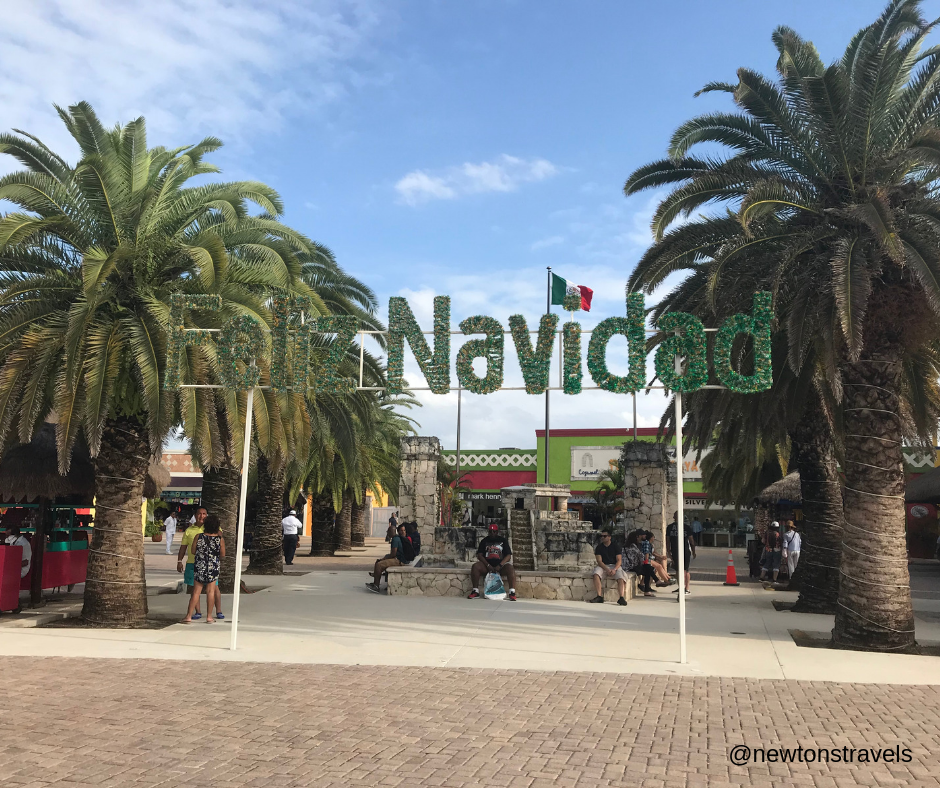 It was November and not only was the cruiseship decked out for the holiday's but so was the port in Cozumel. I LOVED it.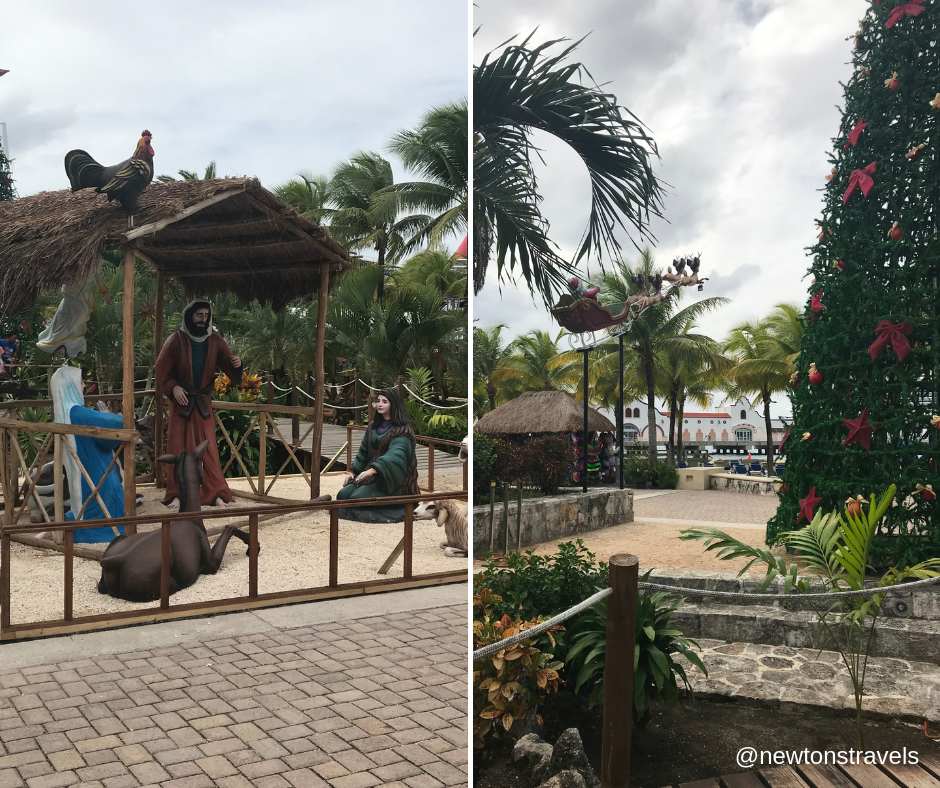 Then we ran into a Mariachi Band. They were awesome. Of course we dropped a little in their donation bucket or was it a hat? I don't recall.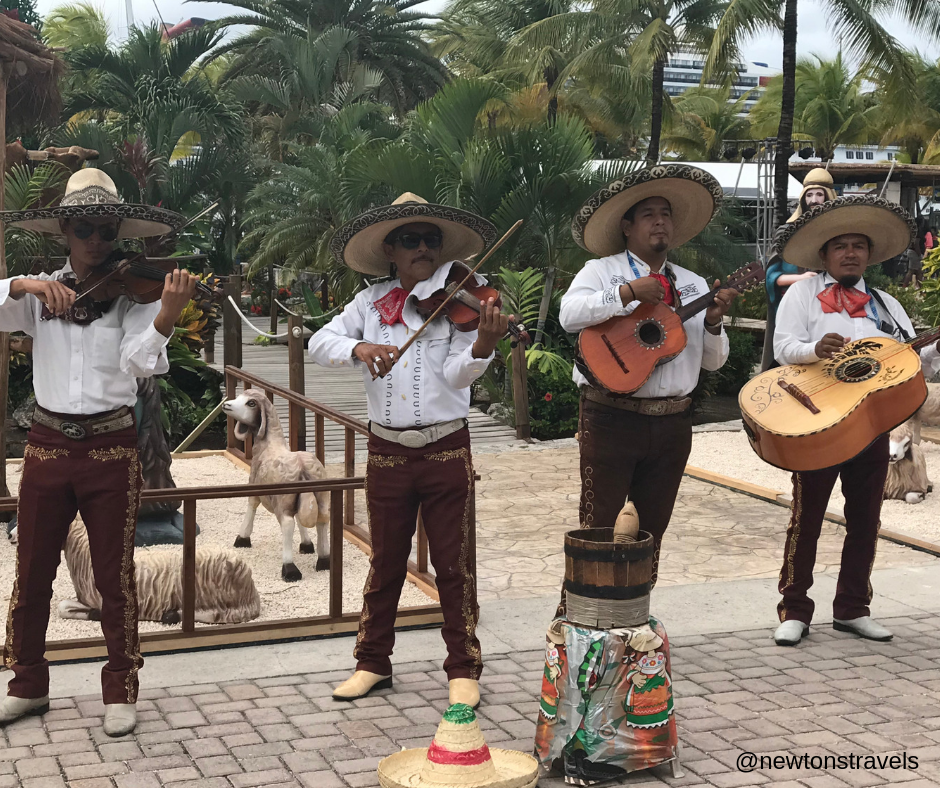 After a good time shopping we then made a lunch stop at Pancho's Backyard restaurant. It was delicious and relaxing.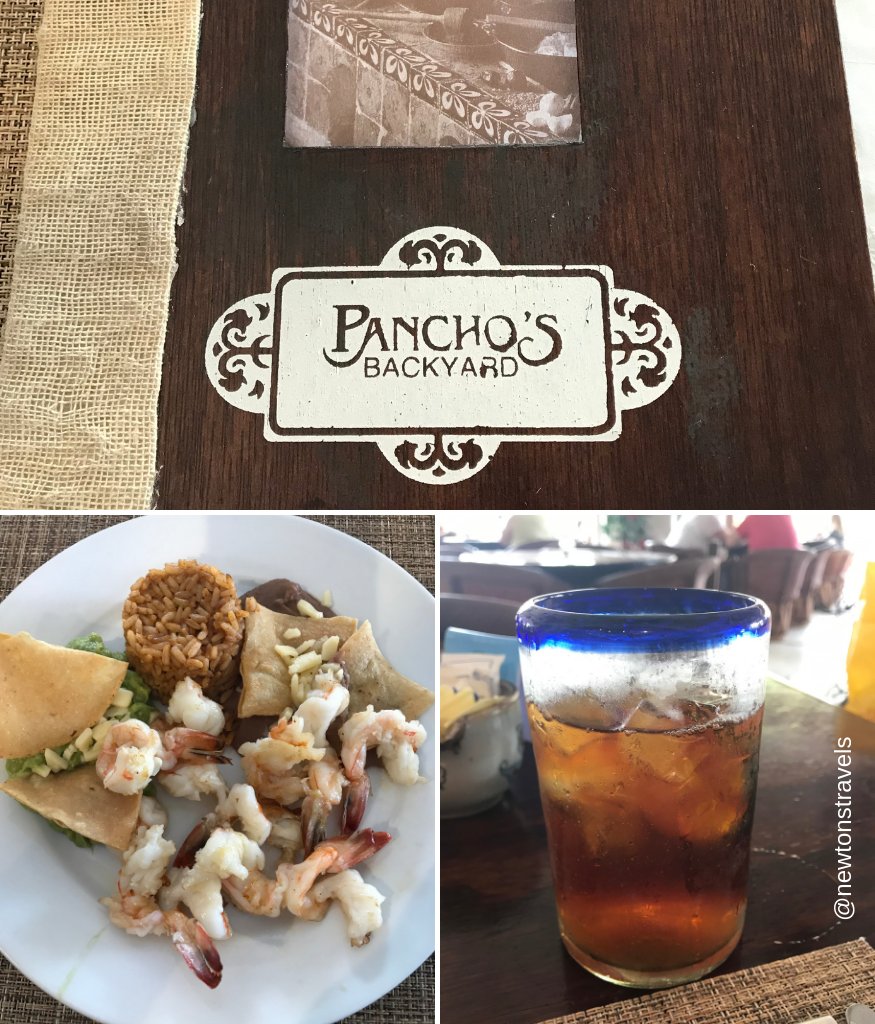 After Pancho's we walked around and shopped some more. We ran into a few Cozumel firefighters, donated money to to their firehouse and got a t-shirt for our 16 year-old granddaughter whose a Cadet in the local FD where we live.
We started to head back to the ship and made a pit stop for Kev to buy new leather sandals and a wallet. We picked up some candy and rum in the duty free store then headed back to the ship.
You're required to hand in any liquor you purchase before getting back on the ship. They keep it secure for the remainder of your travels and then you pick it up in a designated area when you get back to your home port.
I look forward to going back to Cozumel one day. We really enjoyed it there.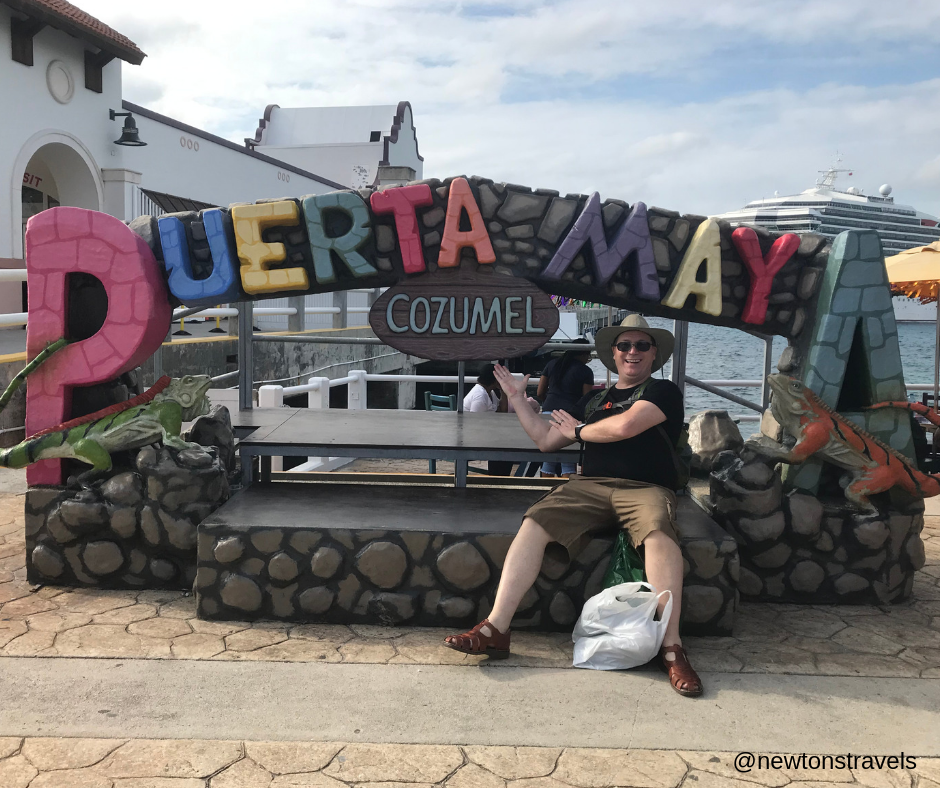 There are so many things to do at Carnival Cruise ports but we chose to keep it simple and still had a blast. We look forward to more cruising in the future.
Have you been to Cozumel? What is your favorite thing to do there?