Disclosure: This post may contain referral/affiliate links.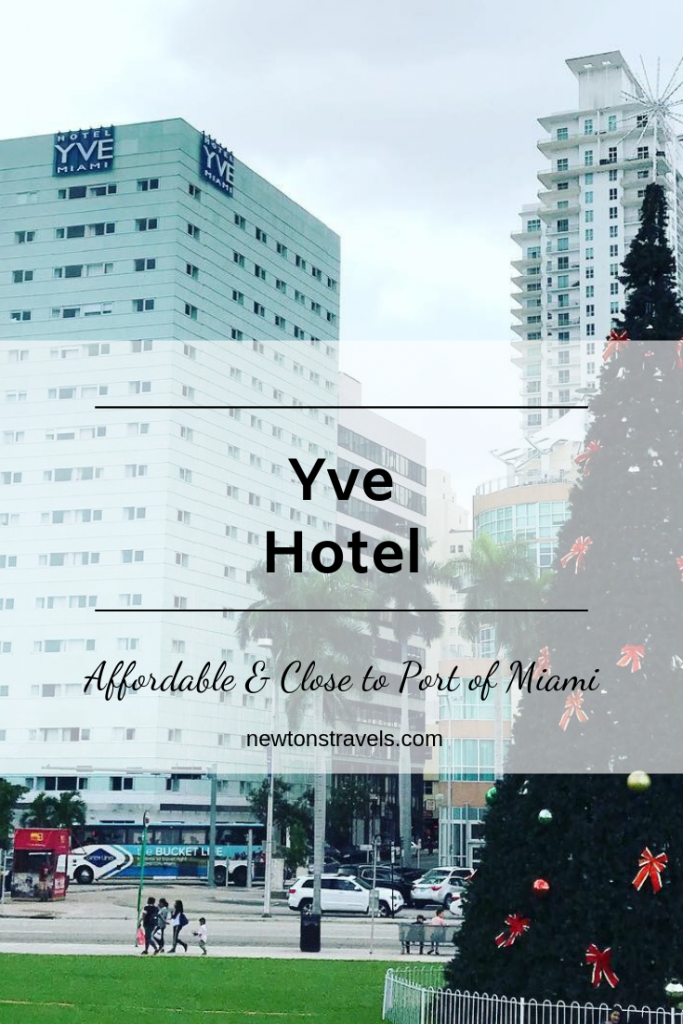 We had a short stay at the Yve Hotel (Miami, Florida), an affordable boutique hotel near the Port of Miami and had a blast in Miami before and after our cruise.
If you're heading to the Port of Miami for a cruise, you'll want to stay somewhere close by. Downtown Miami fits the bill. With it's outdoor, open air malls and restaurants it's the ideal place to hang out before and after your cruise plus great for business travelers.
The Yve Hotel Miami, Florida
"A stay that is nothing short of unforgettable."
From the moment we walked in to the the Yve Hotel Miami we were greeted by friendly front desk staff and management. I truly expected nothing less because from the moment I landed on their website, I was wowed (it's beautiful!). Very modern and chic feeling.
Our Stay at the Yve Hotel
A stay at the Yve Hotel in downtown Miami is highly recommended. The location is great – near attractions, restaurants, good beaches and if you're into a busy nightlife they have you covered. And if you want to relax, you can do that too.
We stayed 2 nights at the Yve Hotel (146 Biscayne Blvd, Miami, FL 33132) before our cruise. The whole point in me booking us in to this particular hotel was not only the online deals but that it was only a 2 minute walk to Bayside Marketplace, one of my favorite places to visit in Miami as a kid. Kev had never been there and enjoyed it too!
The Yve Hotel is close to the Port of Miami (about 6 minutes depending on traffic). They will book your transportation to the port at their concierge desk. They book Miami excursions too.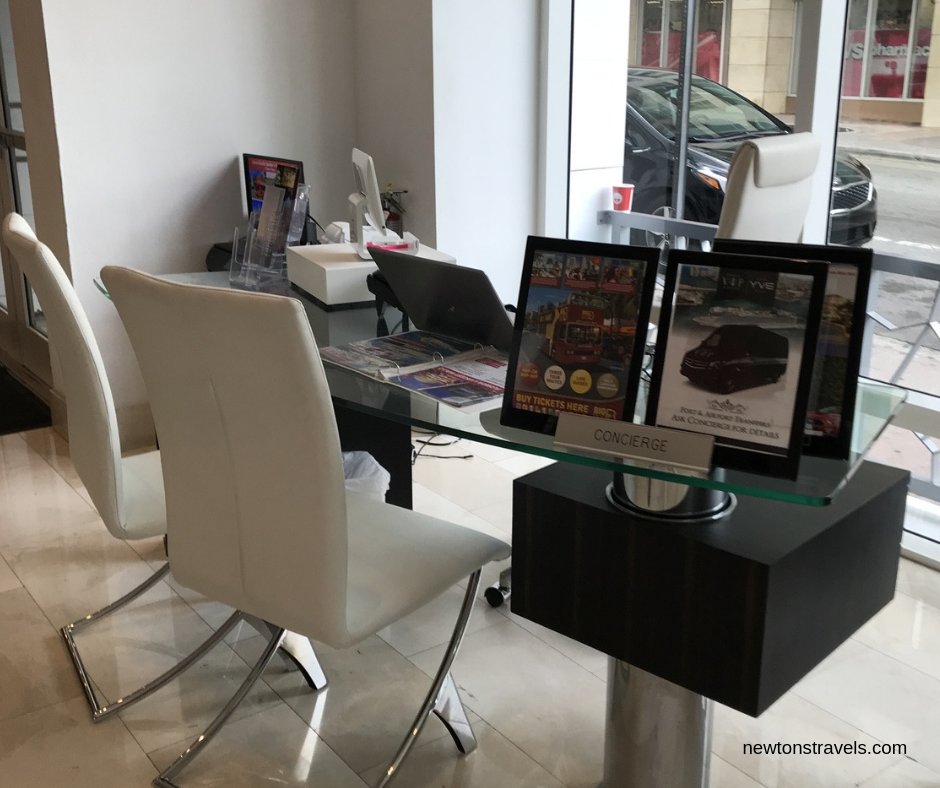 There is a CVS across the street and a delicious Cuban restaurant that we went to behind the hotel called the Manolo & Rene Grill. Make a point to grab a bite in there. They are open 24 hours should you arrive late to the hotel.
Check-in at the Yve Hotel was a breeze. I called ahead to make sure our reservations were good to go. We were treated to breakfast and drinks. The front desk staff were all very courteous and helpful with answering any questions we had during our two night stay.
Our Yve Hotel Room
We stayed in the Savvy King room. It was really small but also the perfect size for the two of us for two nights.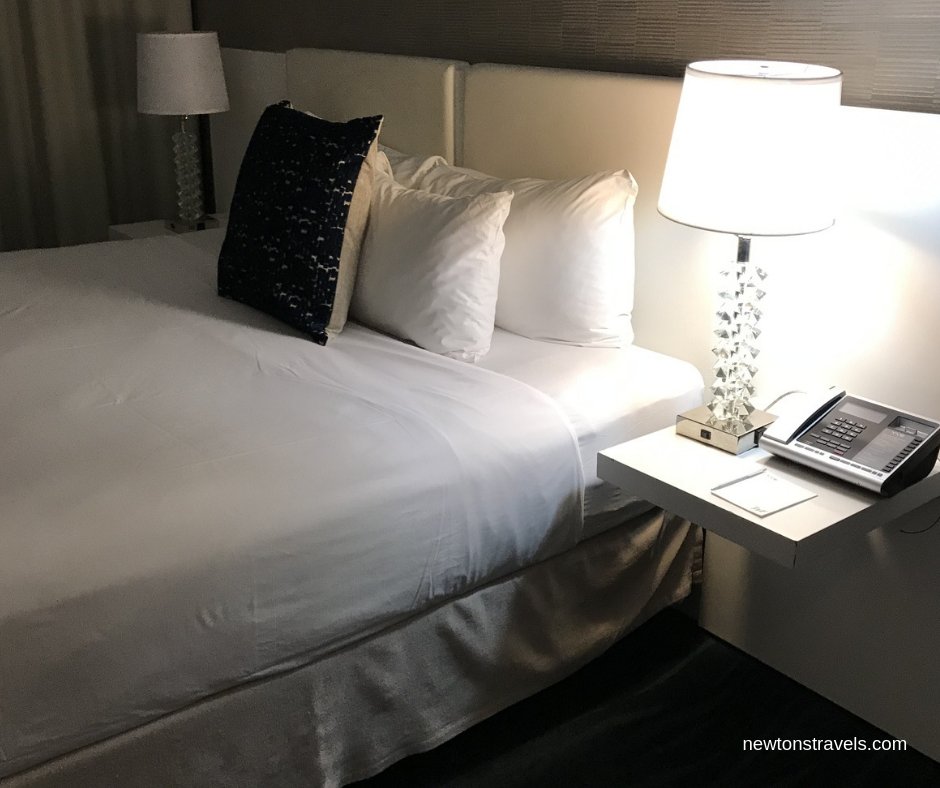 I think if we were to stay again we would like to try out the Trendy Bayview King or the Playful Junior Suite. They look a bit larger than the room we stayed in (see pic below) and would be a lot easier to spread out our stuff.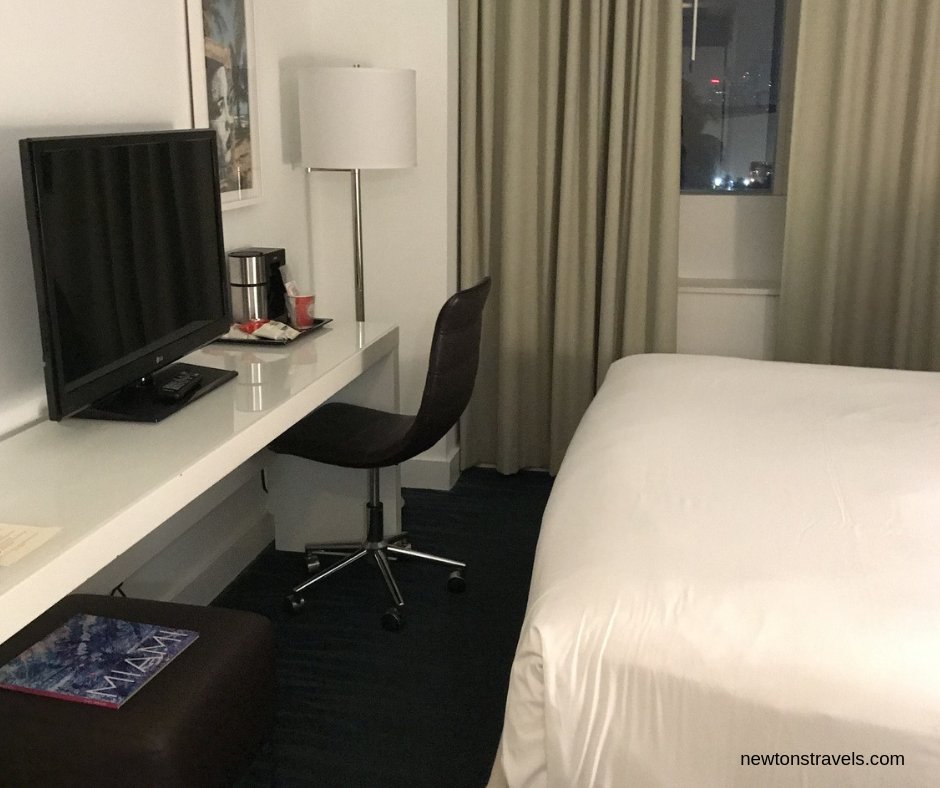 The bathroom was probably the part we liked the least (OK maybe the slow elevator too lol) because it was extremely small. You could sit on the toilet, wash your hands and shave your legs all at the same time lol. But in the shower they had a really awesome dispenser (similar to this) with body wash and shampoo. We need one for the bathrooms here at home!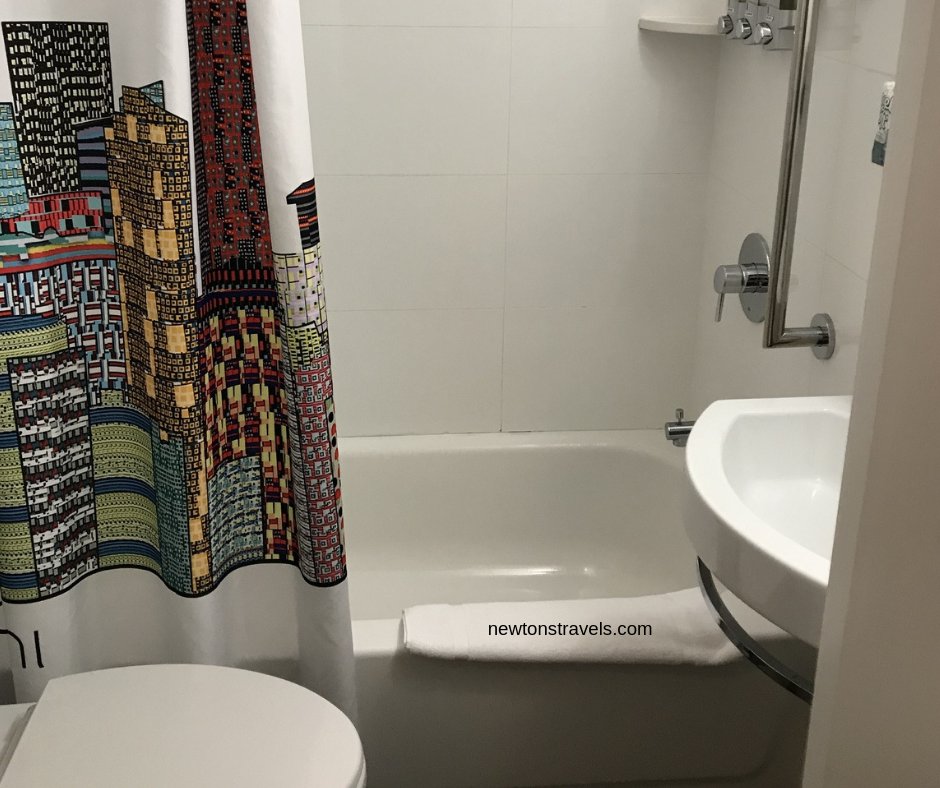 They even have pet friendly accommodations so if you plan on traveling with your furry family member, be sure to inquire about their availability.
The Yve Hotel Lobby & Restaurant
The breakfast buffet at the Yve hotel's Biscayne Tavern was perfect for us. The staff at breakfast and at the bar in the evening was great. Their restaurant is right off the lobby, you can't miss it. They serve breakfast and dinner. The lobby is stunning and the bright colors really made me happy. OK that is one of the other reasons I chose for us to stay here. I think they have rearranged their lobby since we were there in November.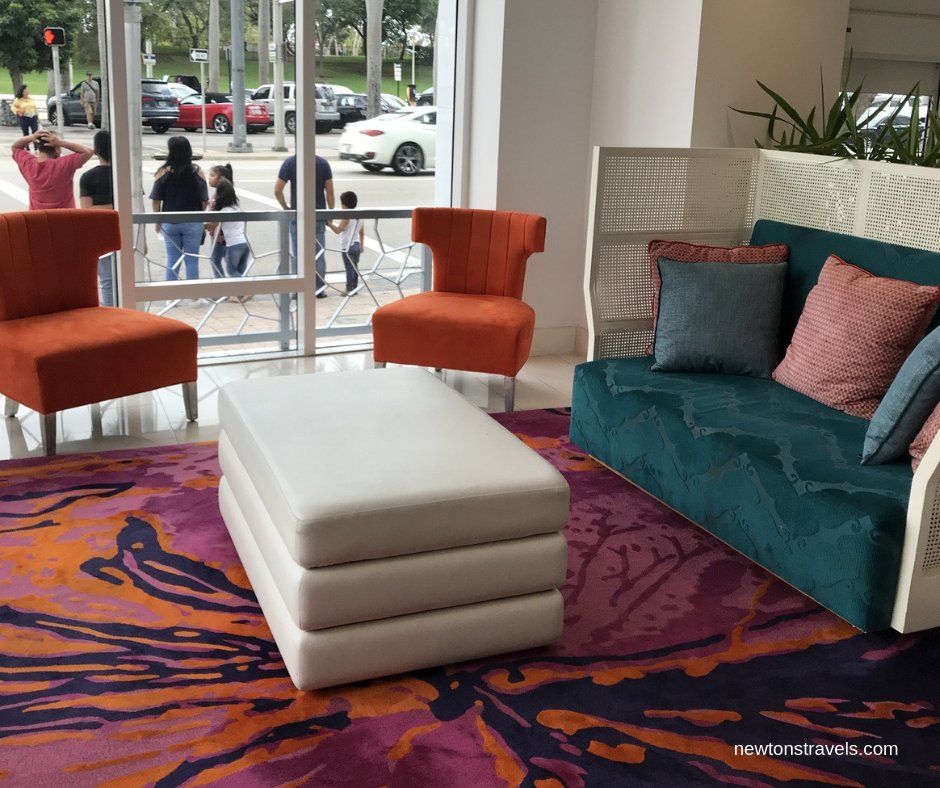 Like I said above, you are within a few minutes walk to Bayside Marketplace. Step out front from the lobby and head across the busy intersection to follow the path. You can also find the free Miami trolley. We hopped on and rode all around downtown Miami. Plus Miami Beach has a trolley too. I think we might try that out on our next trip there.
NOTE: Make sure you sign up for Rakuten before you book your stay at the Yve Hotel! You can sometimes get cash back deals on hotel stays and lots more using Rakuten. If you shop online and don't use Rakuten, get on the bandwagon today. Love free money!
We are heading back to Miami in July and hope to make it back to the Yve Hotel but we'll be attending a wedding in South Beach so it's not as close as we would like for all the activities but you never know, there is always Lyft. We definitely recommend the Yve Hotel for those cruising because it's so close to port and walking distance to everything you need before and after your cruise vacation.
Want to read more about our first time cruise? Enjoy!
Have you stayed at the Yve Hotel in downtown Miami? What are your favorite things to do in Miami?