Disclosure: This post may contain referral/affiliate links.
We recently spent a fabulous weekend camping. It was my first time camping outdoors in a tent instead of in a camper like we did when I was a kid. So I wanted to share some noteworthy camping tips for beginners that I learned as a newbie. We had planned a big surprise birthday celebration for a family member for while we were there and it was a ton of fun.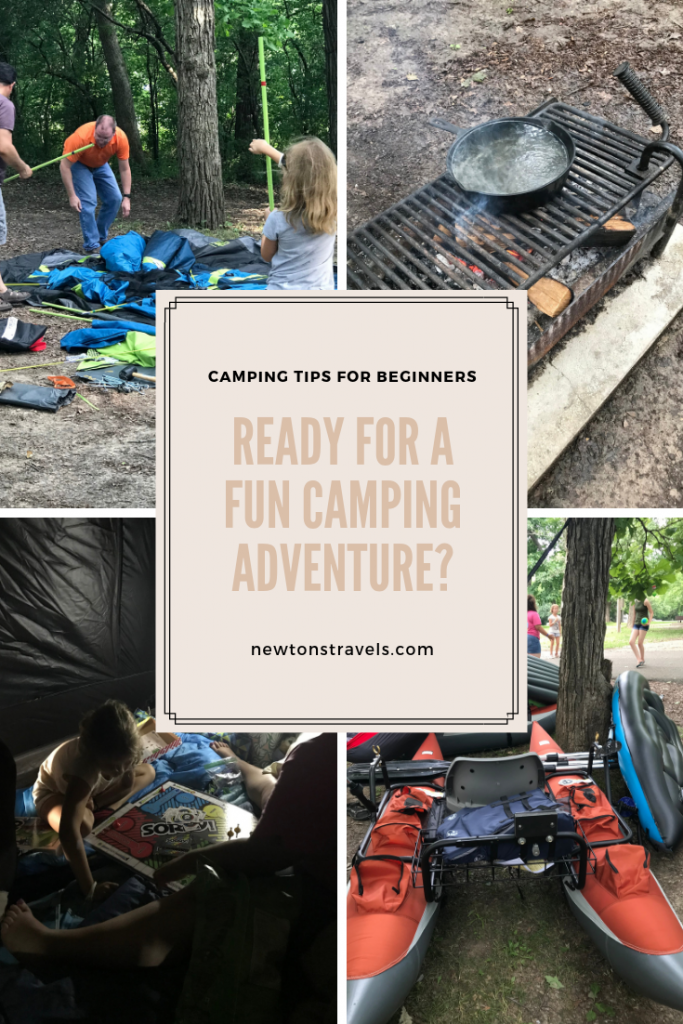 Prior to us going camping for two nights, I did a lot of research and we splurged and bought all kinds of goodies from Costco, Amazon and Walmart (be on the lookout for our outdoor camping gear post to come soon). You might think we are crazy with everything we bought and took along with us and that's OK, I know we are lol.
I have had a big dream for a few years now to own a camper or RV so I was excited to plan for this. For now, camping in a tent will be great until we can buy a truck and camper. We will also look into possibly renting an RV at some point.
RVshare: A Unique Rental Company
If you're not into tent camping, you should definitely look into renting an RV or camper. That is where RVshare comes in. This post is sponsored by them so please take a moment to check them out and let them now Newton's Travels sent you. RVshare has everything from pet friendly rentals to drivable and towable rentals direct from local owners. Such a cool and unique idea.

The campground we stayed at was Chain O' Lakes State Park in Illinois. There was a lake (Turner Lake) where we could do some boating (no swimming) so we brought our inflatable pontoons and purchased two inflatable kayaks for this camping trip so everyone would have a chance to enjoy being on the water. They were a hit.
We already knew about this campground because Kev and I would take our inflatable pontoon boats there in previous years. I did a bit more research about it and decided to book our campsites after driving over to scope it out one weekend. The campsites we chose were PERFECT. Everyone loved it. Each campsite could have a tent and 2 cars. It was affordable at $25 a night plus a one time $5 fee. There was overflow parking close by for $8 a night which our 16 year old granddaughter had to take advantage of since she works and would drive out later. Thankfully she was still able to join us.
Since this was my first real outdoor tent experience, I wanted to share some first time camping tips for beginners from a newbie.
Family Camping Tips for Beginners
If you're taking your family camping for the first time, you really should do your research. Being prepared can make the difference between a fun trip and a total disaster so here are our family camping tips for beginners. To help foster a love of camping among your family members, try some of these camping tips to make your camping experience full of amazing memories.
We can't wait to plan more camping trips this Summer and Fall. In fact, we are actually planning another one at the same location next week before our granddaughter's go back to school. We do love that it's close enough to home to stop in and take care of our 2 cats and Macaw.
For first-time tent campers like myself, a campground is a good choice. Some of the benefits of a campground versus wilderness type camping are:
Bathroom facilities that include showers – wait until you hear my story on the bathroom situation!

Trash and recycling bins so you don't have to haul your waste out.

Knowledgeable staff who can help you with any problems you encounter or questions you have.

Outdoor activities such as hiking, boating and bike riding.

A community of campers who can provide playmates for your children and social time for adults.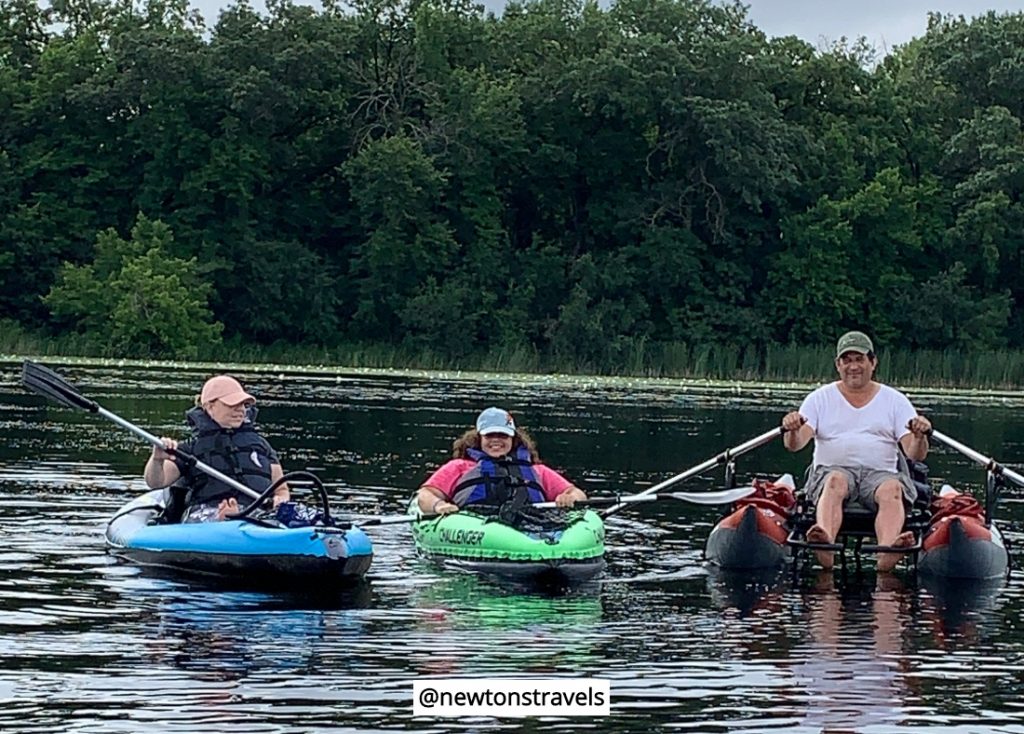 A campground is like a neighborhood where children can play freely with others. You can also get away to your tent or campsite when you want to just be with your family. The camping/RV and on the road community is like one big family. I definitely want to be part of that more often.
I had our granddaughter's invite a brother and a sister from a few campsites away for s'mores and they played Uno and other games. They had a really fun time.
Advice: First Time Campers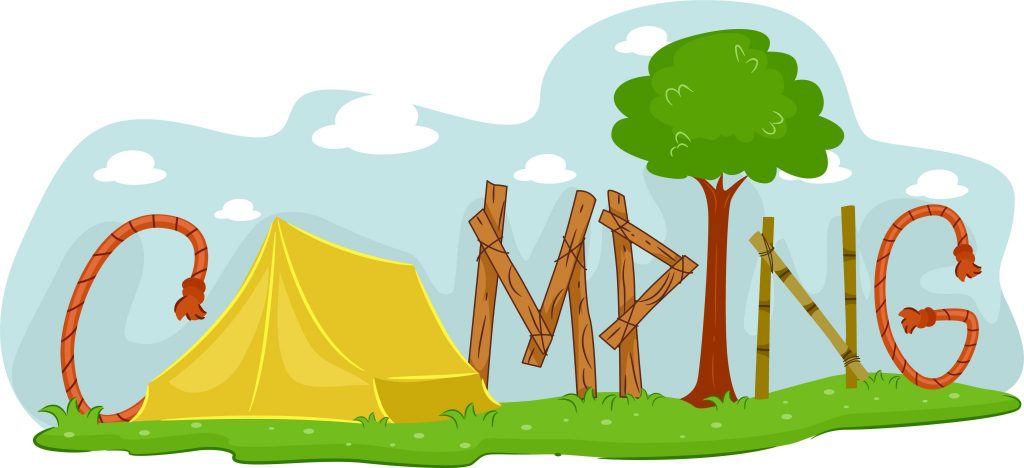 As first time campers we learned quite a bit. We did a lot right but there were also things we would have changed and things we now have on our to do list. Here are some camping tips for beginners from first time campers *wink*
1. Shop around for the right campground. Visit them if possible. Look for cleanliness and an organized staff. Pick up brochures for campgrounds at rest stops, your local tourism department, and research on the Internet. Call the campground ahead of time and make sure everything is up and running. If you are thinking of taking your pets, check on the campground's pet policy. I made sure to call the campground to verify my order went through for both campsites since I had never done it before. We had to purchase through reserveamerica.com. It was pretty easy although I would have liked to have purchased both campsites at the same time instead of one at a time.
2. Pack everything in plastic totes. We had some totes sitting around the house from Home Depot to be used for organizing tools but we hadn't gotten around to that yet so we used them for camping. Sorting camping items into the bins was smart but we need labels to tell them apart since we didn't have all clear bins. For example, we had one tote for kitchen items, one for cooking accessories like forks, napkins, etc and we need one for tents & the inflatable bed, and another for bedding. I'm sure I'm missing something. I think having totes all packed and ready to go camping on a whim is a great idea.
3. Rain happens. And it did for us, major downpours. Be sure to pack tarps and rope just in case. Pack extra clothes including shoes. The heat was also extreme the weekend we went so we may have looked like the crazy family with an indoor air conditioning unit with vent but if we didn't bring that along (thanks to hubby's smart thinking), we probably would have had to go home and lost out on the money we spent on the campsites. So even though I was a tad bit embarrassed we stayed cool and comfy and were able to enjoy our first camping trip. We had the plastic bins I mentioned above that could stay out in the rain, fans for the tent, extra water and were totally prepared. Maybe too much, we had a lot of stuff.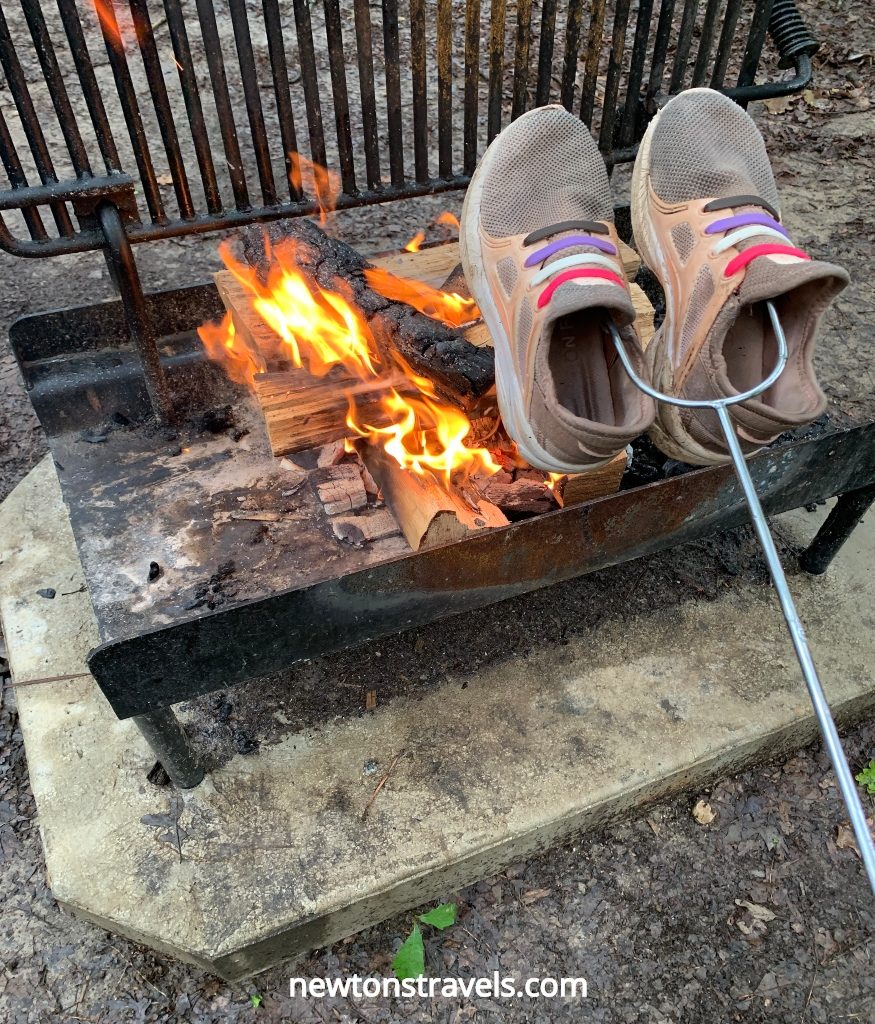 4. Practice at home with your gear – set up your tent in your yard, break in your hiking boots, learn how to tie a tarp, and try out any new camping accessories you may have purchased. It can be frustrating to try to figure everything out for the first time on site – especially if it's raining. Thankfully the first night was dry and we were able to get everything set up before dark. We hung hammocks too. I think we should have practiced putting up the tent beforehand and it might have gone a little faster. But everything worked out fine.
5. Pack a small, mesh shower caddy or a hanging toiletry bag like you would take on other trips and an empty waterproof bag for each family member. This can hold toiletries for when you're on the way to the shower facilities, use for wet towels, clothes after boating/bathing suits, and whatever items you might need to tote around.
6. Plan your camping trip with each family member in mind. Make sure that there is an activity for everyone. For example, you may like hiking, and your spouse may enjoy boating. Your son may enjoy fishing, while your daughter likes canoeing. Smaller children may just like running around the campsite and making s'mores. Me? I'm taking a book to enjoy next time. Try to accommodate everyone's interest if you can. We had a variety of games too. I'm looking at buying more fun games to take camping too. Have you heard of Rummikub? Sounds like fun!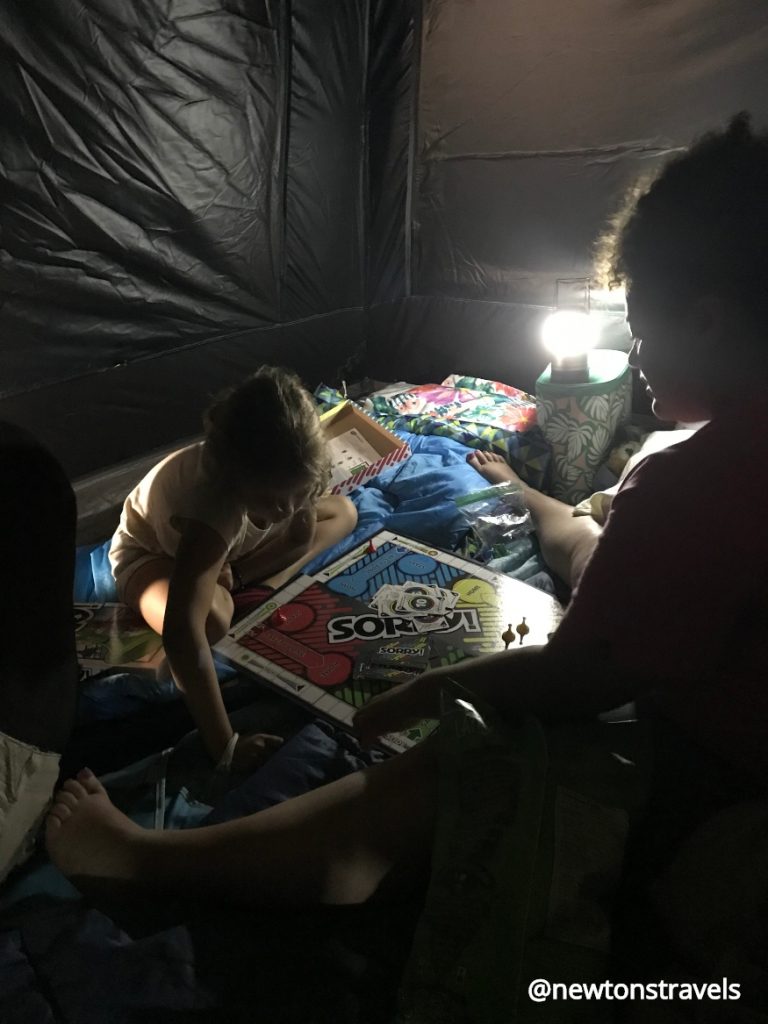 7. Look up camping recipes on the Internet to find foods that everyone will enjoy. Plan your meals and shop accordingly. Bring along foods that don't spoil just in case your original plans get ruined. We had a lot of people coming so we over did it with food but we won't need as much next time. We are going to keep it simple and have burgers, hot dogs and brats. We loved having eggs and bacon on the grill too. And our 16 year old granddaughter even made pancakes on the grill one morning for some family members. One of my favorites was our daily French press coffee. Heat the water on the grill, pour over coffee in the French press and let sit. It was SO delicious. We need to bring a 2nd French press next time though so we can have more coffee.
Your Camping Tips & Top Activities
We are still looking for YOUR best camping tips. Feel free to post below or comment on this post on Instagram.
Final Thoughts From Our Camping Experience
We bought a queen air mattress which was comfortable but hubby was not all that impressed. Every time I got in the bed, he would fly up and roll towards the middle ha ha We probably should have purchased 2 separate twin air mattresses and dealt with sleeping separate while camping. The air mattress took up a lot of room in the tent and we could have used a little more room since two of our granddaughter's stayed with us.
Like I mentioned earlier we brought our 2 inflatable pontoons and bought inflatable kayaks for this and future camping trips (we love lake life). We already had plenty of life vests. We definitely need to figure out a better way to transport all of this boating (and fishing) stuff along with everything else. My Jeep doesn't have a trailer hitch so we had to stuff everything inside the Jeep and in Kev's car. Ultimately when I get a new truck and we buy a camper *wink* we will have plenty of room but until then we need to figure something out.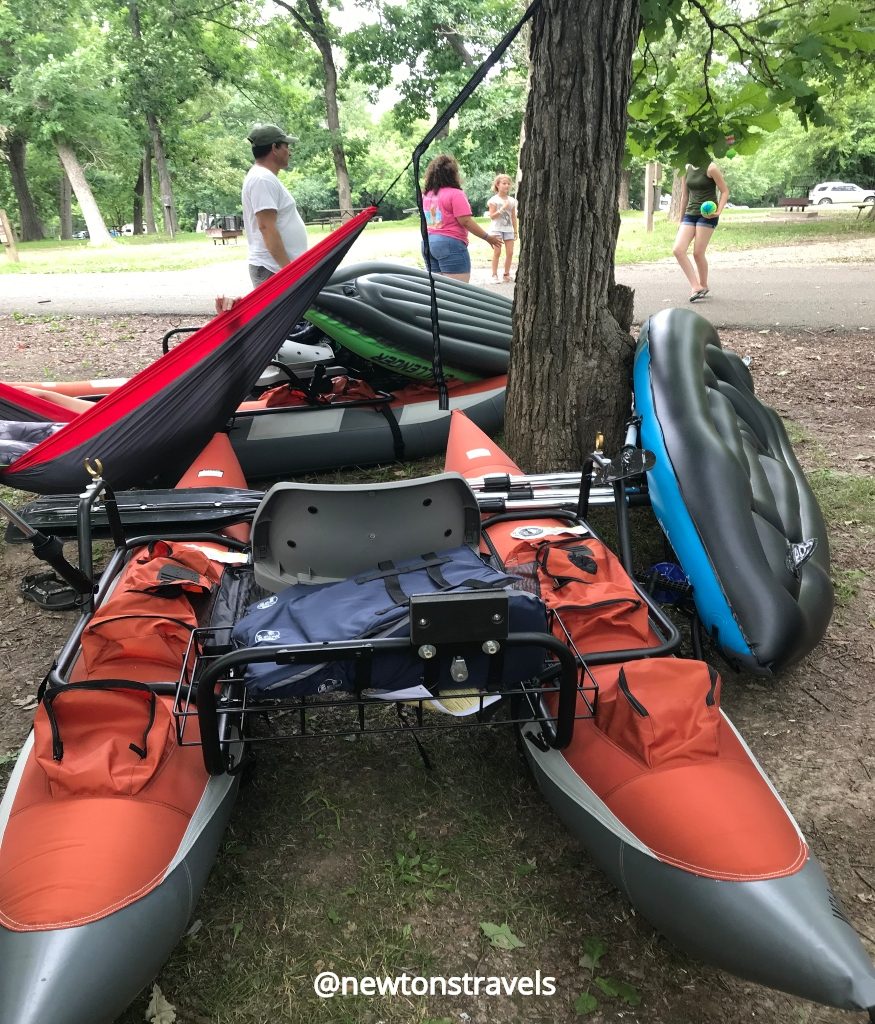 Always take along hammocks! We just happened to have a triangle of trees on one of the campsites. It was perfect for the two travel hammocks I just happened to throw in one of the bins. They were a huge hit. Enough so, I called my mom to see if she had any extras in her gift closet. Sure enough….so now we have FOUR. Yay mom!
What Keeps Bugs Away When Camping?
The gnats and mosquitoes were out in full force at sunset and dark. Thankfully we bought a Coleman screened canopy that helped. We still had lots of bug bites at the end of our camping trip. We bought lanterns from Costco too. The small water resistant lanterns had a variety of light settings, one of them being a solid red light that seemed to keep the bugs away. We are going to get some citronella candles like the ones below. Do you have any other suggestions to help with mosquitoes?
How Do You Use the Bathroom While Tent Camping?
My biggest concern over anything else was about bathroom facilities. Maybe a bit personal but I need the bathroom quite a bit during the night and I wasn't about to traipse through the campground in the dark to get to the toilet, a dirty hole in the ground. In my research, I found out I was not alone in wanting to know how I could make myself more comfortable when it comes to the bathroom situation.
So, we bought a pop up pod and portable toilet bucket with seat and lid attachment and would you know I was so excited about it that I forgot to snap a picture (no need to fret, I'll get one when we go camping next weekend so check back to see our set up). I had bought portable toilet replacement bags plus eco-friendly liquid waste gelling/deodorizing powder but the bucket came with bags that already had the powder in them. Ask me how I figured that out? LOL Yep, I put my hand in the bag to push it down in bucket and got the powder all over my fingers. Quickly rinsed them off and was back in business literally.
Everyone was SO happy that I had this toilet set-up. Inside the pop up tent, we had a roll of toilet paper and a pack of flushable wipes. All biodegradable. It was so convenient and helped a ton. The pop up pod was a bit tight inside so hubby says I can get a larger one like this if we go camping at least 3 times (he wants to make sure I'm into this camping thing). Yay!
Have We Helped Make Your Tent Camping Experience Easier?
Hopefully you have found our camping tips for beginners helpful. If you have any questions or suggestions, feel free to comment below or reach out to us here.
Don't forget……if you're not one who is into tent camping, take a look at renting an RV or camper. I posted about RVshare above so be sure to click through to learn more about them. Not only do they have drivable and towable RVs they have deliverable ones too. They have a blog with helpful camping tips for beginners as well. Again, this post is sponsored by them so please take a moment to give them some love, check them out on Instagram and let them know Kevin & Angie at Newton's Travels sent you.
Side note: Swagbucks and Rakuten/Ebates has cashback when you book through RVshare. Be sure to sign up for one or both to get cash back when shopping online. I love getting money back on things I purchase anyway.
Do you camp often? Where is your favorite place to camp? Please share your best camping tips for beginners in the comments below.