Disclosure: This post may contain referral/affiliate links.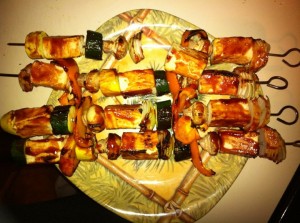 This past weekend we whipped up some BBQ Tofu Kabobs and I really enjoyed them.  Great as leftovers too!
BBQ Tofu Kabobs Recipe
Ingredients:
Tofu (pressed and cut into large cubes)
Whole mushrooms
Peppers (I prefer red, yellow or orange)
Yellow Squash
Zucchini
Add all ingredients to metal kabob skewers, brush with barbecue sauce and grill on high for approx. 8 minutes (turning after 4 minutes).
*You may want to spray the grill with non stick spray OR put the veggies on in a way that they rest on the grill and the tofu doesn't touch.  One piece of tofu got stuck and was ripped right off the skewer when lifted. Oops!
Enjoy,