Disclosure: This post may contain referral/affiliate links.

Once again I got an opportunity to review one of Tosca Reno's Eat Clean Diet books.  I am so impressed with ALL of the books I have been sent for review AND purchased.  The newest book is The Eat-Clean Diet Stripped
and it's great.  Although I have a lot more than "those last 10 pounds" to peel off, there is so much valuable information in this book.
My favorite part of the book other than the recipes of course is the workout routine section.  I like the discussion on weights, cardio and fuel consumption.  One of my favorite things about the book are the images showing how to do different weight training moves.  There are so many health and wellness tips and meal planning ideas too.  The vegetarian section of the book could have had more to it but overall I think it's another awesome book by Tosca.
And today I get to share one of the recipes from Tosca's new book with you.  It sounded so good, I thought you might enjoy it.
Gold Medal Finish Breakfast Burrito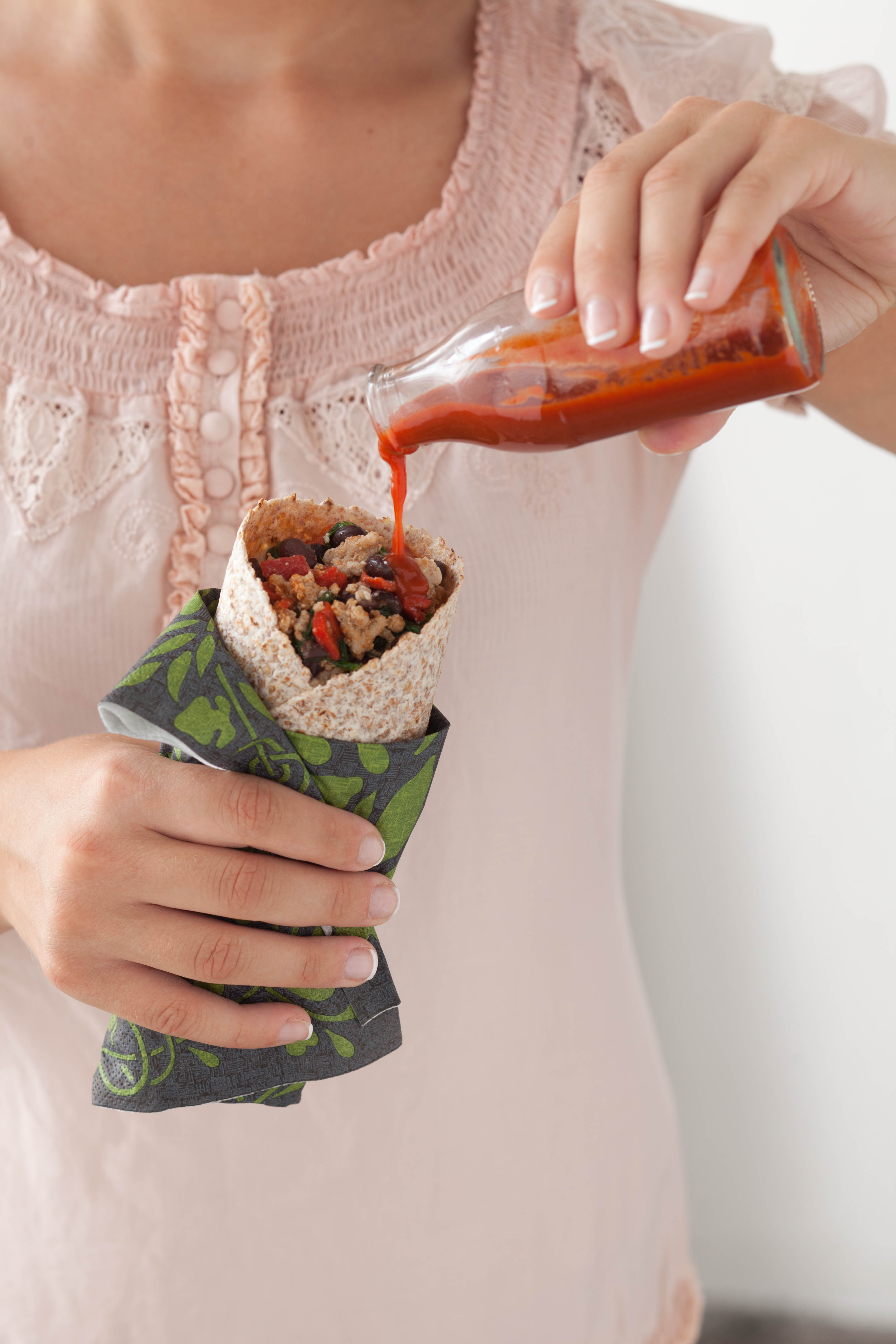 Ingredients:
Eat-Clean Cooking Spray (See page 214 for recipe)
6 oz/170 g extra lean ground turkey
1 tsp/1.25 ml garlic powder
4 egg whites
¼ tsp/1.25 ml sea salt
1/8 tsp/pinch freshly ground black pepper
1/3 cup/80 ml drained and rinsed black beans
1/3 cup/80 ml drained and chopped roasted red peppers
2 cups/480 ml lightly packed fresh spinach
¼ c/ 60ml hummus
2 whole grain sprouted tortillas (Such as Ezekiel)
Chipotle Mexican Hot Sauce
Method:
1) Heat a large nonstick skillet over medium-high heat, and if necessary, spray with Eat-Clean Cooking Spray. Add ground turkey, cumin and garlic powder, and use a wooden spatula to break the meat into small pieces. Cook until no longer pink, two minutes.
2) Add egg whites to same skillet, season mixture with salt and pepper, and stir until opaque, two minutes. Add black beans, roasted red peppers and spinach, and stir all ingredients together.
3) Spread hummus on warm tortillas (Skip if you are following the Stripped plan), then top with turkey mixture and top with chipotle hot sauce, if desired. Roll up burritos and eat warm.
I would personally swap out the chicken and use tofu.
Do you have any of Tosca's Eat Clean Diet books?