Disclosure: This post may contain referral/affiliate links.
How would you like to attract everything you want and live the life of your dreams?
Online Dream Boards for the Win!
One thing I have been doing over the last few months was choosing my word for this year. In 2020 my word was BELIEVE. I narrowed my word for 2021 to CONQUER. There are some areas I really want to conquer like video (being ON video mostly the tech side of things and editing video). Another thing I want to conquer is my fitness/health. I'll go into this more another time.
I made an online 'dream board' in 2020 and put it on all of my computers as my desktop image so I see it front and center. Every day I look at the word I chose and it makes me think about my goals and dreams for this year and beyond. Very empowering. It's important to be very clear of your desires.
If you haven't seen my friend Angie's video of her 2021 vision board workshop, check it out. I love how she really nails down her dreams.
I made my original vision board in Canva. But I recently just rejoined Picmonkey and will do them there from now on since it seems much easier. I organize all my online dream board photos in a similar way to Angie in the video I linked to above.
Here's my vision board from last year. I have removed a few things from it (like the Peloton bike because I'm no longer interested) or I have accomplished the goal.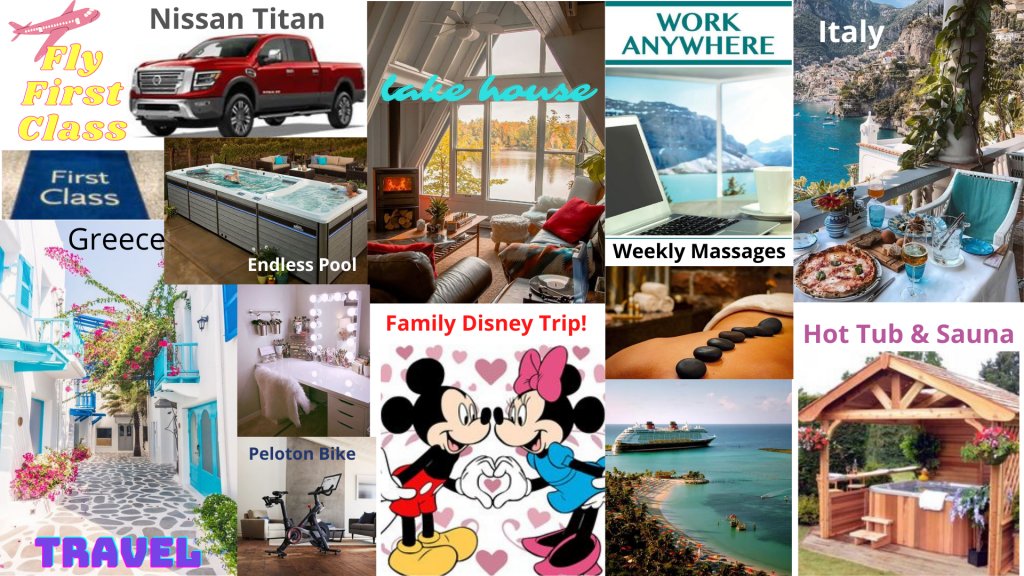 I'm now calling it an online dream board and working on a new one for this year as I write this post. I have some lofty goals over the next few years so I'm adding a lot and it's taking time to design it.
Here's an affirmation for you to use when it comes to goals.
I am driven by my goals.
I set goals for myself so I can stay focused and driven on my life-long journey to success. Positive goals surround me in every aspect of my life. Whether it is my continuing education, spirituality, business, or finances, my well-crafted goals push me further than ever before.
Goals are essential to me because they offer me a sense of achievement. When I set a specific goal and complete it, I feel purpose. Setting a specific time period to complete my goals allows me to work at them over time as I build momentum. Once I complete a goal I feel a great sense of accomplishment.
Setting and completing goals propels me forward. My goals allow me to accomplish more in life. Once I set one goal and meet it, the feeling I get pushes me forward in my entire life. In doing so, I gain the power of passion and motivation which gives me the confidence to accomplish anything I set my mind to.
My goals and dreams give me a meaningful purpose, which inspires and motivates me. This motivation helps me enhance my weaknesses and strengthen my strengths. And in completing each goal, big or small, I feel a sense of pride and happiness that uplifts me.
Here are some Self-Reflection questions for you to answer:
What goals/dreams do I currently have in my life?
How do my goals/dreams motivate me?
How do I feel when I complete a goal?
If you have a planner addiction like me and you end up with unused empty planners every year, use one for positive affirmations. After I do my morning devotion, I go right into writing in this planner that I use as my journal. I keep it simple. Plus a bright and cheerful planner helps!
Every day I write something like this:
My bank account is always growing. I attract amazing opportunities. We work a successful business from our lake house and relax in our hot tub and sauna. I will conquer video this year.
The things I write in there may not have happened yet but I'm writing it as if it has. If you write out how you see yourself in the future it's more likely to happen.
So back to the dream board. I use Pinterest and other websites to find photos of everything I brainstormed for my dream board. Once I make my list (see below), I then set up a secret/private Pinterest board titled Dream Board 2021.
Then I search for a variety of items that go with my list and pin those to the secret board. Once I have done that I download the photos and put in a folder I named Vision Board. This year I have separated them into topics like Angie mentioned in her video above.
Here are some of the items on my dream board list:
Lake house, hot tub, truck to tow travel trailer, inspire others, new flooring throughout house, remodel kitchen, my bathroom and laundry room, RV travel, family Disney trip, my 2021 word CONQUER, learn video editing, fitness – rebounder, spinning, boxing, Beachbody workouts, fly 1st class, read 6 books this year, learn how to apply eye makeup, start skincare routine and more.
Those are just a few goals and dreams I have. They are not all to be accomplished this year but into the future as well. The more I look at my dream board, the more these dreams are in the forefront of my mind so that I can work harder to accomplish all the goals I set for myself. It's important to make it very specific. Don't you agree?
You can also put the image of your online dream boards on a digital photo frame and place it somewhere you'll see it daily. I can't locate ours so I might have to buy a new one. I like this digital photo frame and put it in my wish list.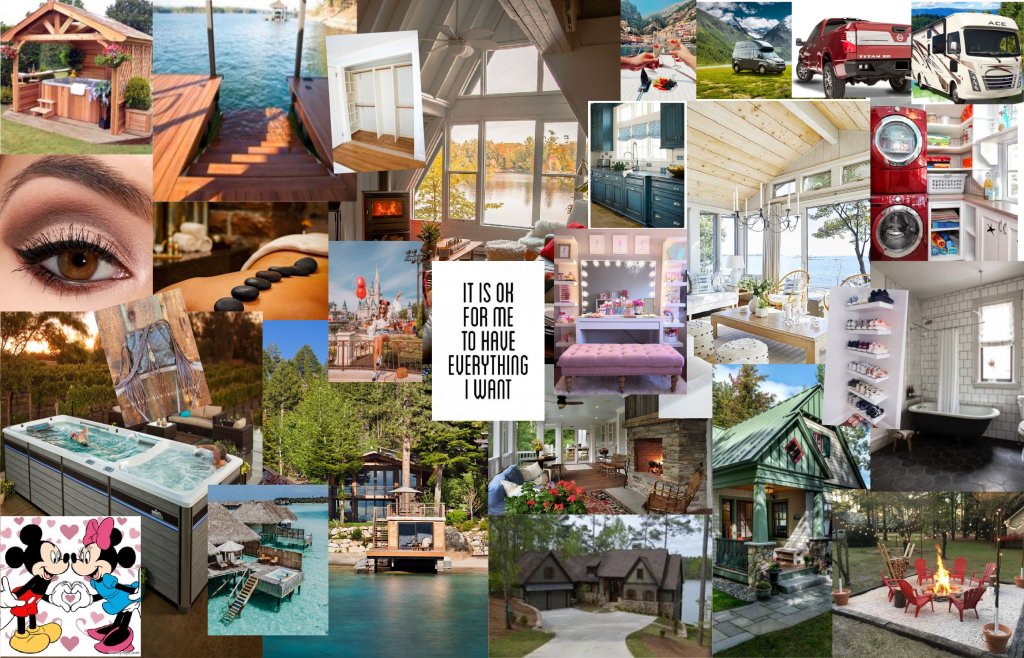 I completed my 2021 dream board. You can see it above. Have you started yours? Feel free to share in the comments and link to yours. We would love to see them and help cheer you on. Here's to an amazing and successful new year.
Please save this post on Pinterest! And tag me on Instagram or Facebook @hergrandlife with your dream board.