Disclosure: This post may contain referral/affiliate links.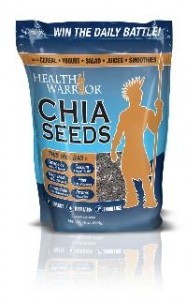 A lot of people have been asking me about the health benefits of chia seeds and how to incorporate them into your daily life. I was offered a product to sample for review so it's perfect timing to share the info with you.
Health Warrior sent me their new 100 calorie peanut butter chocolate chia bar samples to taste.  Heath warrior is a premium chia seed company and Nick Morris, co-founder of the company says, "We created Health Warrior because we experienced first-hand the health and fitness benefits of the chia seed and wanted to share our discovery with the world."
These little 100 calorie bars are good!  Perfect size and great snack. They kept me full for quite some time. I liked that they were soft and easy to chew.  Nothing like a hard crunchy granola bar, thank goodness.  A lot of 'power' bars leave a chalky taste in my mouth and these did not.  I am also impressed by the ingredients, no funky stuff in it that I have no clue what it is.
Health Benefits of Chia Seeds
Chia seeds are loaded with many healthy nutrients like calcium, omega 3's, protein, fiber (these little seeds pack a punch and keep you full for hours), antioxidants and more.  Chia seeds can help you balance your blood sugar, keep you hydrated and give you that boost of energy you need.
About Chia Seeds
Chia seeds can be added to a variety of foods/meals.  I like to add them to yogurt, sprinkle over cereal, salad and applesauce.  You can also grind them (or not) and add them to smoothies.  AND grind them up to use when baking (they can replace eggs).  When chia seeds and liquid come together the chia seeds expand and have a gel like substance.
Here is what Health Warrior has to say about chia seeds,
"Chia seeds are unprocessed, nutty-tasting, nutrient-dense whole seeds with omega-3 fatty acids. They have among the highest antioxidant activity of any whole food. Researchers who have studied the seed have called it an "almost perfect food" featuring myriad health benefits, including the ability to energize, rejuvenate muscles, hydrate, improve cardiovascular health, support detoxification, augment strength, bolster endurance, stabilize blood sugar, induce weight loss and aid intestinal regularity. And chia seeds are one of the most nutrient-dense foods on earth, offering a remarkable array of disease-fighting and health-promoting nutrients. In fact, chia seeds boast the highest level of Omega-3 Essential Acids found in any whole plant food."
Here are some chia seed recipes that sound interesting:
Quick and Easy Chia Seed Recipes (these look awesome!)
Have you ever tried chia seeds?