Disclosure: This post may contain referral/affiliate links.
Ladies Cute Kitchen Aprons
When I was approached by the kind ladies at Jessie Steele to review their designer aprons, I jumped at the chance.  I thought for sure having one would help give me the little (OK I kid, BIG) push I need to get in the kitchen and cook.  Kev cooks all the time and I oversee.   So it's about time I get in there and try my hand at it.  He was jumping for joy when I told him the plan.
When I opened the package, I found not only one but TWO ladies cute kitchen aprons.  Getting back to the kitchen (and preparing healthy meals) and spending time with family is what it's all about.  Look at these adorable aprons. This first one is the one I chose. I thought the print was perfect to share on this blog. It has a fruit bowl, food scale, tomatoes, mixers and more.  Cutest apron I have ever seen!

Then there was the more sophisticated black and white apron.  I wasn't expecting this additional apron so one of you lucky blog readers is going to win it.  Instructions on how to enter to win are at the end of this post.  Jessie Steele products have been on TV, in film, print and on the runway.

Here I am modeling this vintage kitchen apron (the top part doesn't fit entirely across the chest but I don't think I have ever tried on an apron that did).  So I'm not cooking in it BUT this past weekend we picked up some tomato and pepper plants and I'm going to try my hand at growing veggies. OH.MY.  But I promise, I'll get in the kitchen and cook up something.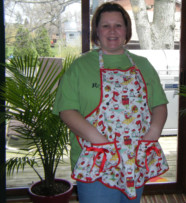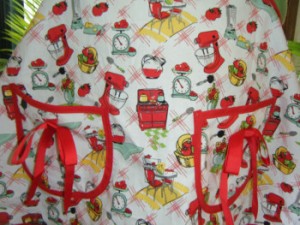 Now it's time for you to get back in the kitchen for a bit of fun.  Let me challenge you to get in the kitchen to make a healthy recipe and if you need some inspiration, chose one of Jessie Steele's designer aprons to give you that little push.  Aren't they adorable?  Mother's Day is coming up and this would be the PERFECT gift for that special mom in your life.
Happy Shopping,