Disclosure: This post may contain referral/affiliate links.
Back in April I tested positive for COVID-19 and ended up with COVID pneumonia. Here's my story!
My COVID-19 Pneumonia Symptoms
April 4th, Easter Sunday is when it all started. I had a fever over 100 and chills to the point of shaking, body aches and a cough. My head hurt from all the coughing. Hubby knew the symptoms mimicked COVID and said we had to find a place to get tested the next day (Monday April 5th). We wanted to go somewhere that had the rapid test.
I don't have health insurance so paid for this $240.00 test and visit out of pocket. Physicians Immediate Care in Elgin, IL was able to get us in fast and it was a great experience. We would highly recommend.
It doesn't matter if you've done everything right and have been socially responsible….you can still get COVID-19.
I did everything to try to not get it. From wearing masks, using hand sanitizer, extra hand washing, not touching my face, you name it I was doing it but it didn't matter.
We immediately started meds on Sunday, Daytime Severe Cold & Flu, Robitussin Extended Release Cough medicine, Tylenol and Ultima electrolytes. I think those were a saving grace.
The last I really remember is having a fever Monday night. Thankfully we bought cold packs recently for headaches. These also helped a lot.
Side note: I went off my low carb plan
Probably not the smartest thing to do. I had just been feeling soup and crackers. And well, you know where all that leads. I wasn't being horribly bad lol but I definitely didn't stick to it (especially in the hospital and after). I did try to keep the goodies like Jello and ice pops sugar free so that was a plus. But no excuses, I need to get back to healthy eating.
Tuesday there was lots of coughing and feeling stuffy. The pressure in my head was unbelievable. My temp went up to 99 but never above (until later that week). TMI note: I also had diarrhea and it was very dark. The oddest thing ever.
I took a nap on Tuesday. Who am I? I never nap but COVID kicks your butt. The body aches are no joke. And that Tuesday night, I lost all sense of taste and smell. I had heard a lot about that happening to people. It was so weird.
If you recall on some of my social posts (see above), I had my 1st Pfizer vaccine the Monday prior to testing positive. After testing positive, I was told I had to quarantine for a minimum of 10 days. That meant I could have ended quarantine on April 14th however that didn't happen.
Monday, April 12th, I ended up in the ER and then ICU with COVID pneumonia.
To the Hospital I Go: COVID Pneumonia
Kev took me to Gottlieb Hospital in Melrose Park, IL about an hour away from our house. If you recall me mentioning earlier I don't have health insurance. We wanted a doctor we have known for a long time to oversee my hospital care. My pulse ox was 92% when I went to bed the night before and started to drop rapidly. It was 79% when we arrived at the emergency room where they immediately put me on high flow oxygen.
So from the ER I went to a regular room for 2 days (which I don't remember at all) until things got really bad. Then I was transferred to the ICU. I had acute hypoxemic respiratory failure due to COVID-19.
I was in the ICU for a while where I was poked and jabbed and they took A LOT of blood lol. My stomach, arms and hands were covered in bruises from Heprin shots, blood draws and more. The ICU was a lonely place and my bed was not positioned well enough to see outside so that was no fun. But now looking back on pictures I took in that first room, there was a beautiful sunrise the next day and a big blooming flower bush outside my window. Always look for the positive in things or life will just suck…like COVID.
I watched hours upon hours of TV. Mostly Lakefront Bargain Hunt on HGTV. I love that show.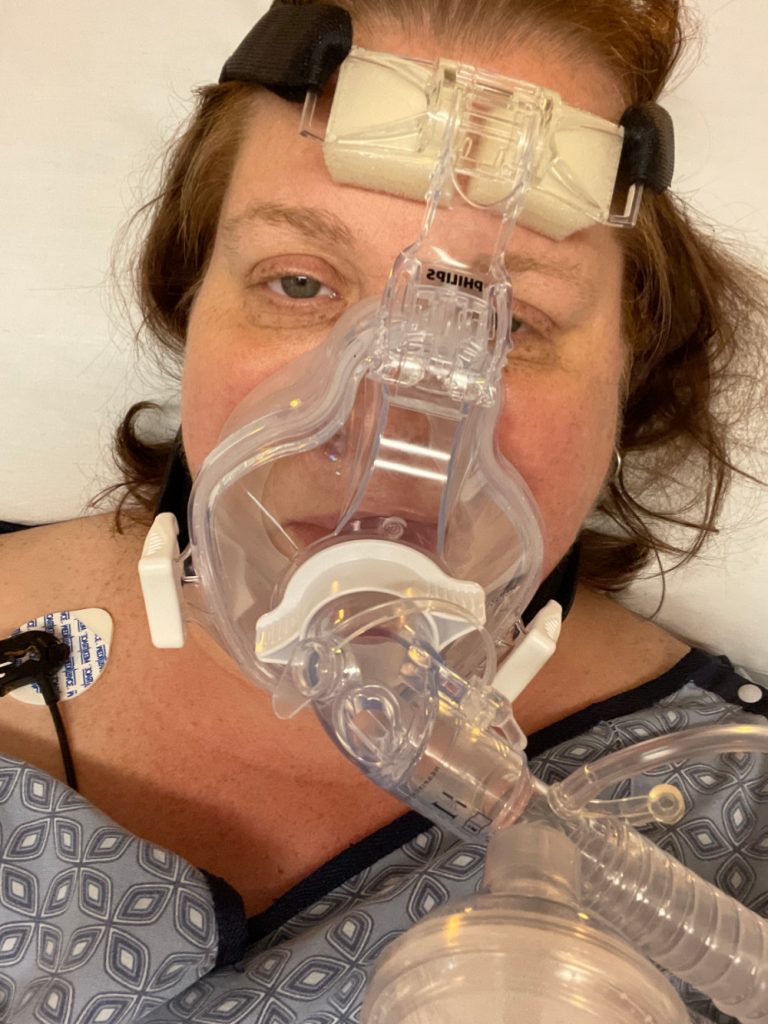 A Tough Struggle
They had me on oxygen and on a Bipap Optiflow machine at night. I have never ever had anxiety in my life until I was put on this machine. I don't know what came over me but I freaked out. Luckily I had thrown my head phones into my bag in addition to my phone so I was able to listen to spa music from SiriusXM. Along with my hubby, friends and family praying, this music got me through some pretty hard times and very long nights.
During my time in the ICU, they had to insert a catheter (I don't remember them doing this). It was a horrible experience and I had to have them take it out. That made a big difference! And I hope to never have one again.
On the Homefront: Family and COVID
Poor Kev had to spend hours on the phone with family and friends. And me. Because I was truly struggling. He got no sleep and what I didn't know until I was released from the hospital (because he made everyone promise they wouldn't tell me) was that he was diagnosed with COVID the day after I was admitted to the hospital.
He had gotten the test a few days after I tested positive and he tested negative. Then he tested positive that next Tuesday. He had already had BOTH of his vaccinations more than 2 months prior. He has emphysema and we believe had he not been vaccinated he would have ended up in the hospital or worse.
Gottlieb Hospital: Loyola Medicine
I was finally moved to a regular room (on Kev's birthday) for a few days before I was discharged. This room was awesome and had a huge window. The kind nurses who brought me up to the 3rd floor from ICU were so accommodating and rearranged my room so I could sit in a chair next to the big window. That made me feel so much better. Then it snowed. In April. So that was pretty.
I was in the hospital for a total of 8 1/2 days and missed Kev's birthday on April 18th. I was sad and lonely. It was the worst time in my life. But I did get my taste and smell back because I could tell the hospital French toast was delicious. And I had it a couple times.
It wasn't until I got moved to the regular room that I could work on my hair and get cleaned up. I was able to brush my teeth in the ICU even though it was over a tiny basin so that was good. My doctor's wife sent him in with some dry shampoo and I was given a nice goody bag of products to help me feel more like myself. The nurses and doctors were all amazing.
The day I got to leave the hospital, a male respiratory therapist helped me walk (he was surprised that I had not been given the chance to do that yet) but I worked hard and was doing so good he said, "it's because of people like you that I love the work I do". That made my day.
Healing After the Hospital: After COVID Pneumonia
As you can see from my Instagram post above, I was discharged from the hospital in the late afternoon on Tuesday, April 20th. I was so weak and had a very hard time walking up and down stairs. COVID pneumonia stinks. I was basically planted on the couch for days and tried to catch up on all the sleep we lost. As days went on, it just got better and better.
Showering was quite an ordeal. Before I got out of the hospital, we ordered a bath transfer bench. We were so smart to do that. If you ever need a bench to help you move from outside of the shower in, grab this. The first night home I had to take a bath and couldn't wait for the bench to arrive the next day. Only just recently we took it out of the shower because I get out of breath easy and have to sit down but now it's much better.
I was on oxygen quite a bit after returning home but soon weaned off of that too. We are thinking of buying an oxygen concentrator for any future breathing issues we might have.
Follow Up
My follow up doctor's appointment for blood work 5 days after I got home went well. Doc couldn't believe how much better I was doing from what he had seen in the hospital even though I have a ways to go. I appreciate all the good thoughts and prayers. I'm thankful for my supportive and loving hubby who got me through this and also thankful for my doc and for the amazing team at Loyola for saving my life.
Some of you were wondering about my 2nd vaccine. I was not able to get it at my scheduled time because I was still in the hospital but I was able to get my final vaccine a few weeks after returning home once I was well enough. So all is good on the vaccine front.
Still lingering are some COVID pneumonia symptoms like brain fog and breathing struggles. From what I hear, these could last a long time. Just grateful to be alive.
What's Happening Now?
We are ready to travel but most likely will test positive for a while yet so I don't think we'll be going overseas anytime soon. Really quite sad about that as we'll be celebrating our 25th anniversary on New Year's Eve and talked about some fun trip ideas. Hopefully we'll still be able to do something super fun.
I have been trying to exercise off and on. It hasn't been easy but I keep trying and doing the best I can. A while ago, I started a dance workout with two of my granddaughter's but it was a bit tough for me to continue so we tabled it.
Starting July 5th we are going to try to get back to it 3 days a week. I look forward to that and will do my best. If you would like to join us, I'm starting a private accountability group (you don't have to do the workout we are doing, there are plenty others available on demand). Happy to chat about how I can support you in your goals and in turn you will be helping me too.
Thanks again to all who have prayed for me through my COVID pneumonia experience. Life is short, make every day count ya'll.