Disclosure: This post may contain referral/affiliate links.
Today is International Virtual Assistant's Day.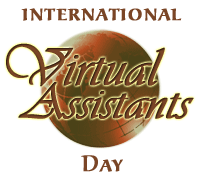 I have been a VA (virtual assistant) for over 17 years. I'm still working with my very first client and have worked with many amazing people over the years. I have worked with a variety of clients with businesses ranging from the Keto/Low Carb diet space to Affiliate and Internet marketing, Travel, Fundraising, WordPress Security and more.
Do you know what a virtual assistant is?
We are freelancers/sole proprietor's/business owners who work online for clients in a variety of capacities. Some of my services have included the following
Managing email
Customer service
WordPress updates
Mailing list management
Blog post editing/proof reading
Repurposing content
Managing social media accounts
Designing social images
Internet research
Personal/event assistant
and a lot more!
From Days of the Year, "The International Virtual Assistants Day is a day set aside to acknowledge the effort, determination, and commitment of virtual assistants. The day is usually sponsored by the Alliance for Virtual Businesses and the celebrations held during the Online Virtual Assistants Convention."
I have also had my own assistant and outsourced other work as well. Supporting others when I can makes me feel awesome.
Love this work we do.
What else do I do?
In addition to being a virtual assistant, I am a blogger/content creator and accountability coach for both business and health. One of my favorite things I offer is business brainstorming so I guess you could call me a business 'coach' too. So if you're ever stuck with your own business or just starting, hop on a call with me and let's brainstorm. So fun!
TODAY ONLY 5/20/22! I'm offering my hour long business brainstorming calls for $77 (normally $97), you can grab as many as you think you need. Must be used within 3 months. Reach out and I'll send you a Paypal invoice by end of day today. Yay! Looking forward to chatting.
As a fitness/healthy living accountability coach, I help others stay accountable with their workouts and on track with nutrition programs plus help others start their own coaching business too. Whether it's a side hustle or full time business you want, there are so many options.
You can learn more about me on LinkedIn. And learn more about me here too. I love being my own boss.
Feel free to comment below or email me to reach out about virtual assistant work, brainstorming, etc. If you do send an email be sure to leave a comment below that you did so I don't miss it.
Are you a virtual assistant? If so, how long have you been working from home?
Do you need a virtual assistant? Feel free to connect via email or ask any general questions here. I have a pretty good network of other VA's and we can help answer your questions.
Be sure to pin the image below to save this post for later.