Disclosure: This post may contain referral/affiliate links.
I'm so behind but here's the story about this photo and hubby's kidney stone saga.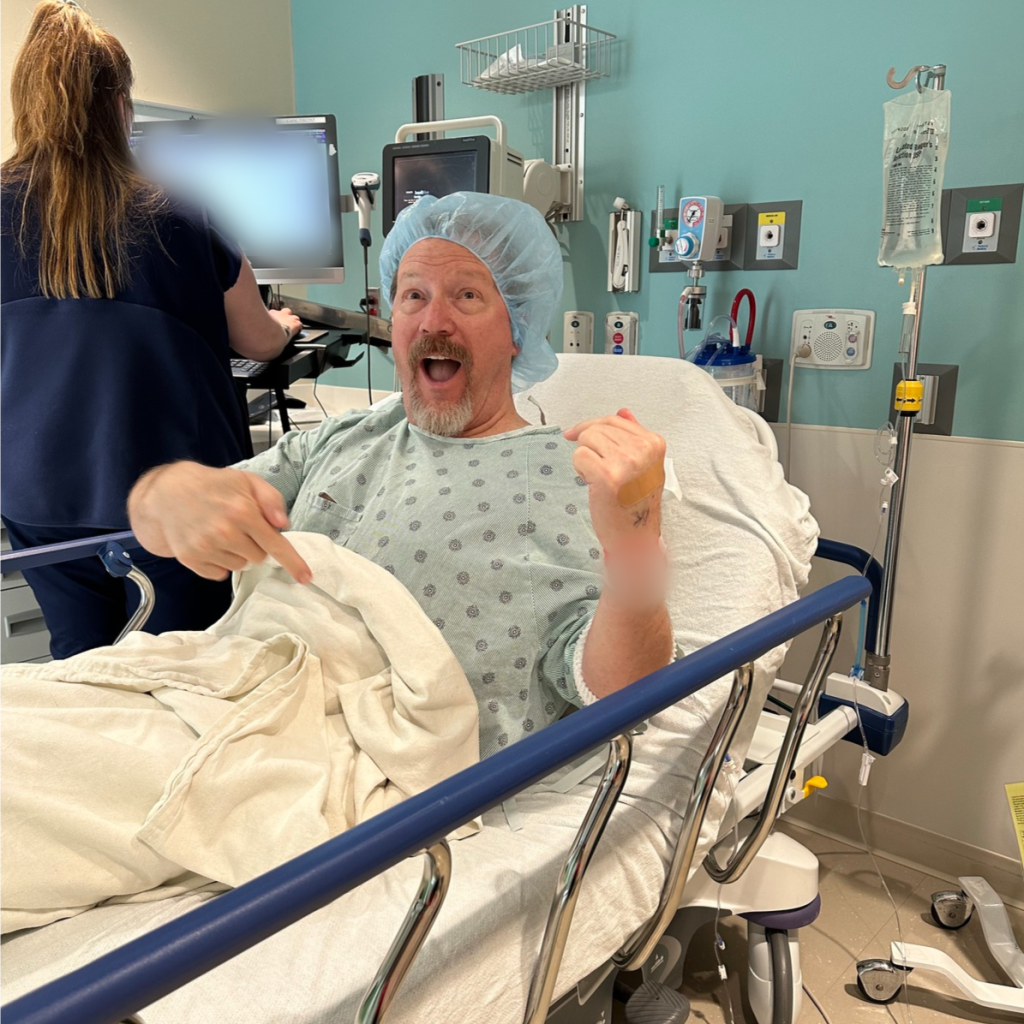 He was NOT this smiley when we arrived at the ER the previous evening. I won't share THOSE photos. Ha!
We were supposed to leave for camping June 2nd but best laid plans you know. Kev ended up in the ER with a kidney stone the Thursday before. He had just finished work and was on vacation. I thought for sure we would be canceling our trip but this guy is a trooper.
The Kidney Stone Saga and the ER
He's had these episodes a few times over the last year, 4 to be exact but this time was VERY different. He told me to get ready because we needed to leave soon. I put a trash bag in the trash can and quickly packed my bag with iPad, book, notebooks, snack, etc. Whatever I would need for what I guessed would be many hours.
We quickly got in the truck and I drove him to the ER (he was in major pain and constantly throwing up).
Once we arrived at the ER I parked up front and ran in to get someone to help since he was still a hot mess…his words. I was out of breath by the time we got back to the truck.
They were amazing and got him right in to the hospital emergency room. I parked and went in. He was still getting checked in and even through all the pain he was cracking jokes. They moved him to a room in the ER where we stayed for over a little over 5 hours. So glad I packed that bag.
The X-Rays and Tests
When the tests came back it showed his kidney enlarged AND he had a 7 mm kidney stone.
This size kidney stone doesn't pass on its own so he stayed overnight to prep for surgery the next day. It took a very long time for pain meds to take effect. Poor thing. They had a room ready for him just after 10 PM.
I went home to care for the pets. And tried to get some sleep.
The next morning I went back and spent the entire day at the hospital except for when I had to run back to town to pick up all his meds for after the surgery. I got in SO many walking miles that day. Ha.
Kidney Stone Removal Surgery
Surgery went well. They removed the kidney stone and placed a stent. The doc told him there was no reason he couldn't travel and go camping. What?
So we left two days later than planned so he could have a day to rest. We took our time packing, hooking up the trailer and drove 5 hours to Raccoon Lake, a campground in Indiana.
We had a great trip minus me falling. Story for another day.
Packing Up. Plans Change Again.
As we were packing up to leave for home, my mom called and said dad had to be intubated after a procedure he had. We finished packing up, drove to their house about 45 min away, parked and unhooked the trailer and went to see my dad. We were in town a few more days.
It was a scary time but he made it through. Dad is currently on oxygen for his breathing, having his lung drained weekly and going through chemo. That's a lot to handle but he's got my mom by his side, the most amazing woman I know.
Current Day.
So here we are almost 2 months later and Kev is doing well. Two and a half weeks after Kev's surgery, he had the stent removed. He said that was QUITE the experience LOL Over this time he's done various tests and had a good visit with a urologist. Hopefully he won't have any more episodes.
Did you know that the citrate in Crystal Light® lemonade can help stop kidney stones from forming? We stocked up on these. And got Potassium Citrate too for on the days he wants something different. Of course you'll want to talk to YOUR doc because this may not be right for everyone. *wink*
Thanks to all who prayed and continue to pray for hubby and my dad.
Now we are off to go camping again. Hopefully it will be uneventful and relaxing. Next big trip happens in September. Jamaica here we come!