Disclosure: This post may contain referral/affiliate links.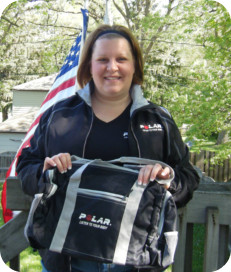 I have some exciting news!  I was chosen to be a Polar fitness ambassador.  What does that mean?  Well, as an ambassador for the Polar USA fitness company, I get to share my love for one of my favorite companies and their awesome products.  It also means that I will be pushed a lot harder to hit the goals I have set for myself and will have other great opportunities come along.  Most importantly is what it means for you!  You'll get great info on heart rate training, product reviews and giveaways, Polar product video training and more.
As the inventors of the 1st heart rate monitor for training over 30 years ago, Polar is truly the world's top specialists. Polar carries a wide variety of heart rate training fitness products and they cater to ALL levels of fitness.  If you are a beginner or a seasoned athlete, Polar has what you need. From heart rate monitors to bike sensors, foot pods, cardio sports bras and more, you'll be set.
The Path to a Better Workout

I'm really excited to represent Polar because I have been a happy customer since I started living my healthy lifestyle back in 2005. Polar heart rate monitors have always been a part of my fitness routine. You learn a lot about your body when you can monitor your heart rate and activity levels. I still have a lot to learn about what all my Polar heart rate monitor has to offer though (Kevin and I recently bought ourselves the FT60 models, upgrading from one of the earlier versions) so you'll be right there with me and we'll learn together. It's my goal to educate you on the value of heart rate training.
Polar sent me a lot of goodies to share with my local peeps and with my blog readers, Facebook followers, etc. Check it out…and this isn't even all of it.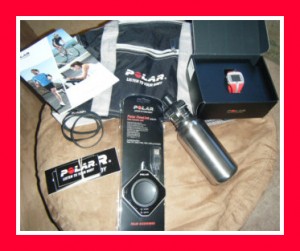 I even have a Polar FT7 heart rate monitor and Flowlink to give away to one lucky reader. In June we'll be doing a fitness challenge here on the blog and on my Losing It and Loving it Facebook page (clue:  the challenge has nothing to do with the number on the scale). Keep your eyes open for a blog post about that on Tuesday. Challenge starts Wednesday.
I'm so excited about my ambassadorship with Polar USA and want to thank them for giving me such a great opportunity. I look forward to working with them. If you have any questions about the company or products, please let me know and I will make sure you get all your questions answered.
It is also thanks to all of YOU, my readers and support system for commenting, sharing my content and participating on the blog and Facebook page that I was accepted for this wonderful opportunity. You are all very much appreciated!
Let me ask you this…
Do you utilize a heart rate monitor? Why or Why not?


P.S. You can follow Polar USA on Facebook and Twitter.