Disclosure: This post may contain referral/affiliate links.
Get Ready, Get Set, GO!
The 30 Days to Better Healthy Living challenge for June is pretty simple. Not a lot of rules but quite a few great prizes!  I have readers here who are just beginning and those who have been committed to living a healthy lifestyle for a long time .  So this month we are going to focus on something everyone can do and that is to try ONE new thing every week in June that will make a positive impact on your life.  For those who are more advanced, I want to see you really step out of your comfort zone.
Here are some examples of things you could do each week:
Try one new workout (at home or the gym)
Add one extra workout to your schedule
Try one new food, recipe, fruit or vegetable
Go one day without meat
Sign up for an upcoming race & start training
Of course those are just some ideas of things you could do but you get the idea.  The goal of this challenge is to stretch yourself and do something out of the norm every week in June.  This challenge will also help you incorporate some additional healthy habits into your life.  And it will also help you stay accountable to others like many do on my Losing It and Loving It healthy weight loss and fitness Facebook page every day.
So let's get our challenge on!
Challenge rules:
Every Tuesday in June, there will be a challenge post where you'll need to comment here on the blog. Each Tuesday you MUST check in and let us know what one new thing you have done for the previous week (we are working on the honor system here but if you can post anything to show us what you accomplished that would be great like a picture, video, etc).
If you have a blog, you should post your challenge update there and then link to this post.
Then come by my blog on Tuesday's to comment that you did (feel free to drop the link to your blog post in the comment section).  That way we can find new blogs to read and get to know one another.
Each week on Wednesday starting June 8th, I'll choose one winner out of everyone who checked in the previous day to win a special goodie.
To sweeten the pot, everyone who checks in weekly on the blog AND also stays accountable with their workouts on my Facebook page EVERY DAY in June shows me they are committed and at the end of the challenge will be put into the drawing for a Polar heart rate monitor and Flowlink, a prize worth over $170!  There will also be a pair of ProSpeed Skechers running shoes up for grabs at the end as well.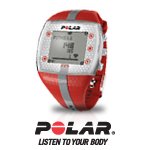 *I don't expect you to exercise every day but you do need to check in each day to be eligible to win the grand prize.
Companies sponsoring this challenge with prizes
Craving Secrets (Diana Walker)
Jessie Steele pot mitts for some fun in the kitchen!
Snackwell's Gift Pack
Coni is donating the Rockin Body DVD workout
Losing It and Loving It (that's me!)
If you would like to donate a prize please contact me.  I will update this post as prize donations come in.
*All prizes will be sent out the 1st week of July.
Hope you'll join in on the fun!



P.S. Please share this challenge with  your friends and family.