Disclosure: This post may contain referral/affiliate links.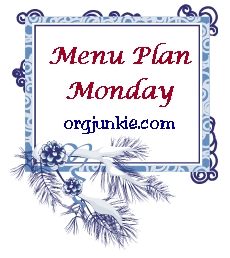 Check out Menu Plan Monday for this week.  I didn't even go over this menu with hubby, just kinda threw it together. We'll play every day by ear this week. It seems we don't ever feel like eating what's on the menu after spin class on Mon. and Wed. so it's totally up in the air.  We'll see!
Monday-
No idea!  LOL
Tuesday-
Pork Chops, potato, veggies (I think)
Wednesday-
Tuna and soup
Thursday-
Pasta w/veggies
Friday-
Turkey Chili
What is on your menu for the week? I really need to try to change it up a bit and possibly try my hand at more cooking.