Disclosure: This post may contain referral/affiliate links.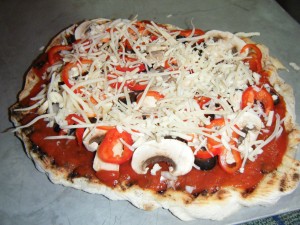 Grilled Pizza Before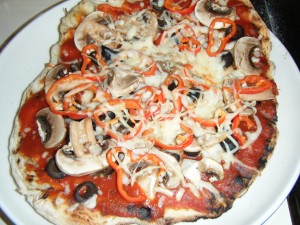 Grilled Pizza After
Oh my this pizza was to die for!  We had this last week and again this week.  Can't get enough!
Here's the recipe…
Grilled Pizza Recipe
Ingredients:
Trader Joe's pizza dough
Trader Joe's pizza sauce
Trader Joe's shredded cheese
Red/Orange pepper rings
Mushrooms
Onions
Black olives
Divide dough in half, roll out dough on flour to keep it from sticking, then shape into round or rectangular personal size pizzas.
Spray olive oil on one side of dough and place face down on grill, then grill that side for 2-3 minutes while grill lid is open. Keep an eye on it so it doesn't burn.  Spray the top side of dough with olive oil and flip over on to a flat cookie sheet.
Take dough inside to put sauce and toppings on grilled side of dough then return to grill for approx. 5 minutes with grill lid closed.  Again make sure to watch so it doesn't burn.
Enjoy!
We changed the grilled pizza recipe up a bit this week and instead of using pizza sauce we used canned diced tomatoes.  I personally think the less sauce the better so this was perfect for me.
Have you ever had grilled pizza?