Disclosure: This post may contain referral/affiliate links.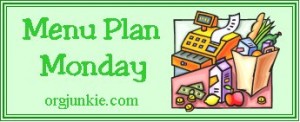 Time for Menu Plan Monday!  Hope you'll participate and then let me know that you posted your menu plan.  Once again we just whipped a menu together, nothing too exciting.  I sure hope to change it up soon.
Monday-
Soup & Tuna
Tuesday-
Turkey Chili & Biscuits
Wednesday-
Breakfast for dinner (possibly eggs, turkey sausage links, etc.)
Thursday-
Pasta
Friday-
Turkey burgers (maybe I'll try my hand at black bean burgers), potato fries and veggies
What is on your menu for the week?