Disclosure: This post may contain referral/affiliate links.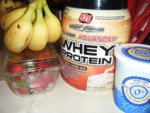 I made a yummy and refreshing smoothie last week so I had to share with you all how to make a strawberry banana smoothie.  It didn't have too many ingredients and it was quick and easy to make.  I used the Magic Bullet blender/mixer
which made clean up a breeze.  This is probably one of my all time favorite products!  This is my 2nd one (thanks mom and dad) and I had the 1st one for a VERY long time.
Strawberry Banana Smoothie Recipe
4-6 strawberries (sliced)
1 banana (sliced into small pieces)
1 scoop protein powder
1/2 cup Almond milk (not pictured)
6 ice cubes (not pictured)
1+ tbsp Greek Yogurt
Mix all ingredients in the blender.  I usually mix it up, then take it off the bullet to shake it up and mix again.  I sometimes do this process a few times so all the ice cubes are crushed and I have a nice smooth drink.  So good.
Enjoy!