Disclosure: This post may contain referral/affiliate links.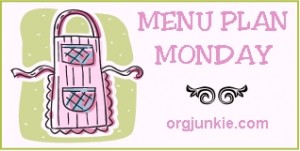 Happy Menu Plan Monday.  It's that time again and of course our menu is pretty dull as usual.  We don't even have anything planned for tonight or Wednesday.  Those are both spin nights so it's hard to plan because I'm usually not that hungry after wards since we eat later than normal on those nights.  If it were up to me, I would have a smoothie and call it a night.  So here is what we have so far.
Monday-
Undecided
Tuesday-
Chicken w/enchilada sauce (not sure exact meal)
Wednesday-
Undecided
Thursday-
Grilled roast, potato, veggie
Friday-
Pasta w/diced tomatoes, veggies, ground turkey
We really need to get to the grocery store but I'm trying to clear out as much as possible before that.
What is on your menu plan this week?