Disclosure: This post may contain referral/affiliate links.
Please help me welcome Bob to the blog today. He is guest posting and sharing with us some awesome superfood smoothie recipes.
Five Superfood Smoothies That Boost Your Health
What is a "superfood"?
Legally, there is no definition. But the generally accepted definition of a superfood is a food with a high phytonutrient content that contains healthy ingredients in higher than normal quantities. Most are high in antioxidants, vitamins, dietary fiber, and anthocyanins.
Superfood Smoothie #1: Blueberry
Blueberries are high in antioxidants, phytoflavinoids, potassium and vitamin C. They help fight heart disease and cancer, and are an anti-inflammatory. Blueberries are one of the most commonly used fruits in smoothie recipes.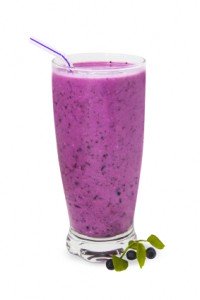 My Blue Heaven Smoothie
1 cup blueberries (fresh or frozen)
7 oz vanilla yogurt
1 tablespoon lemon juice
2 tablespoons orange juice
1/2 teaspoon vanilla extract
1/2 cup ice
Place everything except ice into a blender and pulse a few times until blended. Add ice, cover, and blend on high until smooth. Pour into a glass and enjoy!
Superfood Smoothie #2: Broccoli
Broccoli supplies healthy portions of calcium, fiber, potassium and vitamin C. Broccoli has many cancer-fighting properties, and is especially beneficial in helping to prevent bowel cancers. The strong taste of broccoli can be sweetened with the addition of fresh fruits.
Broccoberry Fruit Smoothie
1 cup frozen mixed berries
1 cup steamed broccoli
1 cup 100% cranberry juice
1/2 cup low-fat plain yogurt
4 ice cubes
Place everything but ice cubes into a blender and blend until well mixed. Add ice cubes and blend on high until smooth. You can add honey or any other sweetener if desired.
Superfood Smoothie #3: Oranges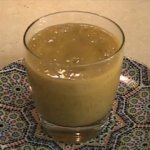 Moroccan Orange & Dried Apricot Smoothie
Oranges are rich in vitamin C, folate, thiamine and potassium. By keeping the pulp in, you'll add important fiber. The apricots in this smoothie add plenty of vitamin A.

3 cup orange juice with pulp
8 oz dried apricots
3 Tbsp sugar
Soften the dried apricots by soaking them in the orange juice for 2 hours, or by soaking them in boiled (not boiling) water for 5-10 minutes. If you used the boiled water method, drain them and allow them to cool.
Place all the ingredients into a blender with some ice, and blend until smooth.
Superfood Smoothie #4: Green Tea
Green tea is one of the finest superfoods on the market. It is simple to prepare, tasty to drink, and full of healthy components. The antioxidant in green tea, called catechins, tie up free radicals that can contribute to bloods clots, cancers and atherosclerosis.
The way that green tea is made allows for a high concentration of these catechins, especially ECGC, to be provided in the drink. Although human studies haven't yet proven it, lab studies have shown that ECGC has proven successful in shrinking prostate cancer tumors in mice.
Green Tea Smoothie
1 banana, in 1-inch chunks, frozen
1/2 honeydew melon, cubed
2 green tea bags
1/4 cup soy milk
Prepare the green tea by steeping the tea bags in 6 ounces of water for 10 minutes. Let the tea cool, then chill in the refrigerator. To finish, blend all the ingredients in a blender, adding honey or the sweetener of your choice.
Superfood Smoothie #5: Spinach
Spinach is jammed full of healthy goodies, such as vitamins A, C, E and K. In addition to antioxidants, spinach provides plenty of iron and calcium.
Banana Blueberry Spinach Smoothie
2 cup Baby spinach
2 Ripe bananas, frozen
1/2 c. Blueberries
1/4 c. water
Place all ingredients in a blender and blend until smooth.
Robert White is a guest blogger who operates SmoothieRecipe.TV, a website dedicated to making and enjoying smoothies.
Thank you Bob for sharing some of your favorite superfood smoothie recipes. The Broccoberry one sounds intriguing.
Question to you all:  Which one will you try first?