Disclosure: This post may contain referral/affiliate links.
Kickboxing rocks my world!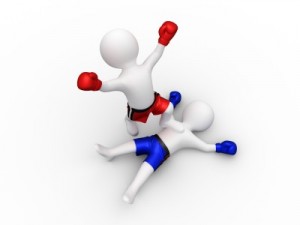 For the past year I have been anxiously waiting to take a Muay Thai kickboxing lesson in Atlanta, GA.  Last week I was in Atlanta for a business conference and I finally got that kickboxing lesson I had been waiting for. Most of you know that boxing is my #1 favorite sport.  Why do I love boxing so much?  It's a great weight loss workout, mighty good for the soul and it's just plain awesome.  No one really understands until they try it for themselves.
My friend Natalie (an Atlanta baby sleep expert) was a bit nervous as was her husband, Scott. But after the 1st day they were ready for more. They loved it and so did I.  We had such a great time the first day with basic instruction and bag work that Todd was generous to invite us back for a full Muay Thai kickboxing class.  Oh boy was that the total boxing experience.  Amazing!
We learned the basics like foot and hand positioning, throwing jabs, crosses, hooks and more.  Over the course of the two days, we wore boxing gloves, shin pads and punched and kicked. The only part I didn't care for much was having to watch myself in the glass mirrors ha ha. We also learned how to wrap our wrists. Kickboxing is a crazy hard workout but totally rewarding.  I would love for us to find a way to hang some boxing bags in the new home gym garage space. That would be so cool!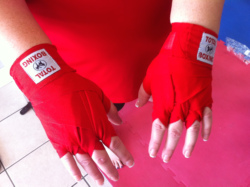 You can see the video that one of his friends took of us while at the Total Boxing gym and read more about our friendly Atlanta Muay Thai lesson.
I want to thank Todd from Total Boxing, a Muay Thai kickboxing Atlanta, GA gym for being so generous with his time and expertise. If you live in or near the Atlanta, GA area, please be sure to check out Total Boxing and tell him Angie Newton sent you.  The rates are affordable and everyone there is friendly.