Disclosure: This post may contain referral/affiliate links.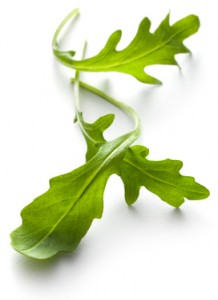 Here is a guest post for you today with some awesome arugula recipe ideas.  I always just saw arugula as a base for a salad but look at the options.  I can't wait to try #8!  Sounds delicious.
Nine Fresh Ways to Use Arugula:
    Combine the clean, sharp flavors of arugula with sweet peaches for a superb Indian Summer salad. Toss with white balsamic vinegar and some freshly ground black pepper.

    Stuff arugula into whole-wheat pita sandwiches for a nice peppery blast.
    Sprinkle your homemade whole-wheat pizza with a generous handful or two of arugula. Just add the leaves at the last minute of baking. Order delicious whole-wheat pizza dough to stay healthy.
    Add arugula to your whole-wheat pasta dishes. You don't even need to cook your arugula leaves. Just toss them in at the end. The heat from the pasta will wilt them.
    A super-easy pasta dish is arugula with canned tuna, minced garlic, and hot red pepper flakes. While the pasta is boiling, sauté the garlic and pepper flakes until the garlic is fragrant. Add the tuna, shredding it into fine flakes. Reserve a half-cup of the boiling pasta water. Add the cooked and drained pasta, plus the arugula, to the tuna. Toss, moistening with some of the reserved water.
    Another easy pasta combination – shallots, garlic, cherry tomatoes, and arugula. Sauté garlic and shallots till golden. Add the cherry tomatoes, cooking till heated through. Toss with the cooked pasta and arugula.
    Arugula is so aggressive that it easily stands up to strong fish like salmon. Make a bed of arugula leaves on your entrée dish. Top with your seared fish.
    Create a hearty, filling, classic Italian salad by combining arugula, a can of no-salt-added cannellini beans, canned tuna, aged balsamic vinegar, and coarse black pepper. If you're feeling creative, see what other fresh veggies you may have sitting around, like tomatoes and zucchini, and toss them in. Dollop a little nonfat ricotta on top.
    Another nifty bean-arugula combination is lentil and arugula salad. Toss cooked lentils with a minced shallot, some freshly chopped Italian parsley, and some really good red wine vinegar. Throw in a big bunch of arugula leaves, and toss again.
Thanks to Chef Anthony Stewart, Executive Chef at Pritikin Longevity Center & Spa for sharing these great arugula recipe ideas.  Doesn't that weight loss spa look totally inviting?

I checked out the virtual tour and think this would be a very cool experience for Newton's Travels. Can I hear an OH YEA!?