Disclosure: This post may contain referral/affiliate links.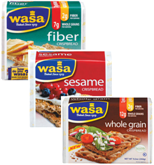 I reviewed the Wasa flatbread crackers a while back and was sent the crispbreads to try this time.  AND you all get a chance to win some too!
Wasa crispbreads are the perfect snack for the health-conscious.  They are hearty, fiber rich and made with all natural ingredients. They come in many tasty varieties. My favorite is the sesame!
And like the Wasa flatbread crackers these can also be used in variety of ways. I like to spread goat cream cheese on them or add sliced tomato.  And I have replaced a slice of bread with the Wasa crackers at meals (great low fat alternative).  You can find more great ideas in their Recipe Gallery.
I have been really impressed with not only the products but also the connection with the company.  Wasa's head offices are in Sweden and has flatbread production facilities in Sweden, Germany and Norway.  How cool would it be to visit them?  Keep an eye out on Newton's Travels to see if we ever make it there *wink*
Giveaway:
Giveaway is for U.S. entries only
I like to keep it simple so all you need to do to enter is to tell us how you would dress up your crispbreads.
For a second entry, LIKE Wasa on Facebook.  Be sure to leave a separate comment here on the blog letting us know you did.
Winner will be sent the three boxes of Wasa crispbreads pictured above. Yum!  Have fun thinking of unique ideas for your crispbreads and please tell your friends and family about the giveaway too.
Giveaway ends Monday, October 3, 2011
*Disclaimer:  As stated above, Wasa has sent me these products for review/sampling purposes.